Brussels sprouts: the nemesis of children and many adults everywhere. I remember my dad making brussels sprouts once when I was little, and I couldn't even get myself to try them because I was so convinced they were the worst thing you could ever taste in your life. Thank God that wore off because now I freaking love them.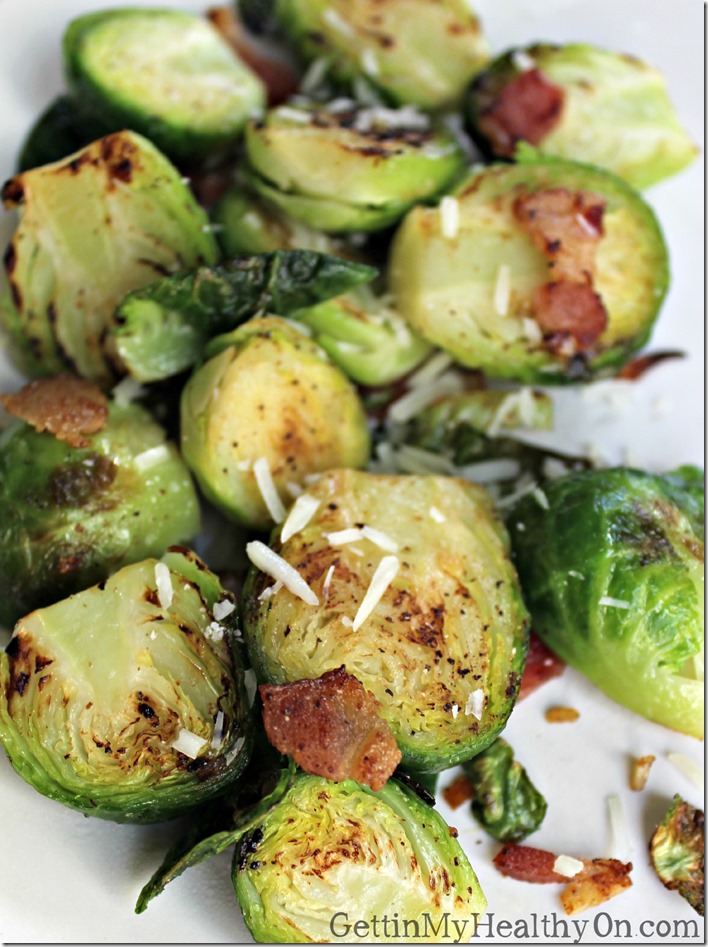 I usually just throw them in a skillet with some olive oil, salt, and pepper and cook them until almost tender, but over the weekend, I branched out and added the one ingredient that makes everything better: bacon. I was quite happy with how they turned out, and Matt, who hates most vegetables, even ate a few while searching for every little bit of bacon, so I consider that a success!
I've had these for a couple weeks, so I had to throw out a few, but I had several survivors to work with, thankfully. There were just enough for about two servings. I rinsed what I had, cut off the ends, and halved them all length-wise.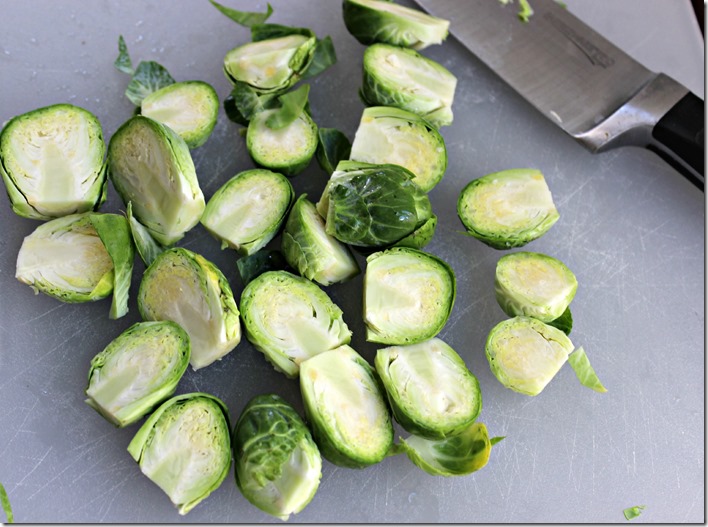 Since I didn't have a bunch of brussels sprouts, I didn't want to overwhelm them with a bunch of bacon, though I'm sure Matt wouldn't have minded. So I just used a single strip of bacon, cut into smaller pieces. I threw them in a skillet and fried 'em for a bit, until they were just starting to turn brown. (They'll continue cooking once you add the brussels sprouts, and I didn't want them super crispy, so I left them pretty rare at this point.)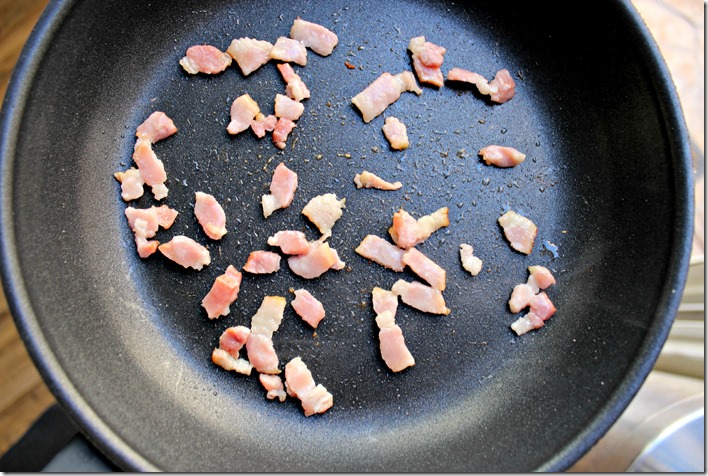 Once the bacon is ready for some friends, I added the prepared brussels sprouts, one minced garlic clove, a little salt, a little more pepper, and 2 Tablespoons of water because I've found you need a bit of moisture to cook them thoroughly. You don't need any oil or anything because the divine bacon grease acts as the oily fat to cook the brussels sprouts in.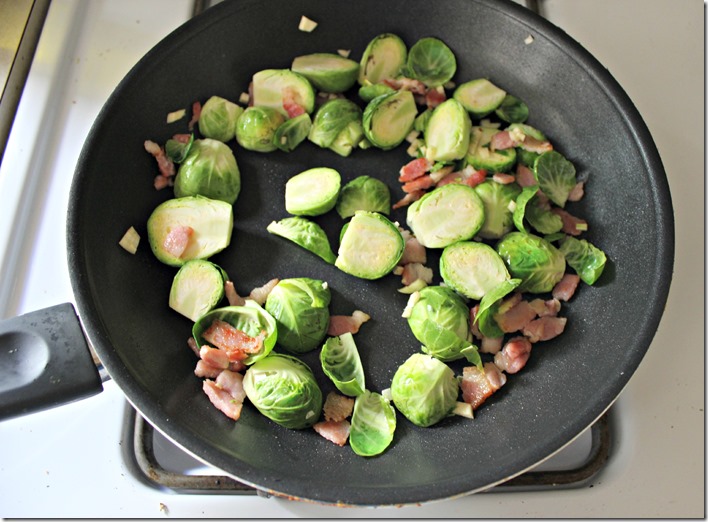 I cooked them for about a minute uncovered, then covered them to cook the rest of the way, which took approximately 8 minutes on medium heat.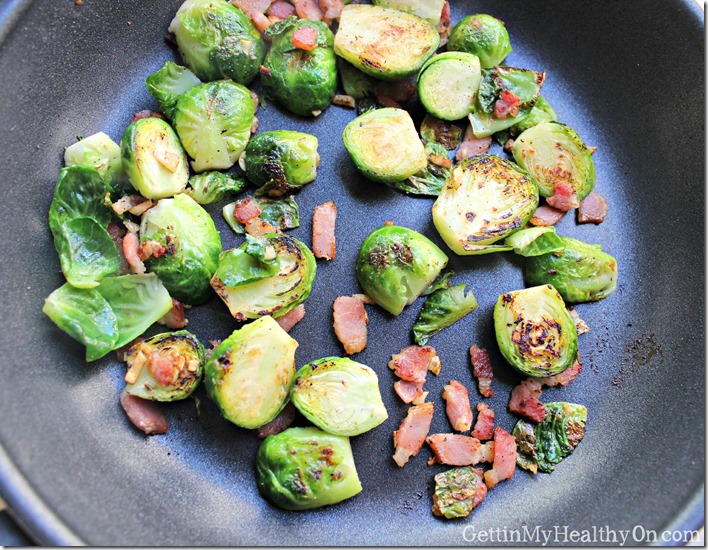 The brussels sprouts caramelize beautifully, and you'll detect a nice hint of bacon in there. I cooked them until a fork could be inserted without too much effort. I prefer them to still have a tiny bit of crunch left, though, so you may want to cook them more, depending on how you like them.
Pan Seared Brussels Sprouts with Bacon
Ingredients:
1 bacon strip, cut into small pieces
8 brussels sprouts, stems removed, cut in half lengthwise.
1 garlic clove, minced
salt and pepper
2 Tbs water
Optional: shredded parmesan
Instructions:
Cook bacon in skillet over medium heat until it begins to brown.
Add brussels sprouts, garlic, salt, and pepper, cooking uncovered for about a minute or two, allowing them to begin caramelizing.
Add water, and cover and cook for about 8 minutes, or until fork can be inserted without much pressure.
Serve and top with shredded parmesan.
Recipe from GettinMyHealthyOn.com
Once they were cooked and ready, I served them with a bit of shredded parmesan on top. Let's face it, like bacon, cheese makes everything better.
Hope you enjoy them! If you want to make more than just two servings, I'd recommend using the same ratio of brussels sprouts to bacon to garlic. This is a pretty basic recipe, though, so play around to your heart's content.
For my fellow brussels sprouts lovers, how do you like to cook them?