That's right – I'm finally sharing the second part to our wedding recap! I've been teasing it here and there, and yesterday, I finally found the motivation to dig through our many awesome pics to find some highlights to share.
I already talked main points in Our Wedding: Part 1, but if you're anything like me, you're mostly just wanting some pictures. So that's mostly what today's post is.
Part 2: The Details
It was a rainy Saturday morning. I left the hotel room my sister and I were sharing the night before to go find some sort of breakfast for us before we headed off to get our hair done with the rest of the bridesmaids. I went down to the lobby, walked outside and around the block just to find every business closed, so I walked back into the hotel. That's when I spotted one of Matt's groomsmen walking around. Then I looked over and Matt and I made eye contact. He was yanked away, and I immediately covered my eyes and started walking away. Totally fine. Didn't happen. Shh. (Apparently they had just returned from a run.)
I eventually found food, and my sister and I proceeded to meet the other bridesmaids and head to get our hair done. At that point, it was still cloudy, but the sky was only sending sprinkles of rain every once in awhile, which I was much more accepting of compared to the pouring I had experienced a couple hours earlier. After our hair was all beautified, my women and I went to grab some lunch before heading to the church.
The morning was pretty rushed at this point as we got ready. I had some family setting up the chapel, so I could start getting into full bridal attire. The flowers were delivered, and the photographers showed up ready to get the party started. They went to take some detail shots while I started pretty-ing myself up.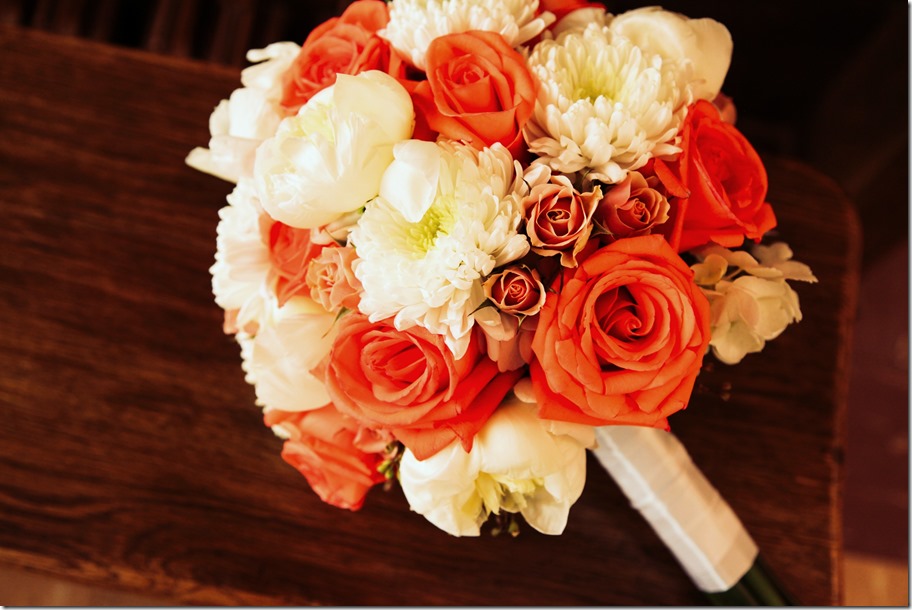 Once we were all ready, Matt and I did a first look up in the chapel. This helped calm my nerves, and it was so nice to talk to him in private before the chaotic day really began.
We went with the photographers around campus (we got married at our alma mater) to take some pictures at some of the scenic areas. But first, we had to show off some of our style / personality.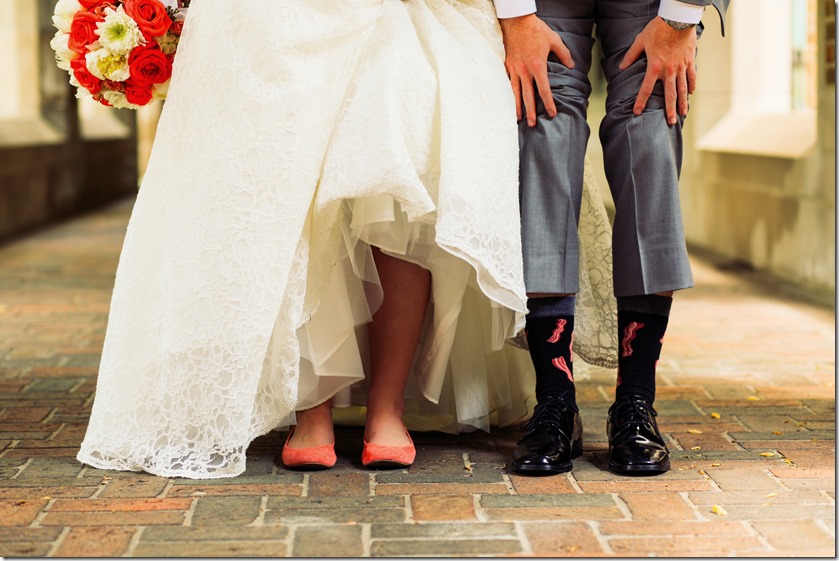 Although I'm not the best at acting natural in front of the camera, it was actually kind of fun to wander around and be mushy and cute.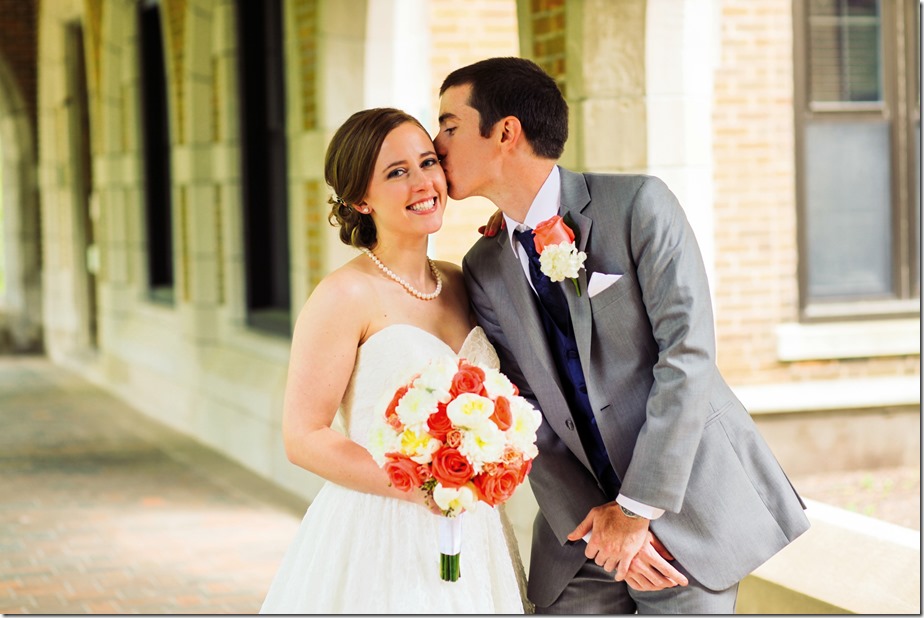 When we were wandering around, the sky cleared up and the sun came out; the flowering trees all over campus were as vibrant as ever. It was absolutely perfect.
We ended up going down to the gazebo where Matt proposed to me. So that was kind of sweet.
The larpers on the quad, however, were very unexpected. We find it hilarious, though, so all was well. Fun fact: these weird parts of the day are one of my favorite things looking back.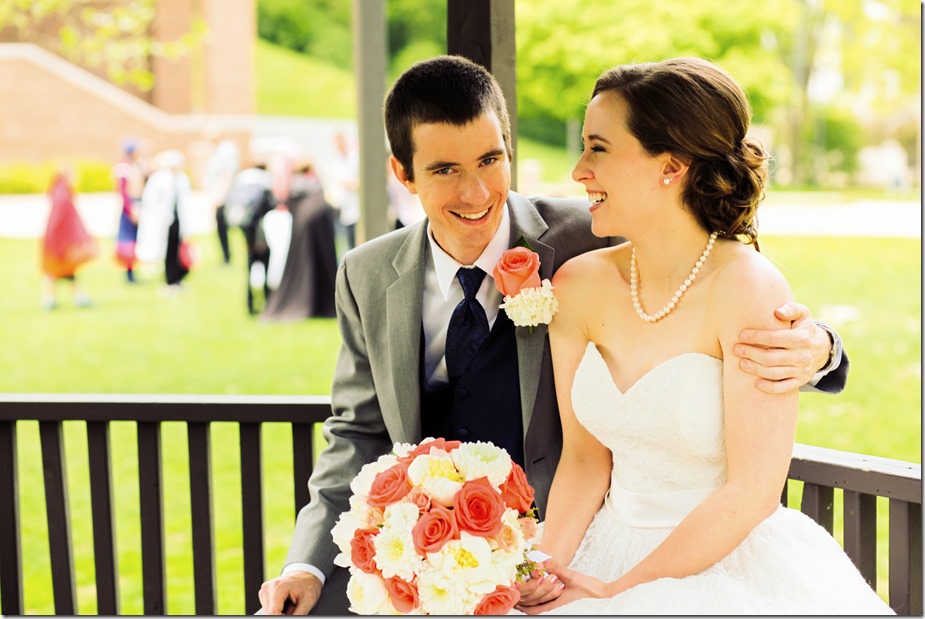 The entire day included a good mix of quirkiness and love, which is kind of how we roll. I'm pretty impressed with how many legitimately romantic-looking pictures our photographers were able to capture, considering I, especially, tend to make ridiculous faces all the time. Yay for looking normal! / They had some good posing ideas that I loved.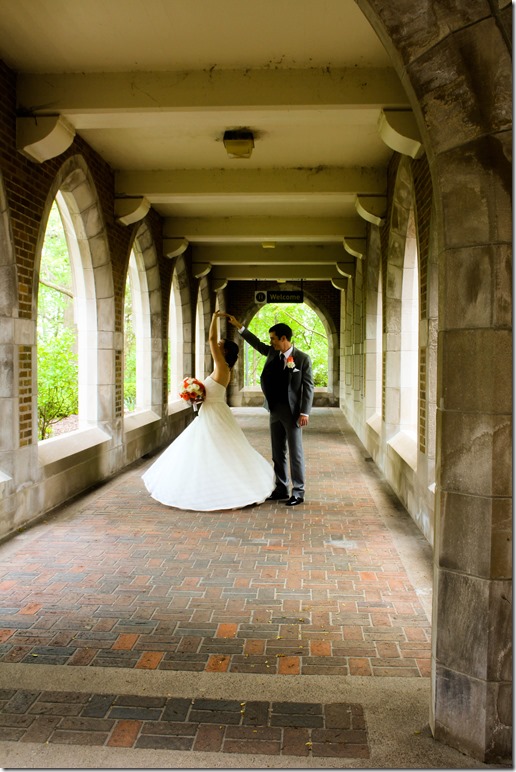 After our little love sesh, we took a bunch of pictures with our wacky yet wonderful wedding party. At that point, the ceremony was fast approaching, so we had to split up and get in our places.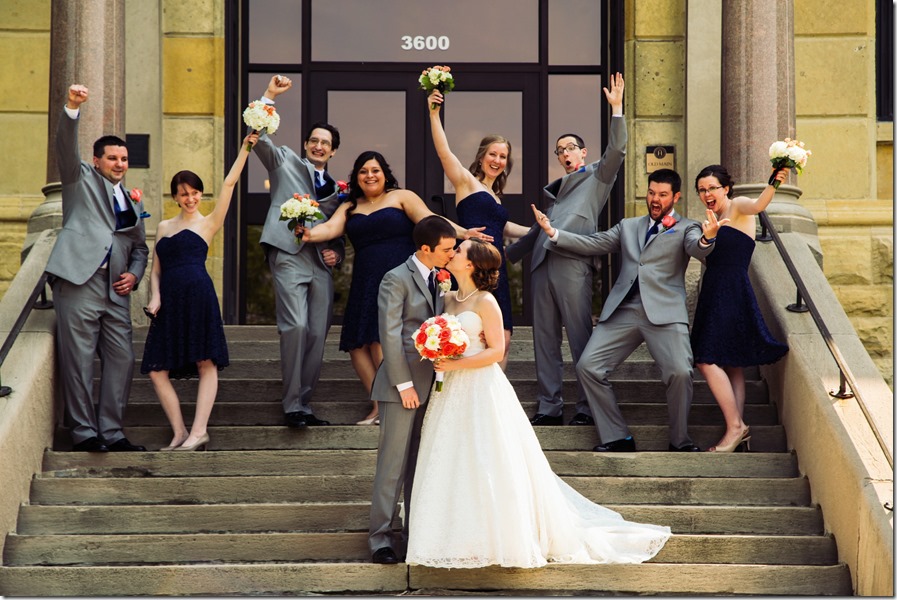 The ceremony had an interesting mix of logistical issues (that mostly Matt and I noticed), weird surprises (like the rap music playing in the beginning due to a musical event happening on campus), and, most importantly, a whole lotta love and support from all of our family and friends around us.
To conclude our pretty quick ceremony, Matt and I skipped out to Crazy Little Things Called Love by Queen (featured in our wedding soundtrack). It felt super cheesy at first, but it was also such a fun transition from ceremony to reception.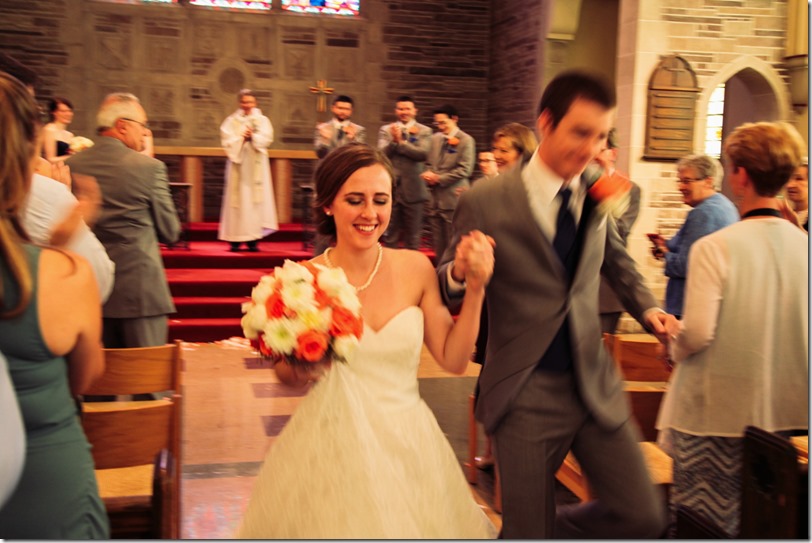 After taking approximately 5,000 pictures with various family groups, we headed to the reception venue. We took some more pictures there, but at that point, I was so ready to just get the party started and stop thinking about all the frustrating tiny things that were catching up with me. (I was freakishly chill all morning, despite little problems popping up, but after the ceremony, I was slightly more stressed for some reason.)
Once we entered our reception, though, the worries started to fade away.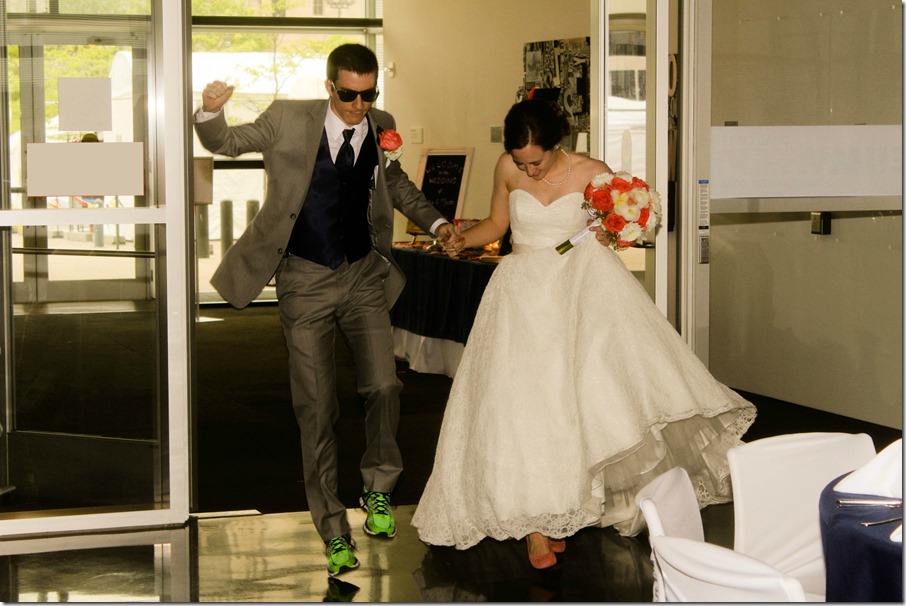 This was the point of the day that I had been looking forward to the most – when we could stop caring about all logistics and just enjoy ourselves and spend quality time with our guests…mostly on the dance floor. #SorryNotSorry
On our way in, we did our cake cutting. My one "rule" for Matt was not to get it in my eye makeup or hair because ain't nobody got time to fix that. He was super nice, and I definitely shoved a piece into his face. Ooooops.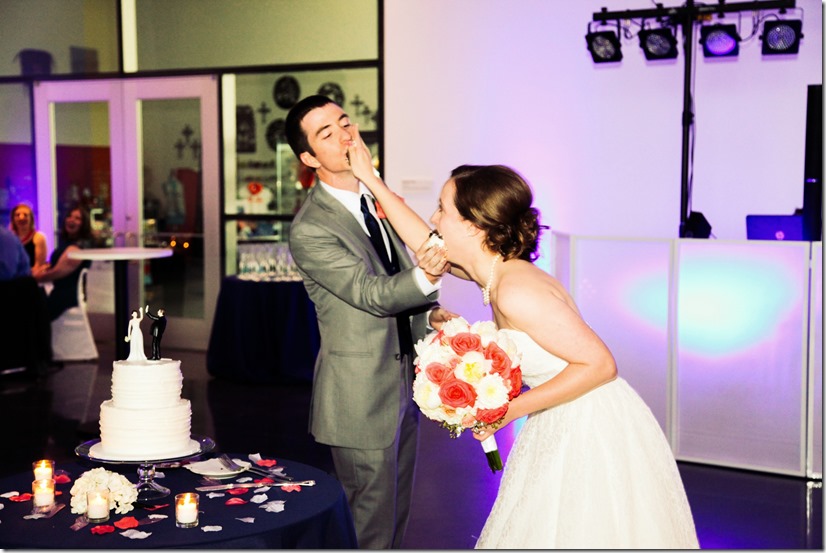 One thing that so many of our guests raved about that night, and even now, was the food. Apparently the food was out of this world. I, being the bride and all, didn't really make time for much food, but I'm proud to say I prioritized the Gouda mac 'n cheese, and I can report that that was phenomenal. So kudos to our venue for cooking such a memorable meal!
After dinner, Matt and I walked around to mingle with the tables, but once we got to the halfway point, it was already time for our first dance, father-daughter dance, and mother-son dance. (You can read more about those in my soundtrack post.)
Awhile later (as you can see, it's already blurring together in my mind), we did the bouquet toss and garter toss. Fun idea we found on Pinterest: wrapping the garter around a football. I'm so pumped we got a good picture of this because I loooooved it.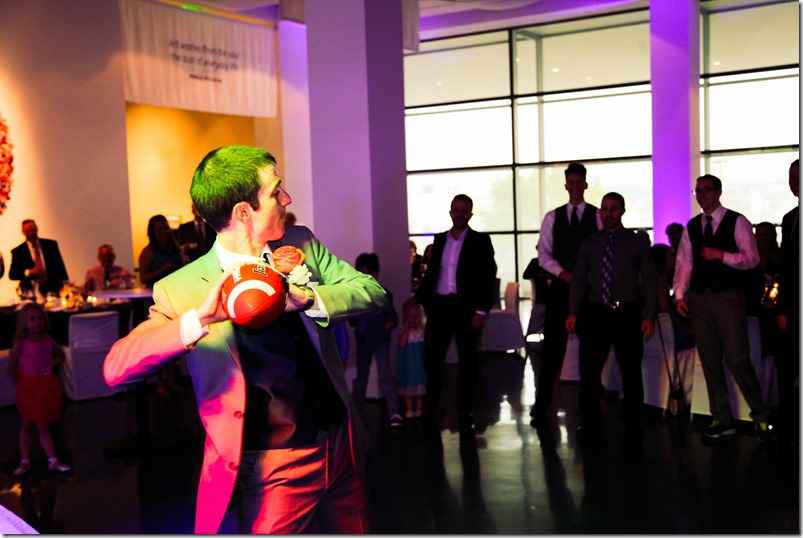 The night continued on with lots of joy and dancing. I don't know why, but I felt the need to stay on the dance floor approximately 95% of the night…no joke. It was SO much fun, and our DJ was absolutely perfect. I loved dancing with so many of my favorite people all in one place.
One thing that sticks out to me from that night was my cousin's two little girls twirling around with me and playing with my poofy dress. It was preeeetty precious but also different for me to be the center of attention. Just something you get used to throughout the day, I guess.
Thank you, again, to everyone who made the day run so smoothly, made it so special, and also kept me company as I got in a pretty legit workout on that dance floor. 😉
I'm pretty relieved to have all of the planning and stress of our wedding over with, though it's also weird to be completely done with it all. I still have some wedding-related tasks to finish up (thank you cards, printing out pictures, changing my name BLEH, and so on), but I much prefer these things. As we work on closing the last chapter of our lives,  it's fun to look back and appreciate how far Matt and I have come and the future that lies ahead of us.