Just over three months ago, I decided to begin Jamie Eason's LiveFit Trainer bodybuilding program. I had never focused on weight lifting this much before, so I was stoked to try a new type of challenge. The program taught me a lot, and I would 100% recommend it. If you're curious how each phase went, specifically, you can find the posts below:
Since I've been detailing my love/hate relationship with the nutrition plan and workout schedule along the way, I wanted to share my final results and takeaways from the program!
Disclaimer #1: I completed this without a gym, which is kind of a huge part of it. I used dumbbells instead. So take my results and thoughts with a grain of salt because I didn't complete it as it was intended. (Blog post about this to come soon, including the many exercise variations I used.)
Disclaimer #2: At the beginning of each new phase, I became more lenient on the nutrition part of this system. I also pushed a few workouts back (for extra rest days or other workouts) and did not incorporate a lot of the cardio in phase 3 due to it being very time-consuming and my body being angry (including my IT Band Syndrome).
So let's get to my results. Although I'm not sharing before-and-after pictures, I did want to talk a little bit about the changes I noticed from the 12-week program. Here are the main three:
I can lift significantly heavier, which feels amazing.
My arms  and shoulders definitely look much stronger; the rest of my body looks pretty similar.
My weight hasn't changed much (because I didn't alter my diet much).
As you can see, nothing necessarily groundbreaking happened. Although I look very close to how I did when I first began LiveFit, I think it's very much worth doing. It was definitely a challenge, and I learned quite a bit by going through the heavy lifting workouts.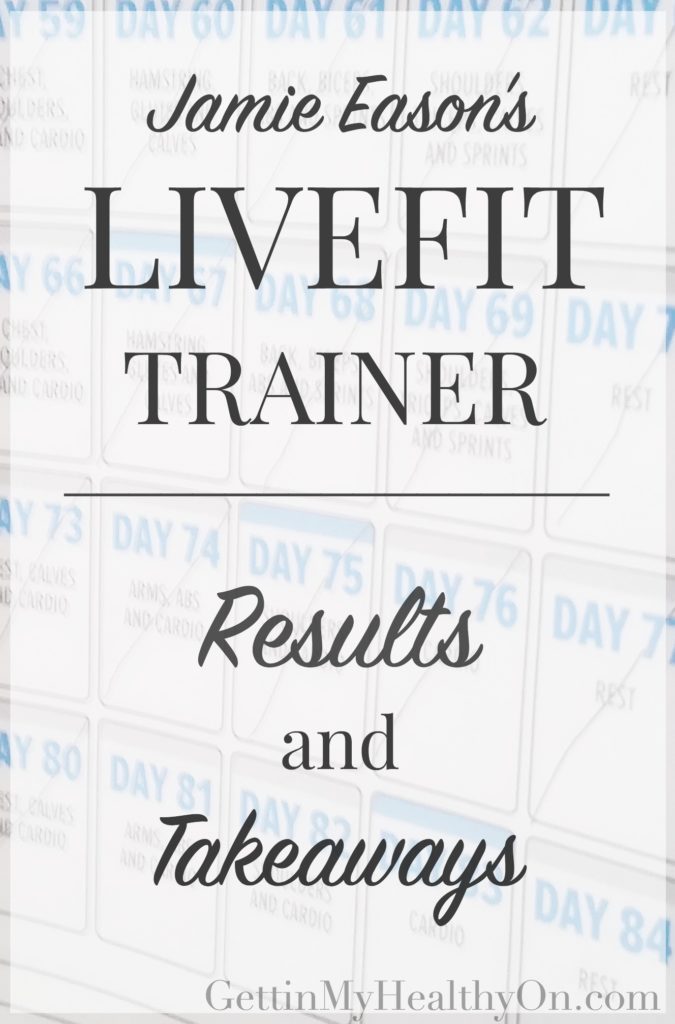 What I Liked:
Continuously lifting heavier each week was a satisfying challenge.
I was introduced to several new exercises (even though I did dumbbell variations of many).
The schedule kept me focused and motivated to get in the workouts (which helped me cut down on unnecessary rest days).
Each day had its own workout (though some weeks were very similar), which made it very easy to follow.
The structure of the workouts (low weight/high reps; high weight/low reps; etc.) kept each phase interesting because it kept changing just slightly.
The nutrition plan was very eye opening, and although I didn't follow it strictly for all three phases, it helped me familiarize myself with portion sizes.
What I Didn't Like:
At first, there wasn't any cardio; by the end, there was cardio most days of the week on top of weight lifting workouts. (It was a LOT to do every single day.)
There was little core work throughout the entire program. (I'm used to balancing my focus on all areas of the body to improve my running.)
The workouts got pretty long after awhile (like 1.5 to 2 hours), and some days that just wasn't realistic.
The nutrition plan was definitely focused on getting results, and I focused on it strictly for awhile. But after awhile, I wanted to resume the healthy (ish) diet that helps me maintain my happy weight.
It relied on gym equipment to complete the majority of the workouts. (I obviously knew this when I began it, but it was one of the downsides as I progressed through the program.)
And I think that sums up my main thoughts. Like I said above, you can read more about n each phase by visiting their respective recap posts. If you have any questions about LiveFit, feel free to ask me! I'd be happy to share more about my experience.
Overall, I really liked the bodybuilding exercise program—and that says a lot because I didn't even use gym equipment, which I hear makes it much more rewarding. I plan to share an entire blog post dedicated to doing LiveFit WITHOUT a gym, because I think it's worth doing even if you just have access to dumbbells.
Moving forward, I plan to incorporate heavy lifting MUCH more into my weekly workout schedule because it was such a nice change of pace from my usual circuit workouts. In addition to this, I am excited to get back to doing circuits, running, or whatever feels right on a particular day.
Have you ever completed a workout program? What did you think?
Do you incorporate weight lifting into your workout schedule?