As promised on Wednesday in my favorite Mediterranean-inspired dishes, I'm sharing the killer kabob marinade recipe I made earlier this week. Now that we have a grill, I can make way more fun things, such as food on a stick (though I guess you can make it in an oven; it's just less awesome). I'm not a very experienced kabob-er, but I'm so happy with how this Mediterranean-esque recipe came out!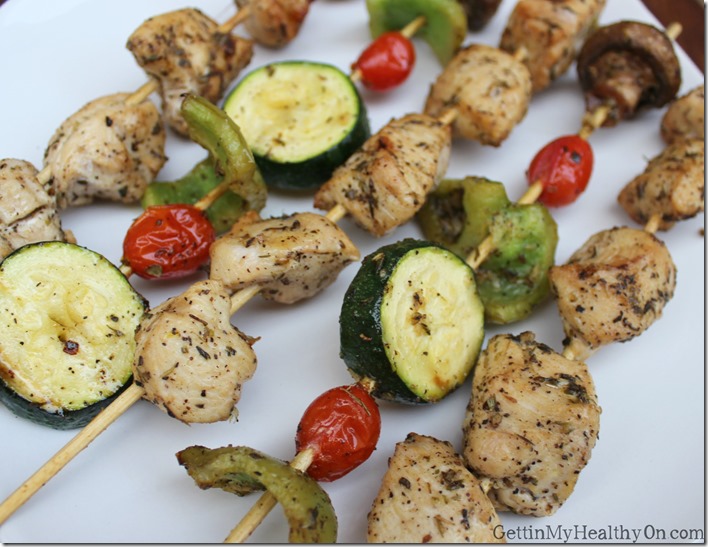 I used what veggies I had on hand, which included grape tomatoes, green peppers, mushrooms, and zucchini, and then used a total of two large chicken breasts. The marinade is where the money's at though.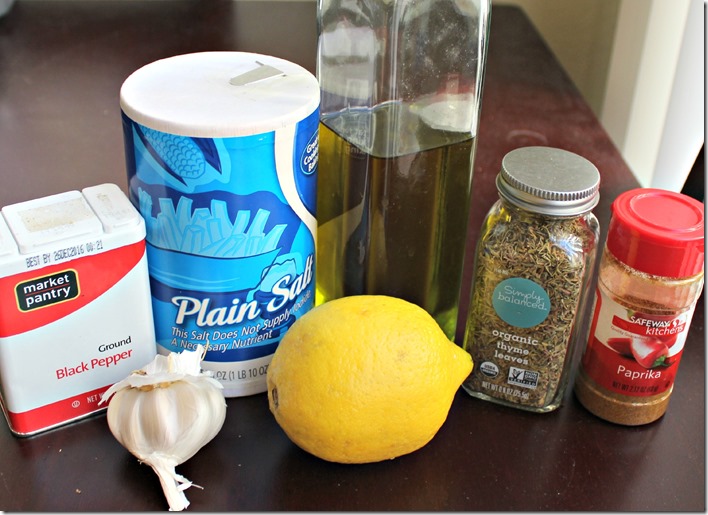 It's quite simply, really. Combine 3/4 cup of olive oil, 5 minced garlic cloves, the juice of one lemon (about 1/4 cup), and 2 teaspoons of the following seasonings: black pepper, salt, thyme, paprika, and oregano (not pictured above). Whisk it all together, and then divide it into two bowls – one for the veggies, one for the cubed chicken.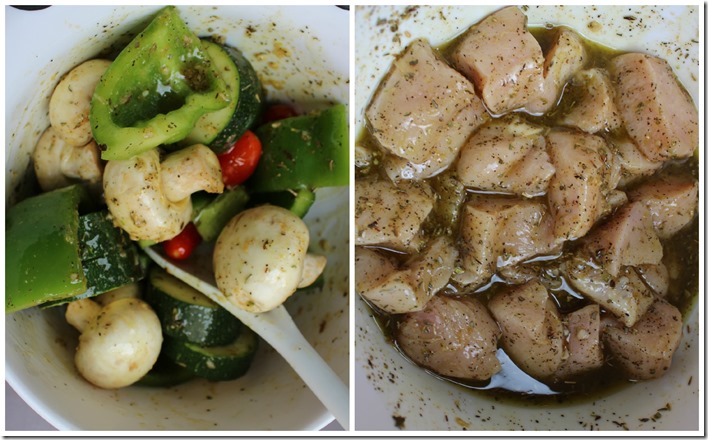 I let this marinate for about 5 hours, but I'd say make sure you do it somewhere between one hour and overnight. Then thread all the goodness onto skewers. If you're using wooden ones, like I did, you'll need to soak them for at least a half hour so they don't go up in flames when you throw them on the grill.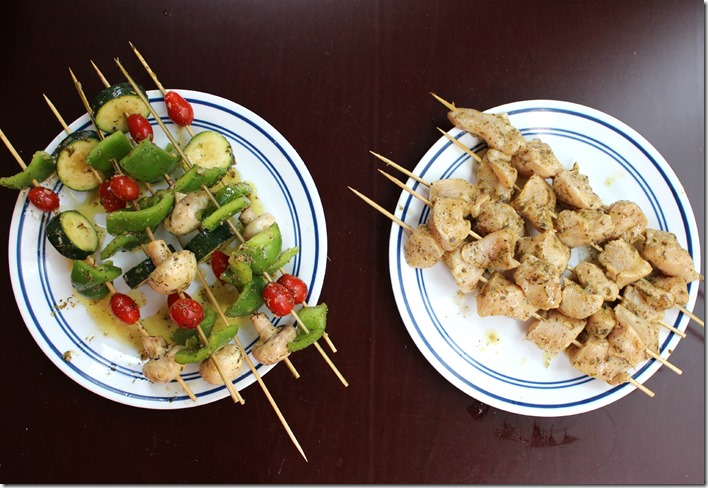 Since we use a [baby] charcoal grill, I don't have many instructions for the cooking process. Basically just make sure it's had some time to preheat and, if you're using charcoal, make sure there's some hot coal action happening. We checked the chicken frequently until they were done (aka no longer pink in the center of the biggest chunk), which took probably about 20 or so minutes, but this will vary, so keep watch! Also, rotate them a couple times so they're evenly cooked.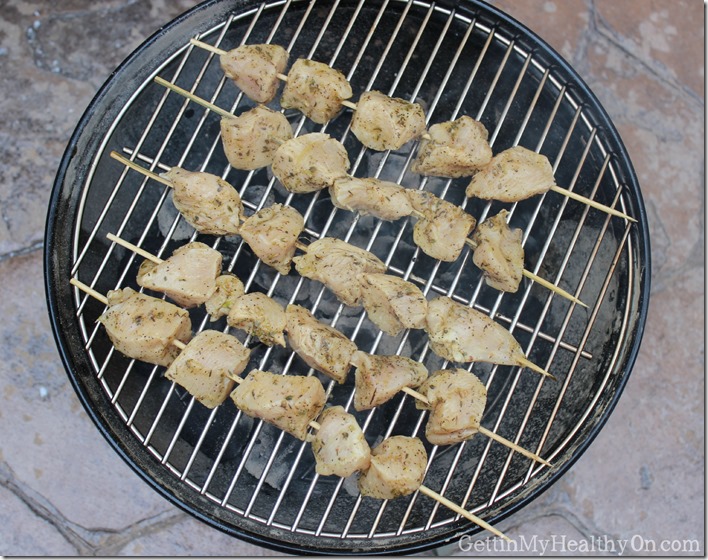 I decided to thread the veggies and the chicken separately because chicken, especially when it's as large as I kept it, will take longer to cook. So it's just easier to keep similar foods on the same stick. Ya know?
After cooking the chicken, we threw the veggie kabobs on the grill until they were on their way to being semi-mushy (I should probably expand my food texture vocabulary…). Basically, just cook the veggies as long as you want (and make sure to turn them at least once). By marinating them in a separate bowl from the chicken, you'll know there aren't raw meat juices on them, so you can cook them as much or as little as you want.
This recipe was adapted from Delicious Meets Healthy.
Mediterranean Chicken & Vegetable Kabobs
Ingredients:
2-3 Chicken breasts, cut into 1.5-inch chunks
4-5 c Veggies of choice cut into large chunks
3/4 c olive oil
1 lemon, juiced (about 1/4 c)
5 garlic cloves, minced
2 tsp paprika
2 tsp thyme
2 tsp oregano
2 tsp salt
2 tsp black pepper
Instructions:
Whisk together olive oil, lemon juice, garlic, and all seasonings. Divide into two medium-sized bowls.
Add vegetables into one bowl; add chicken into other bowl. Stir both until ingredients are will covered in the marinade.
Refrigerate for 1 hour to overnight.
Once marinated, thread vegetables on skewers, leaving space between each. Then thread chicken onto separate skewers, leaving space between each.
Grill all prepared kabobs at once or separately. Cook chicken until no longer pink in the middle, and cook vegetables until desired texture.
Serve on or off the skewers.
Recipe from GettinMyHealthyOn.com
This has been the highlight of my Mediterranean diet experiment this week, but I still have a few exciting meals planned, so we'll see how those go.
Hope you enjoy this kabob marinade action as much as we did! It has officially earned a spot in our top grilling recipes.