For a fresh-tasting snack that'll give you a boost of energy, try these Lemon Coconut Protein Balls.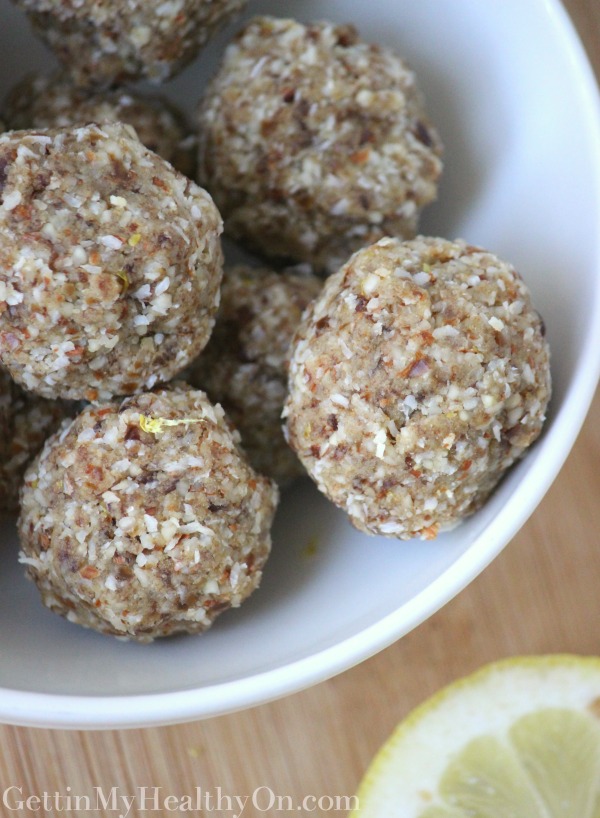 Lemon is one of my top five favorite flavors. It has this way of brightening up food and creating such a fresh, citrusy edge to dishes. We have a lime tree, and while it's my favorite plant I will probably ever own, I would absolutely love to take up the rest of our porch with a lemon tree. #AllTheCitrus
Since I don't have the luxury of owning a lemon tree at this point, I picked up a few lemons at the store yesterday and put them to use in a protein ball recipe (sometimes called energy bites; call them what your heart desires).
I attempted one version and ya…that batch completely fell apart and was a hot mess. We're not going to talk about that. Then I completely revamped the recipe, and it was like the stars lemons aligned. Working with processed dry ingredients plus coconut oil is always a gamble, but with the right ratio and mixture of ingredients, it'll sometimes produce ball-shaped food bliss. Enter: Coconut Lemon Protein Balls.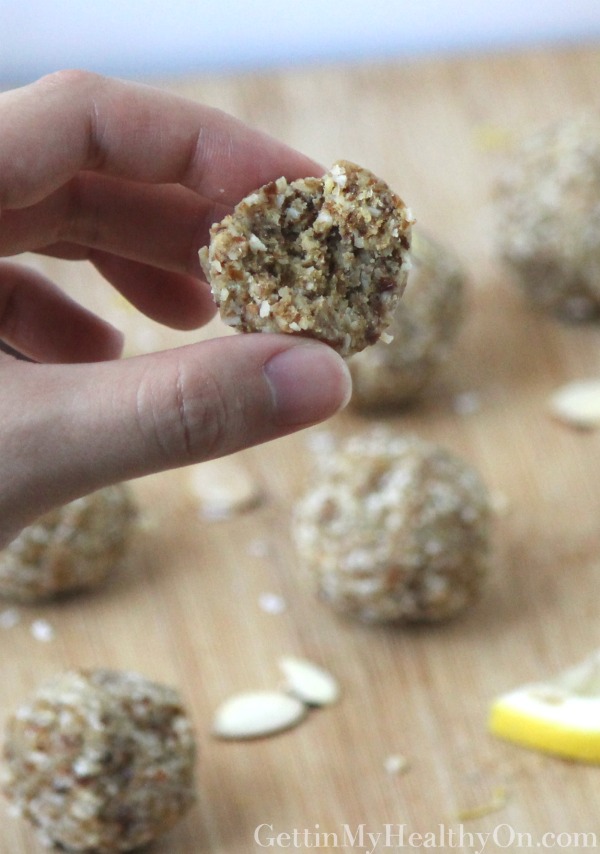 My only issue with "protein balls" is they're easy to pop into your mouth randomly throughout the day and suddenly realize the batch is nearly gone. So! Just be aware of that. 😉
These are pretty easy to make. The most amount of effort you'll have to put forth is juicing and zesting a lemon, but it's oh-so-worth it.
Lemon Coconut Protein Balls
Ingredients:
1/2 cup vanilla protein powder
2 cups unsweetened shredded coconut
1 cup raw almonds
1 cup pitted dates
2 Tbs fresh lemon juice
2 tsp lemon zest
1 tsp coconut oil, melted
Optional: 1+ Tbs water
Instructions:
Add protein powder, coconut, almonds, dates, lemon juice, zest, and coconut oil to a food processor. Process until all ingredients are finely ground.
Take about 1 Tbs of the mixture at a time and form into balls. If the mixture is too crumbly and won't stay together, add water 1 Tbs at a time, processing again so it is incorporated.
Once all balls are formed, refrigerate for about 30-60 minutes to allow them to become firmer.
Store in the fridge for up to a week.
Recipe from GettinMyHealthyOn.com
Do you ever make protein balls? What's your favorite flavors?
What are some protein-packed snacks you like to eat throughout the week?