GroupOn is so underrated.
We try to browse through those types of deals sites once in awhile because there are so many great activities you wouldn't normally think of doing, or go out of your way to do, but that are so worth it, especially here in San Diego (helloooo paddleboarding).
This past weekend I was invited to a painting class with a few friends, and it was kind of awesome. It was through Painting & Vino, which I highly recommend. They have designated classes for the month, and you just sign up for the painting you want to create. We had a 3-hour class Saturday night downtown, and it was so much fun.
The picture of the evening was "Island Oasis," and below you can see the progress of my painting (it was a dark room; my apologies):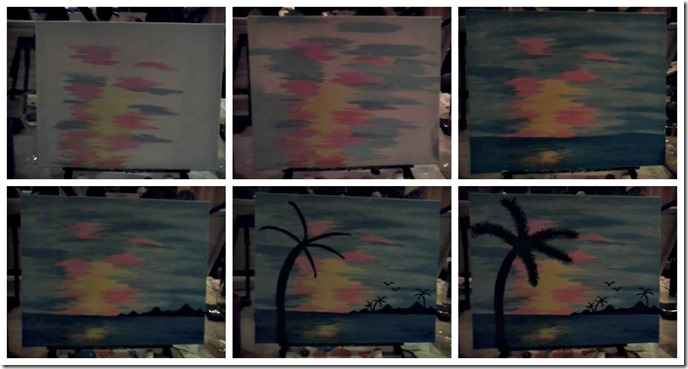 I was quite proud of my sunset, but once I got to the ocean, it kind of just went downhill. The final look of my palm tree was less than ideal. It kind of reminds me of a furry creature. Overall, I'm okay with how it turned out though. It was a really fun experience, and I hope to do it again!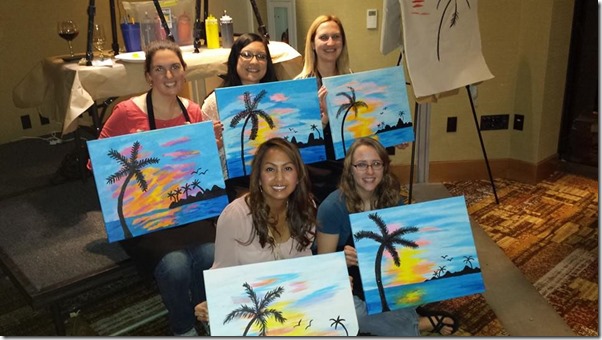 I used to be more crafty and make jewelry and other randomness, but I haven't really spent time doing arts and crafts in awhile, so this was a wonderful way to tap into my creative side.
I have approximately 500 things I want to create in my DIY Pinterest board, and I've started gathering supplies for a few of them. For some reason, though, I can rarely get myself to actually accumulate all the supplies and make the craftiness happen.
Womp womp.
That's just how I roll. I get part of the way through something, and then get distracted and find something else I want to do instead.
Oops.
Something else that happened this weekend? I got this bad boy to bring to work: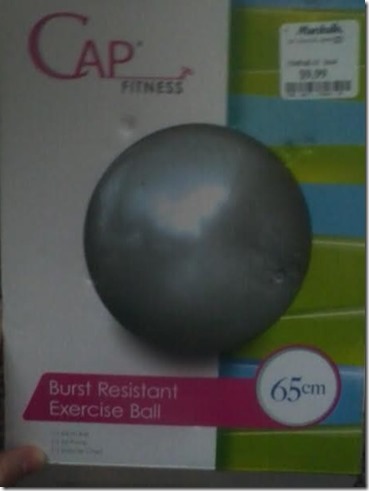 I'll probably be embarrassed for the next couple weeks, as I sit on my exercise ball and work, but I've been thinking about getting one for quite awhile, so I'm glad it has finally happened. I'm a professional sloucher, so hopefully this helps my posture out a bit…
Plus, it is apparently "burst resistant," so that's comforting. As long as I don't exceed 330 lbs., I should be in the clear.
P.S. I have some news on a potential race I may or may not be running. Stay tuned. It's kind of ridiculously awesome. Or is it? It is. Stay tuned.
Questions for you:
Do you partake in deals from GroupOn, or similar sites? What's the best one you've ever bought?
Does anyone sit on an exercise ball all day at work? Thoughts? Advice (besides don't fall off)?
Do you want to buy my painting? I'm selling it for $320. It's pretty much one of a kind 500 others.