Do you ever hear about health trends and wonder…how has this become such a popular thing??? From butter in coffee to coconut oil in ev-uh-ree-thing, there's no doubt we live in a world of creative people. One of the health trends I've been wanting to try is the whole "salads in mason jars" phenomenon. I've never understood why this has become such a craze, but the fact so many people use the storage technique has caused me to finally try it.
The verdict? I don't find it to be groundbreaking, but I'll admit I like the concept. The whole point of mason jar salads is to strategically layer your ingredients (including the dressing) in the jar to maintain freshness. Since the wet ingredients are separated from the greens – and you're working with gravity – they say you're able to keep the salad for several days before it starts to go bad. I tend to make my salads one day at a time, which can be a huge pain, so these mason jar salad people may be onto something.
Mason jars are inexpensive. The main reason I don't prepare a week's worth of lunches during my Sunday meal prep is the lack of containers we have. If I had a collection of pint- or quart-sized mason jars, I could most definitely save time throughout the week and ensure I eat healthy. So I might have to make this a routine of mine.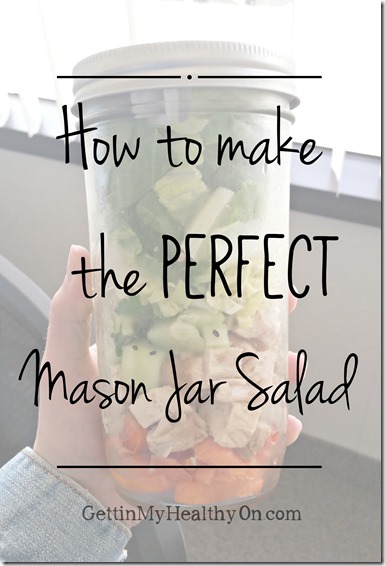 If you've never made a mason jar salad before, here's what I've found to be the recommended order, starting with the bottom of the empty jar:
Dressing
Wet toppings (tomatoes, cucumbers, fruit, etc.)
Other toppings (carrots, broccoli, nuts, seeds, etc.)
Protein (chicken, shrimp, tuna, etc.)
Leaves (spinach, romaine, iceberg, etc.)
Once you have your collection of the above layers put together in that order, you have two options. You can either leave enough space at the top of the mason jar so you can shake all the ingredients and eat straight out of the jar. Or, you can pack that baby full of ingredients (my preferred method), and dump it into a bowl or plate when you're ready to eat it. If you go this route, I highly recommend loading up on the toppings because the more weight you have, the easier it'll fall out of the jar. Also, wide mouth mason jars work the best.
Another tip for making a good mason jar salad: avoid adding certain ingredients until you're ready to eat the salad. I don't really care enough to wait, but some people may prefer to add items like avocado or tomatoes until last minute.
Do what feels right.
If you live in the San Diego area and would rather just pay someone else to do this all for you, I would definitely recommend looking up the company Car's Jars. They reached out to me recently to see if I wanted to try out the pre-made mason jar salads that get delivered to your home or office. As a person who's always trying to make lunchtime more tasty (and healthy), I was all for it.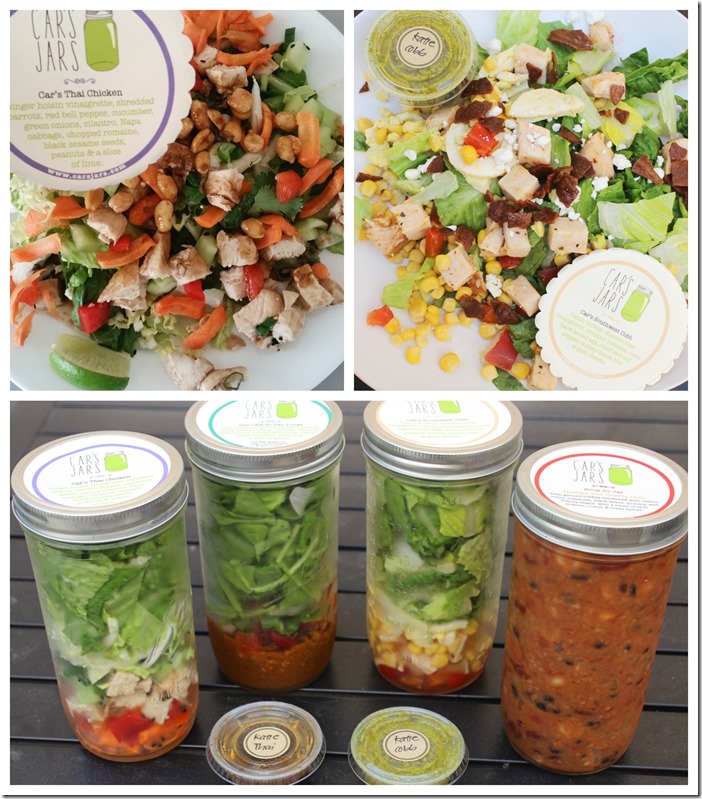 So I went on their website, chose three salads and one soup (they usually have a breakfast option as well), and I made sure to put in my order before midnight on Sunday (to get it that week). For most of them, I had the option between a pint and a pint-and-a-half, so uh…I chose the latter because when it comes to salads, the bigger the better.
I decided to have these delivered to our house (instead of my work office), so I left a cooler outside with some ice packs and came home to find them safely (and coldly) sitting on our doorstep. I was a little worried about leaving a cooler out, but it honestly worked beautifully. My most favorite jar so far is the Thai Chicken (top left of the collage). I ate it Wednesday, and it was seriously amazing. I kept the card that describes what was in it, and you better believe I'm going to try to recreate it myself.
Why is it that salads taste so much better when someone else makes them!? I think so at least.
Disclaimer: I was given the Car's Jars for free to review; all opinions are my own.
Have you ever made a mason jar salad?
What are your favorite salad toppings to include?