Make your own acai bowl at home with this easy recipe that combines popular fruits with the superfood acai berry puree – it's a creamy, frozen base for your favorite toppings!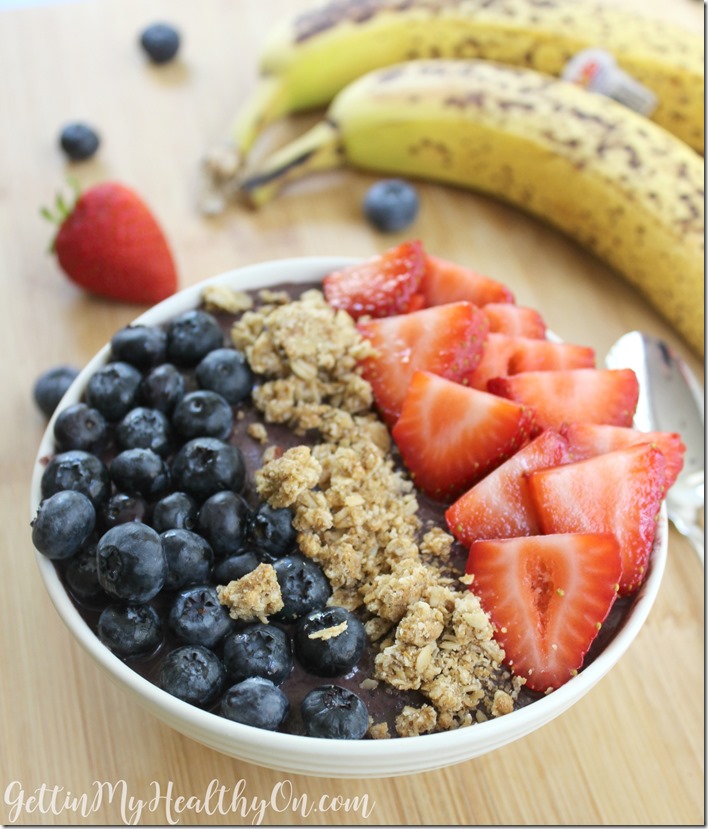 When I want to know something health- or food-related, I write about it. I did this with smoothie bowls, cold brew coffee, counting macros, mason jar salads, how to tell if fruit is ripe, and so on. Research is my friend. Most recently, I've been wondering, how on God's green earth do people actually make acai bowls?! It has always been such a mystery to me. Since I love the bowls of purple heaven so much, I finally decided to look into the phenomenon.
Although smoothie bowls are delicious and fun (I may be in my late 20s, but I love playing with my food like I'm still 10), there's just something special about acai bowls (pronounced [ah-sah-EE]). The two really aren't that different, except acai bowls include the açai berry (I know, SHOCKING). Unfortunately, the tropical fruit is native to Brazil, Trinidad, and northern South America, so they're not exactly falling off the shelves here in the U.S. On the plus side, you can find pureed acai berries at many grocery and health stores (I hear Whole Foods and Costco both have it) or online (Amazon FTW).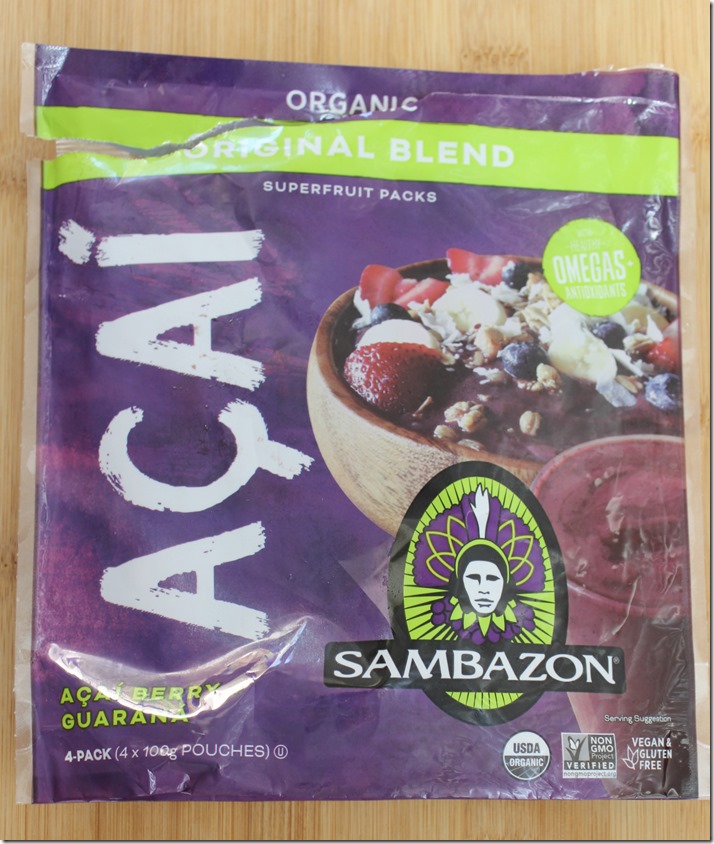 I struck gold when I took a stroll through the frozen fruit section of our local grocery store (Safeway). Without expecting to find any, I stumbled upon frozen acai puree. It wasn't until this past weekend that I actually made the time to try my hand at making an acai bowl out of it though.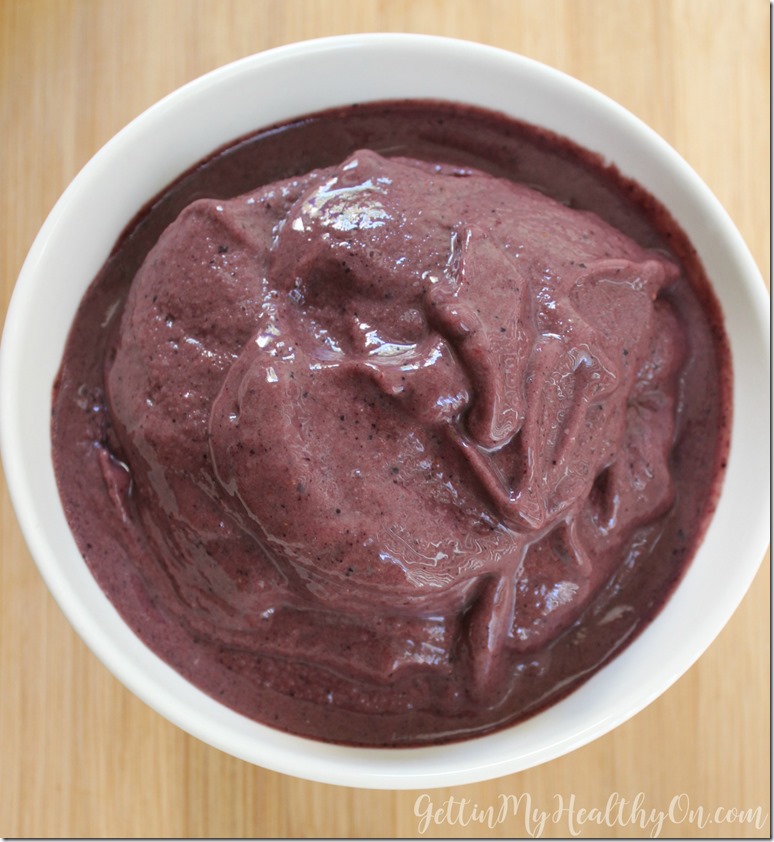 For a thick and creamy base, I combined 1/4 cup milk (any liquid would work), 1/2 fresh ripe banana, 1 100-g (3.5-oz) package of frozen acai berry puree (broken into a few pieces), 1/4 cup frozen blueberries, and 1/4 cup frozen strawberries in the blender (in that order so it's softest ingredients to hardest to help it blend). I also ended up adding a handful of spinach, but that's up to you. The less liquid you need the better, because a thin, soupy base isn't going to hold the heavy toppings (and I'm all about those toppings). That's why I'd recommend starting with 1/4 cup of milk and, if you need more, only adding a little at a time beyond that to get the ingredients moving.
Something worth noting: frozen acai puree (or acai smoothie packs) is ideal since it has all the pulp and juices of the berry. If you can't find that, though, I've seen recipes using freeze-dried acai powder or acai juice (both mixed with other berries for texture).
Here's a closer look at my new go-to acai bowl recipe:
Ingredients:
1/4+ cup milk or any liquid
1/2 fresh ripe banana
1/4 cup frozen blueberries
1/4 cup frozen strawberries
1 100-g (3.5-oz) package of frozen acai berry puree, broken into a few pieces
Optional: handful of spinach or kale
Instructions:
In a blender, combine all ingredients and turn on high until thoroughly pureed. Add more liquid, if needed, to help the frozen ingredients process.
Pour into a bowl and top with items like fresh fruit and granola.
Eat immediately.
Recipe from GettinMyHealthyOn.com
One reason I love acai bowls is the fact they remind me of ice cream. If you make one just right, it'll be creamy and light like soft serve. That plus the addition of awesome toppings like banana slices, berries, granola, and coconut? Ohhhhh lawd. I could eat these bowls daily.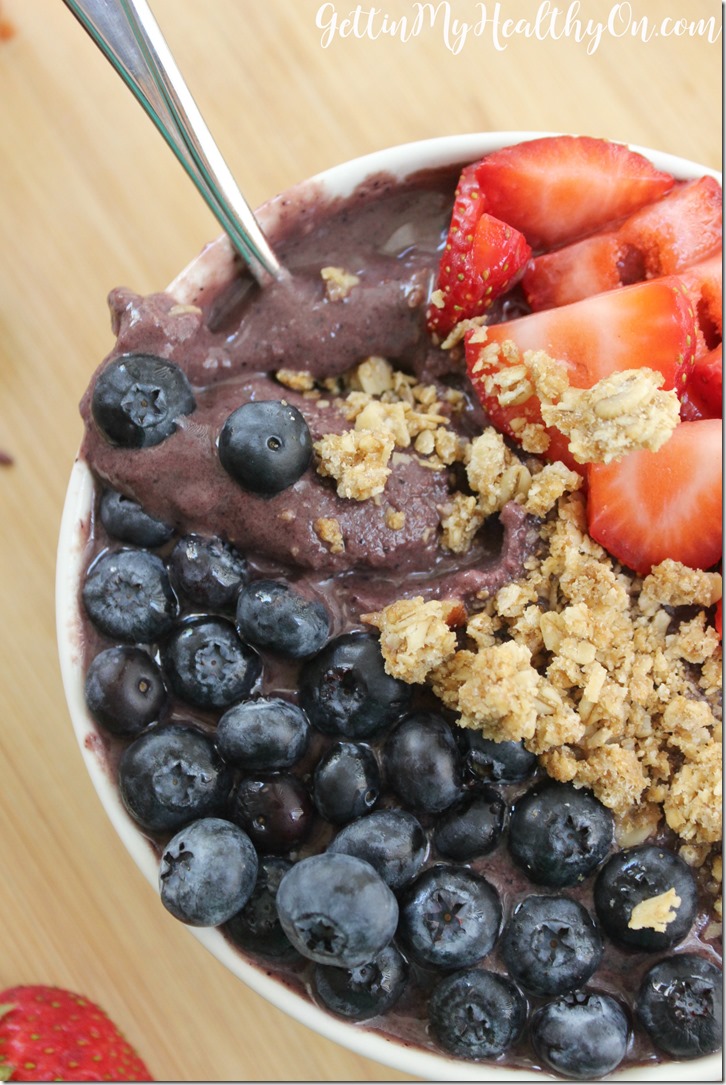 Have you ever had an acai bowl?
What are your favorite toppings in treats like acai or smoothie bowls? I love playing around with different combos, but I've found options like granola, chia seeds, coconut flakes, strawberries, blueberries, and banana slices to be my favorites.