Last week, I shared my yeast-free pizza crust recipe. Now you've got the base and are ready for some sauce.
Pizza sauce is my favorite part of the pizza. In my opinion, it's what really takes the pizza to the next level. When I was younger, I would actually pick all the cheese off my pizza, just to eat the sauce on the bread. Thankfully, I've gotten past that stage. However, I still like a heaping amount of sauce on my pizza, which is why I rarely ever eat alfredo-based pizzas. Sure, they're kind of amazing and delicious, but there's just something about the watered-down marinara-y concoction that makes me happy.
Here's my go-to pizza sauce recipe:
Ingredients:
6 oz tomato paste
8 oz water
1 tsp. garlic powder
1/2 tsp onion powder
1/4 tsp oregano
1/4 tsp marjoram
1/4 tsp basil
1/4 tsp black pepper
1/8 tsp dried red pepper flakes
1 tsp sugar
optional: 1 tsp anchovy paste
Instructions:
Whisk together all ingredients in bowl.
Spread half on your favorite pizza crust.
Recipe from GettinMyHealthyOn.com
It should be noted that this recipe makes enough sauce for two medium to large pizzas. Every week I make this full recipe, only putting half on the actual crust. I pour the rest in a bag and freeze it for a following week. (I throw a date on it just in case I forget it's in the freezer and find it later, wondering if it's still good or not.)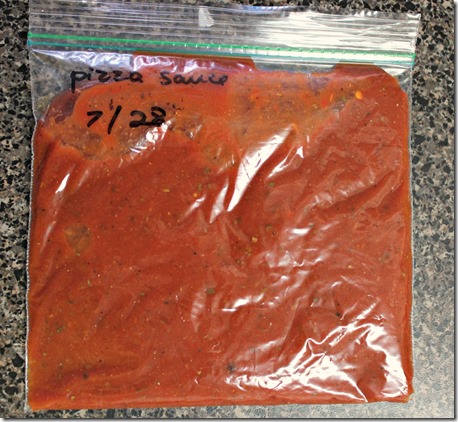 Happy pizza eating!!
What are your favorite pizza toppings?
Which part of the pizza are you most particular about?