For the perfect turkey with juicy meat and crispy skin, try this roasted turkey recipe that gets its enhanced flavor from dried herbs and fresh aromatics.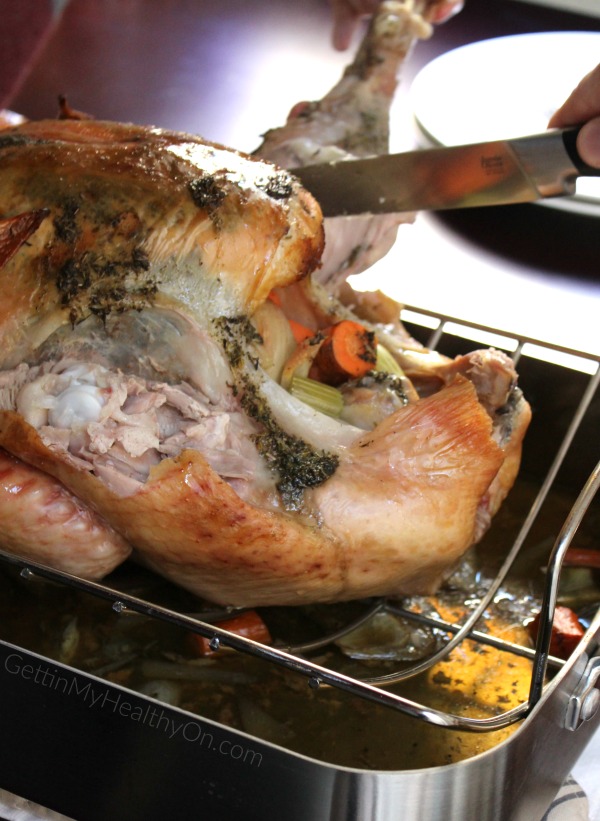 Something you probably don't know about me: I was born with some sort of turkey "gene" that has blessed me with making only delicious, meat-falling-off-the-bone turkeys. Granted, I've only made about four in my life, but every Thanksgiving, Matt and I are always so pleasantly surprised at the end result of my "I don't know what I'm doing but I hope this works out" process.
Despite my good luck so far, I'm always nervous when it comes time to cook a Thanksgiving turkey—what with the increased pressure of the holiday. This year, in particular, I need it to work out because we're hosting some friends. In other words, I have to cook turkey for real people this time, so ideally I'll keep my tasty turkey streak going.
Thankfully, this time last year, I closely documented my turkey-prep process so I could have a go-to recipe for the indefinite future. Since it worked out so beautifully, I'm excited to finally share my fail-proof ingredient list and instructions!
So! Let's get down to business.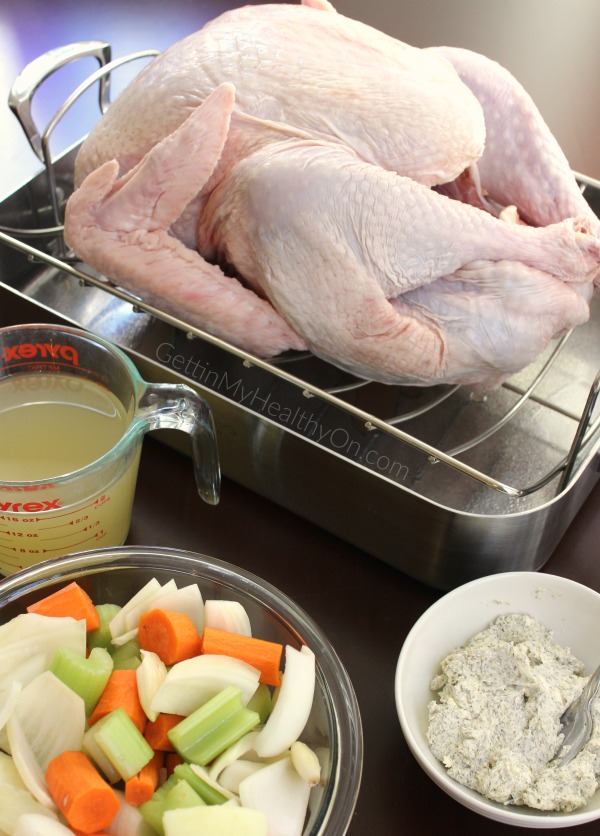 There are three main components of my turkey recipe:
Turkey
Aromatics (carrots, celery, onion, and garlic)
Compound butter (butter, sage, thyme, rosemary, parsley, and salt/pepper)
Once you've got the veggies roughly chopped and the butter-herb mixture prepared, you're basically ready to assemble the simple turkey recipe. You'll also need some chicken broth and white wine to add flavor and moisture (confession: half the reason I use wine is because I get thirsty when I cook 😉 #NotSorry).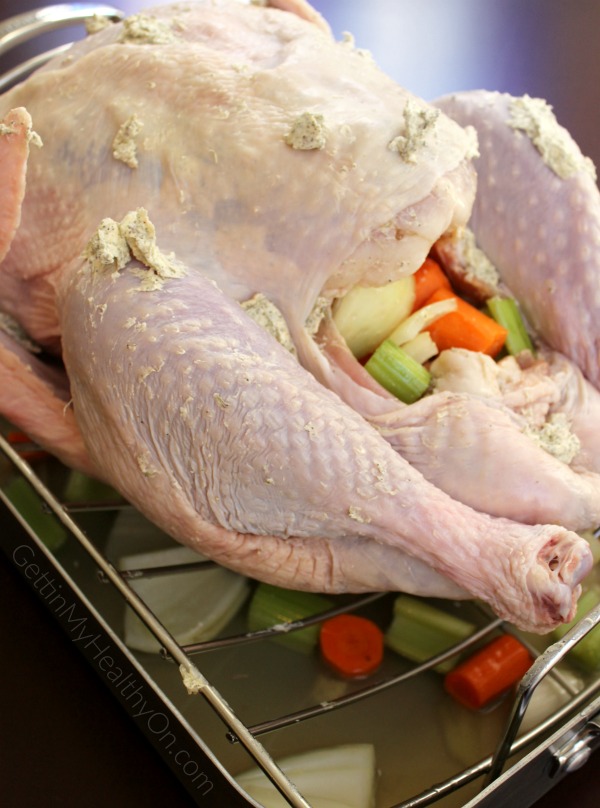 Before I get into the juicy details (get it? bahaha) of how I cook my Thanksgiving turkey, there are some basic guidelines you should really know (a few of which I have learned the hard way).
Tips for the Best Thanksgiving Turkey
When to Buy Your Turkey: If you've got the freezer space, you can buy a turkey months ahead of time. But let's be real, very few of us are that prepared. At the very least, try to buy your frozen turkey about 2 weeks ahead of time, because your size options will get very picked over (8 lbs. vs. 22 lbs? No).
Thawing Frozen Turkeys: When you think your turkey is completely thawed out, keep thawing it out. The inner cavity holds onto icicles like you wouldn't believe. The general rule:

defrost in the fridge 1 day for every 4 pounds

. If you're running out of time, though, you can defrost it much faster soaking in water.
For Juicy Turkey Meat:

Let the raw (pre-brined) turkey get to room temperature before cooking (about 1-2 hours). This allows for even cooking so the outer meat doesn't get too dry.
Put butter under the skin. This grosses me out sometimes, but it's a MUST in my book. Whether it's plain butter or my compound butter recipe below, spread pockets of butter between the skin and the meat (which requires a bit of force at times). This will melt into the meat as it cooks, helping up the juicy factor.
Use a meat thermometer (inserted deep into the thigh) to check when it reaches 165° F. The pop-up thermometer is often set for 180°, which is technically hotter than you need (165° is considered safe for poultry, plus it keeps cooking even after it's removed from the oven). FYI: in 2006, the FDA advised the breast meat reach 165° and the thigh meat reach 180°, but later revised its recommendation saying 165° overall is safe to consume. In the end, do what you feel most comfortable with.
Once it's cooked, let the turkey rest for about 15 to 30 minutes to seal in the juices. P.S. I don't promote basting turkeys, but you do you.

For Crispy Turkey Skin:

Using paper towels, absorb all the moisture on the raw turkey (and in the cavity!).
Butter the outside of the skin prior to cooking.
Cook it at a higher temp. at first to help render out some fat up-front, helping crisp the skin. Then cook at a lower temp. for the remainder of the time.
Oh, and another pro tip: most frozen turkeys you buy at the grocery store are pre-brined. I've never dry- or wet-brined a turkey before and I'm not about to start because that requires more planning than I'm into. (Lord knows Thanksgiving is enough work.) If you're not sure (i.e., me last year), check the ingredients of your pre-packaged turkey—if it includes something like "Contains up to 8% of a solution of water, salt, spices, and natural flavor," (à la Butterball) it's already brined. You're welcome.
Alright, my novel of how to cook the perfect turkey is complete. Now here's the specific recipe I use to get it done:
Ingredients:
16-18-pound pre-brined turkey, thawed
Compound Butter with Herbs (recipe below)
Aromatics (recipe below)
1 1/2 cups chicken broth
1 1/2 cups white wine

Herb Compound Butter:

3/4 cup unsalted butter (1 1/2 sticks)
2 tsp dried rubbed sage
2 tsp dried thyme
1 tsp dried rosemary
1 tsp dried parsley
1 Tbs kosher salt
2 tsp black pepper

Aromatics:

1 yellow onion, roughly chopped
3 large carrots, roughly chopped
3 celery stalks, roughy chopped
5 garlic cloves, smashed
Instructions:
Before Preparing the Turkey:

Leave the defrosted turkey at room temperature 1-2 hours before preparing.
Remove the turkey giblets and discard, or put them on the side of the turkey in the roasting pan.
Place the turkey on a roasting rack in a large roasting pan, breast side up.
Pat the outside of the turkey and inside of the cavity dry with paper towels.

Preparing the Turkey:

In a medium bowl, mix together the spices with the butter. Rub 2/3 of the butter mixture under the skin and in the cavity. Melt the remaining compound butter and brush it over the outside of the turkey.
Pour chicken broth and wine into the base of the dish. Place onions, carrots, and celery into the cavity, with any extras in the base of the roasting pan.
Tuck the wings under bird. Truss the legs wth kitchen string or by tucking them under the flap of skin at the end of the tail.

Cooking the Turkey:

Bake at 475 degrees for 30 minutes. Turn the heat down to 350 degrees for the remainder of the time. When the skin browns to the desired level, cover the entire dish with aluminum foil.
30 minutes before the recommended end time, check the level of doneness with a thermometer by inserting it deep into the turkey thigh. Keep checking every 15 minutes until it has reached 165 degrees; then remove it from the oven.
Let the turkey rest (still covered with foil) for 30 minutes before carving and serving.
Recipe from GettinMyHealthyOn.com
Making a turkey for Thanksgiving (or anytime) doesn't have to be an overwhelming process. Even if it's uncharted territory, I believe in you! If I can somehow make it work when I have no idea what I'm doing, so you can you.
My biggest tips? Make sure it's defrosted; make sure you don't overcook it; and make sure you're surrounded by chill people just in the off chance that something goes wrong and you have to order some Thanksgiving pizzas, they'll still love you. 😉
And one last shot of food because i'm excited for all the tasty things coming up.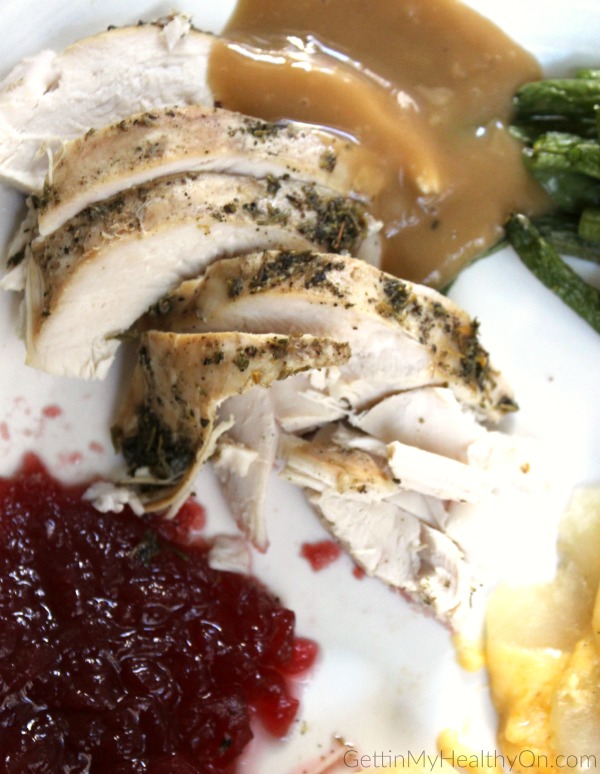 Are you experienced with cooking turkeys? Any tips you swear by? 
What's your favorite Thanksgiving or holiday dish?