In my dream office, I'd have an endless supply of protein bars and other healthy snacks to get me through my workdays. Unfortunately, my food supply seems to always be at an extreme low, often forcing me to either find crap elsewhere or go hungry (THE HORROR). I try to keep my office space at least partially stocked with some healthier choices for days I don't bring enough from home, because let's be real—I'm not always going to be on top of my healthy food prepping game.
Today's post is all about healthy snack ideas to keep at work. While I try not to rely on what I have in my desk, I end up pulling from stash several times a week and am always so thankful to have it. In case you get sick of your usual snacks, or need more ideas of how to keep your drawer fully stocked with healthier items, I've made a list of ideas to help you eat smart all day errday.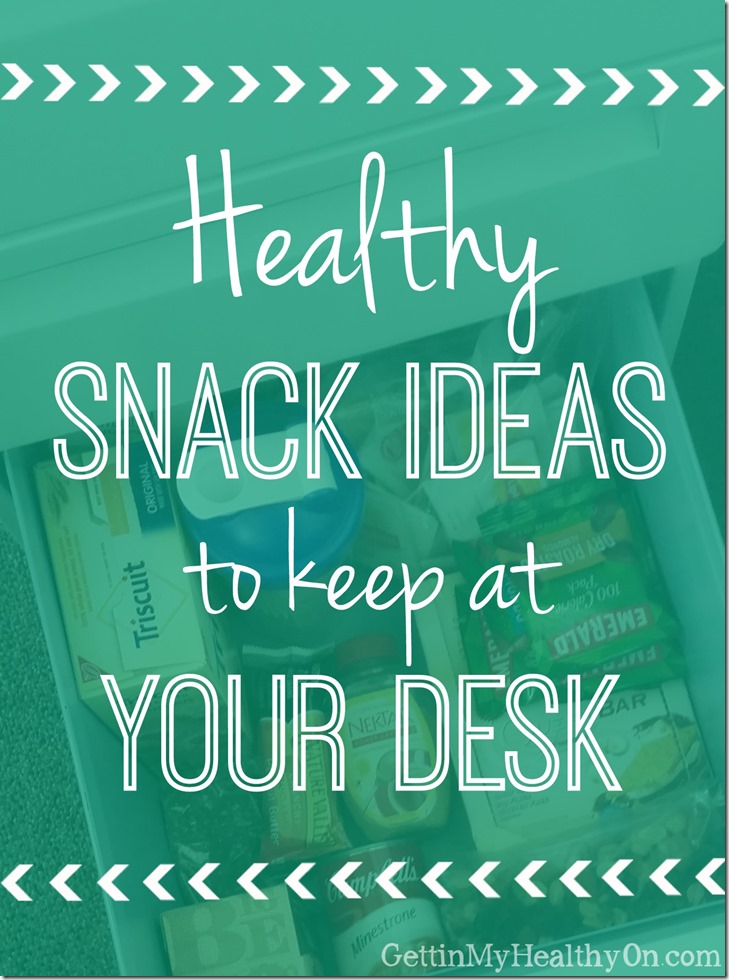 This list is only items that are non-perishable and can be kept for a longer period of time. While foods like yogurt, fruit, and fresh veggies are all great to snack on, that stuff requires refrigeration or has a limited shelf life. So here are some things I recommend (all of which are mostly healthy, in my opinion):
Protein or granola bars (shout to Quest bars)
Trail mix (I'm currently stashing a glorious bag of my Harvest Trail Mix)
Almonds or nuts (raw, roasted, seasoned, mixed, or whatever you fancy!)
Triscuits (dat fiber doe)
Applesauce cups (so simple and lasts for awhile)
Nut butter (I'm fresh out of almond butter…WHYYYYY)
Popcorn (make your entire office jealous with the heavenly aroma)
Salted, freeze-dried edamame (well hello, favorite new Target buy)
Protein powder (dump some in a blender bottle, shake, and enjoy a fast snack or even meal replacement)
Chia seeds (I highly recommend pouring a tablespoon of these into a bottle of water with some water flavor enhancer for a DIY chia water situation)
Oatmeal or cereal (for those mornings I don't have time to eat breakfast before I leave for work)
Soup (my "just in case" lunch backup)
A variety of teas (I'm a tea fiend, especially chai tea with a bit of milk and honey; it's a surprisingly easy way to stave off hunger for a bit)
In the above list, hot tea is what I consume the most. Yes, that may not sound exactly like a "snack" to you, but I use it like one—either that or for warmth because people think turning the AC on when it's already freezing is a good idea……….
Tea mostly acts as a snack for me when I add some milk to it. So that usually means black tea of some sort (I <3 chai). It's also quite the nice "treat" when I add honey to it, but that's not always a realistic option at work. Until now!
I was given a bottle of what Nektar Naturals calls "Honey Crystals," which is granulated honey (and also includes a bit of cane sugar). It's such an interesting concept to me—one that really comes in handy sometimes. It's an all-natural, non-GMO, and naturally gluten-free product. I really appreciated this stuff last week when our honey decided to spill all over our cabinet. I guess you could say it was perfect timing for a sticky honey incident, considering I had just received this new "no mess" alternative.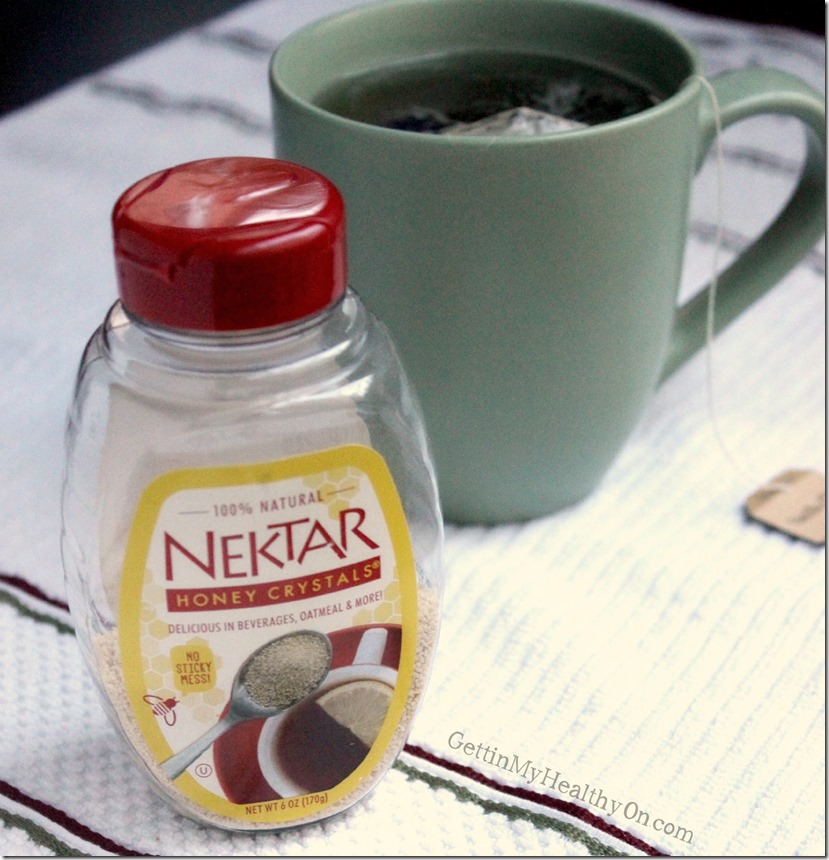 I've mostly had it in tea (and have messed around with it in baked goods some). The consistency reminds me of sugar, but it obviously tastes more like honey. It's definitely more convenient for many things; you know…like jazzing up your tea mid-workday.
I'm sure some people would think I'm crazy for considering tea a pseudo-snack, but it really does help me suppress my aggressive appetite. So I recommend it—with or without the honey. However, if you do want to try this innovative honey crystal situation, there's good news!
Nektar Naturals Honey Crystals Giveaway
Boom. A giveaway. Thanks to the Nektar gods, I'm giving away a bottle of the honey crystals for one lucky Gettin' My Healthy On reader to try!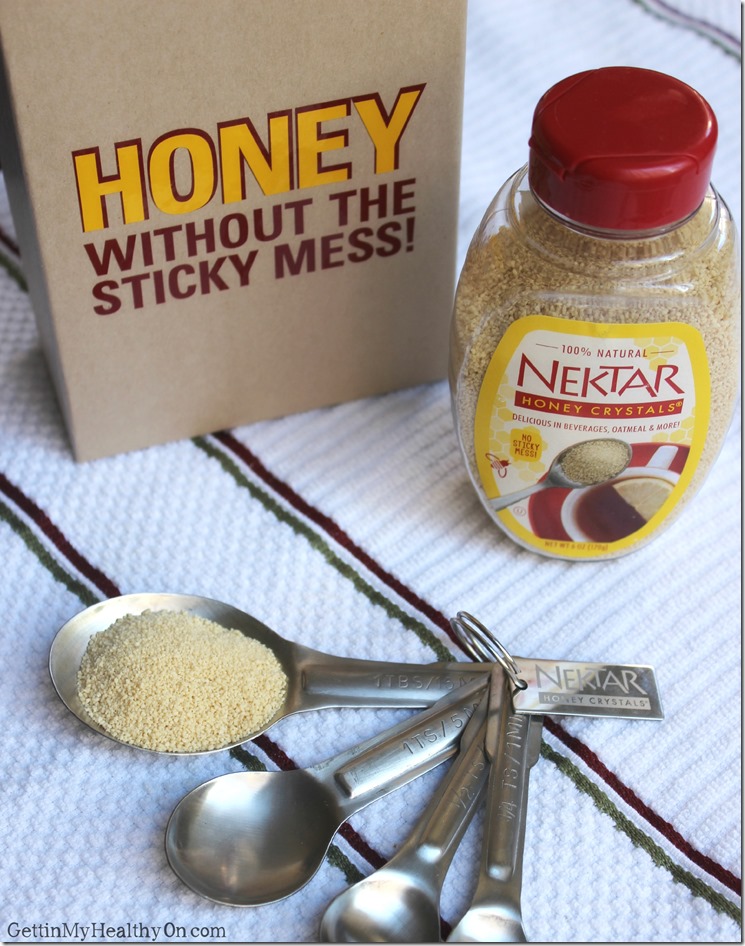 For the chance to win, all you have to do is follow the instructions in the giveaway widget below. First, leave a blog post comment telling me your favorite way to use honey. This will automatically give you 3 entries. THEN, choose what you want from the updated list for additional entries.
Good luck! (Giveaway ends next Wednesday, 12/16 at midnight.)
You can find Nektar Honey Crystals at Walmart locations across the U.S. Find your nearest one here.
[Disclaimer: I was given Nektar Honey Crystals for free to review; all opinions are my own.]