When your kitchen is stocked with the basics, cooking is so much easier. I see some people's pantries, and I honestly don't know how they live. Our fridge, freezer, and especially pantry always have a decent amount of items in them, even when we desperately need groceries. This is probably a result of me cooking on a fairly regular basis–I've developed quite the inventory over time.
I also try to keep lot of healthy staples on hand so we just automatically eat healthier without trying very hard. Unfortunately, since we don't buy a lot of foods/meals that are processed, instant, or prepackaged, we often end up with a lot of basic ingredients, which is great and all…but it all requires effort to make legit meals.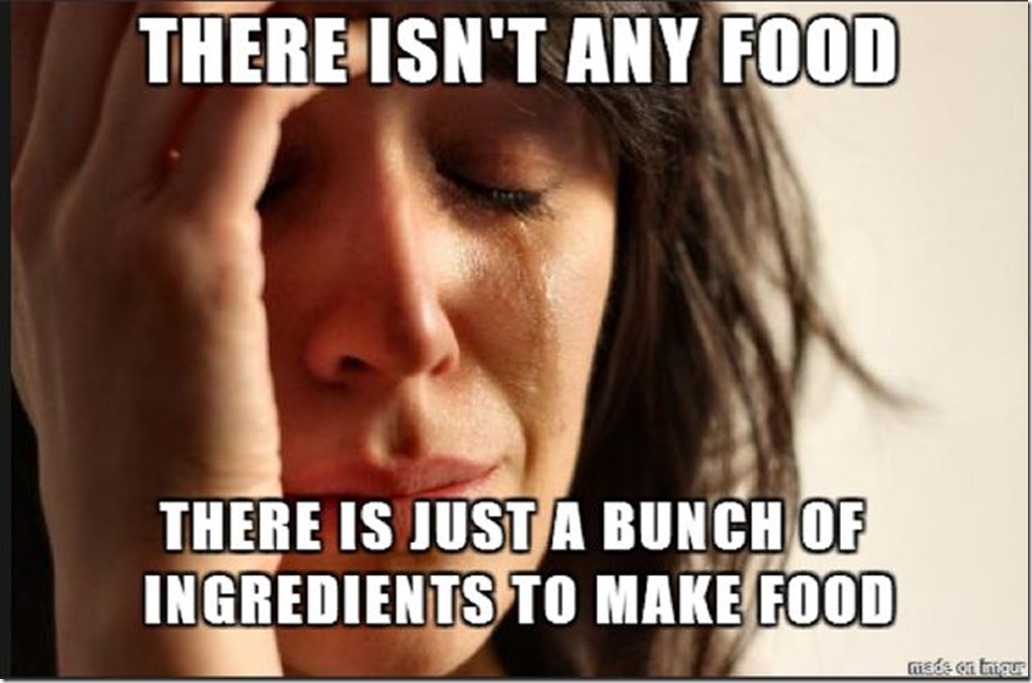 First world problem, fo sho.
Even if I don't have dinner planned, though, simply having a bunch of healthy ingredients on hand helps keep me on track. Everyone has their go-to meals that don't require a lot of prep, so what I consider staples may not necessarily be staples for you—to each his own. But for those who want some inspiration for making healthy eating a little easier, I highly recommend keeping a bunch of the following items on hand.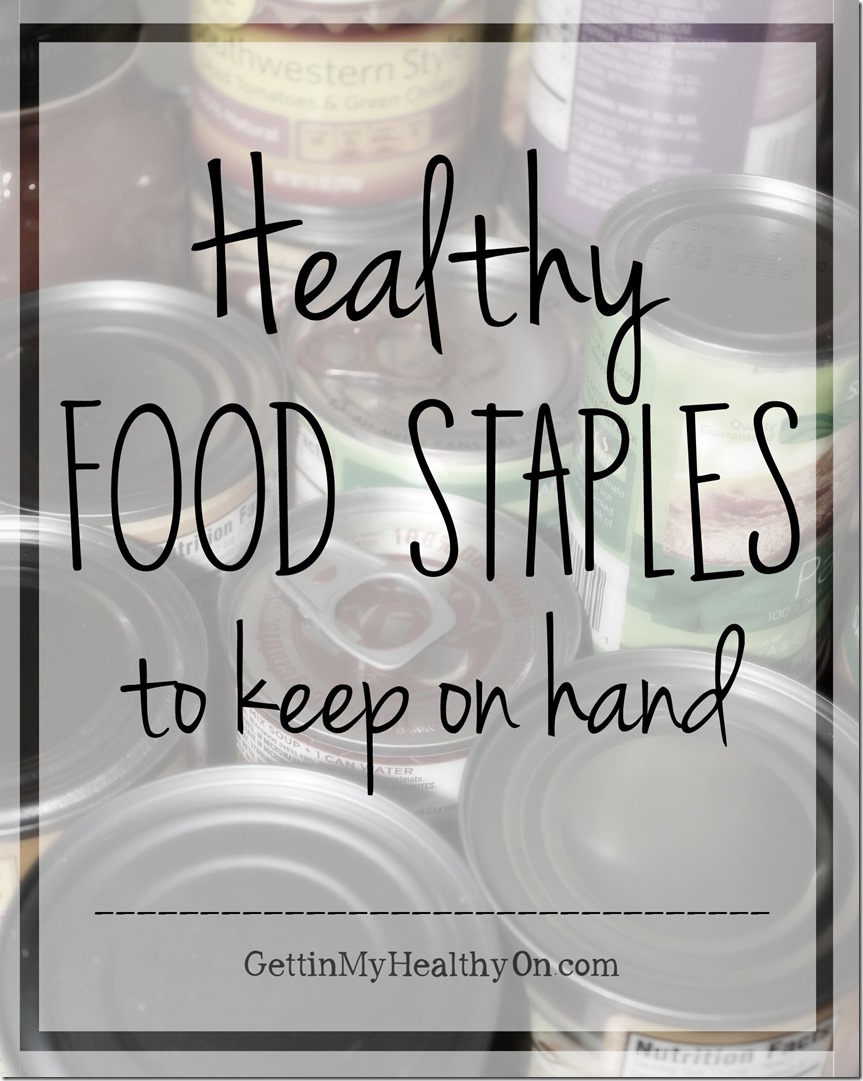 Pantry Staples
Our cabinets and pantry are out of control. They never seem to be depleted because I have so many items I consider "staples" since they have a much longer shelf life than most foods.
Whole grain pasta: spaghetti and cut pasta (penne, macaroni, etc.)
Rice and grains: brown rice, quinoa (technically a seed, whatever)
Baking ingredients: flour, baking soda, baking powder, cornstarch, yeast, sugar (white, brown, powdered), unsweetened apple sauce cups, cocoa powder
Oats
Tomatoes: marinara sauce, diced tomatoes, tomato paste, southwest style diced tomatoes
Beans: black, pinto, chickpeas, etc.
Honey (the only food that doesn't go bad!)
Nut butters: peanut, almond, whatever your heart desires
Oils: olive, coconut, vegetable, canola
Protein powder
Coffee grounds and tea bags
Broth
Seasonings: cinnamon, garlic powder, onion powder, chili powder, cumin, basil, parsley, and like 500 others
Bananas
Garlic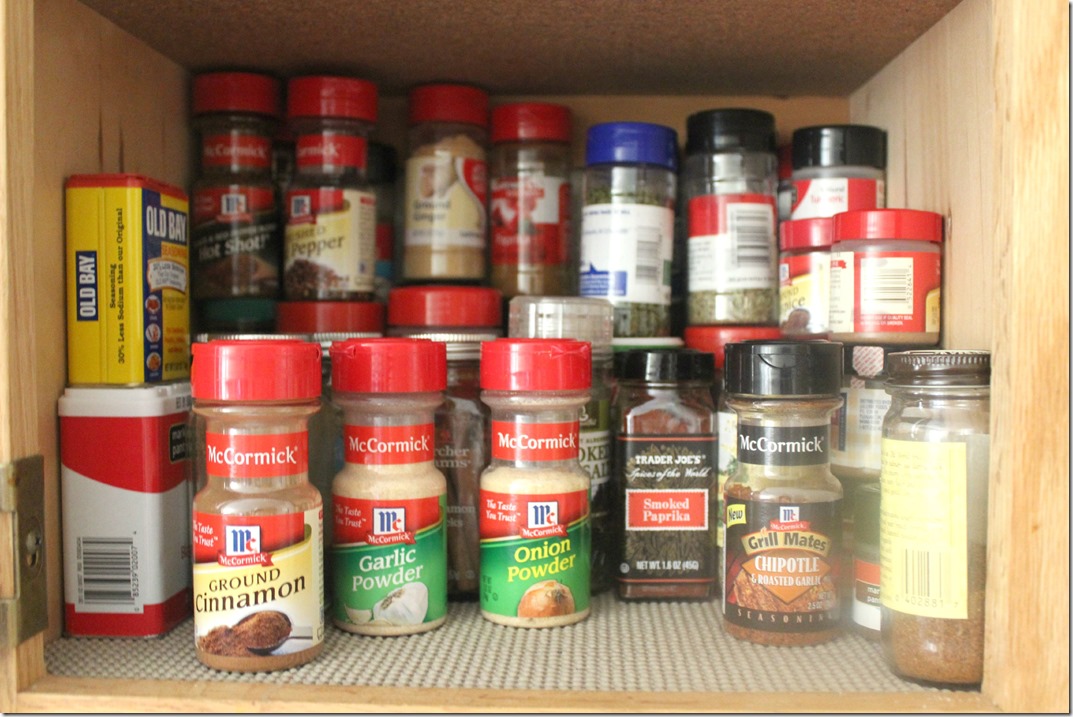 Fridge Staples
This is the place where we definitely notice if we need to get groceries. There are perishable items that you have to get on a routine basis, but I try to keep the following stocked at all times.
Apples
Dairy: eggs, plain Greek yogurt, milk, grated parmesan, cheddar (we buy a block because it's super versatile)
Veggies: carrots, spinach, green peppers
Whole wheat bread (yes, we keep our bread in the fridge—we don't use it fast enough to keep it out)
Condiments: hot sauce, mustard, oil and vinegar salad dressing, and many other things that aren't so healthy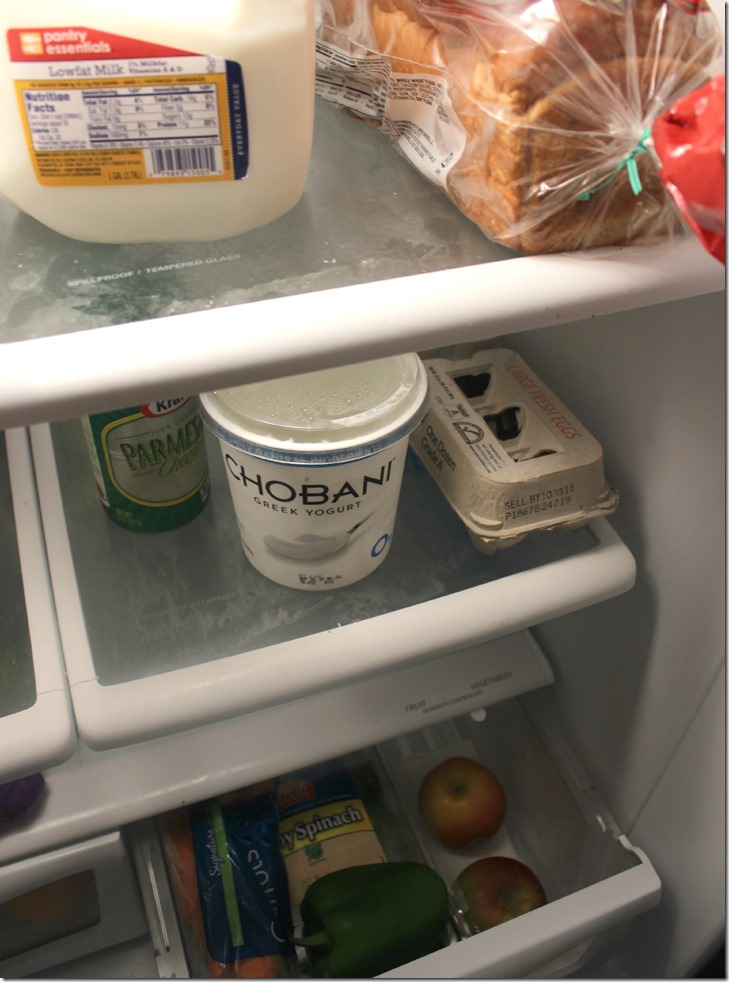 Freezer Staples
We freeze way more than the average person, and that's because we simply don't eat things fast enough, so it just makes sense to freeze them for later.
Fruit: sliced bananas, blueberries, and others for smoothies
Meat: chicken, ground turkey breast, fish, bacon
Veggies: mixed veggies, peas, corn
Liquids: homemade pizza sauce, leftover broth, blended salsa (because we're weird and don't like chunky)
Pizza crust dough
Shredded mozzarella (for said pizza)
Buns: hamburger and/or hotdog
Tortillas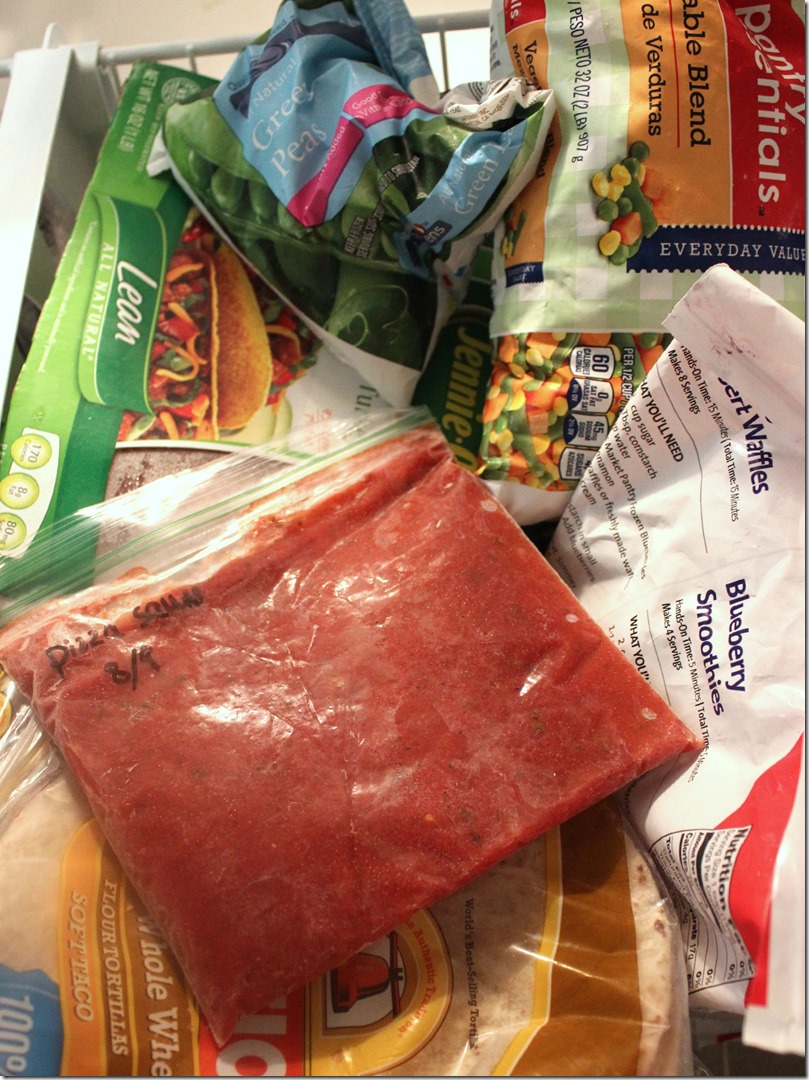 What are some staples you keep in the kitchen?
---
This post is part of the Fitness Friday link-up hosted by Jill Conyers.