Happy National Trail Mix Day!
Since September begins tomorrow—and the first day of fall is in 3 short weeks—I wanted to celebrate this "holiday" with a fall-inspired trail mix recipe of sorts. (I guess you could say I'm ready to let go of this ridiculously hot summer.) I'm calling it "Harvest Trail Mix" because it includes two ingredients that scream autumn to me: cranberries and pumpkin seeds. Or rather, dried cranberries and pepitas (aka shelled pumpkin seeds). Aside from the specific ingredients, I found the color combo to be fitting for the upcoming season as well.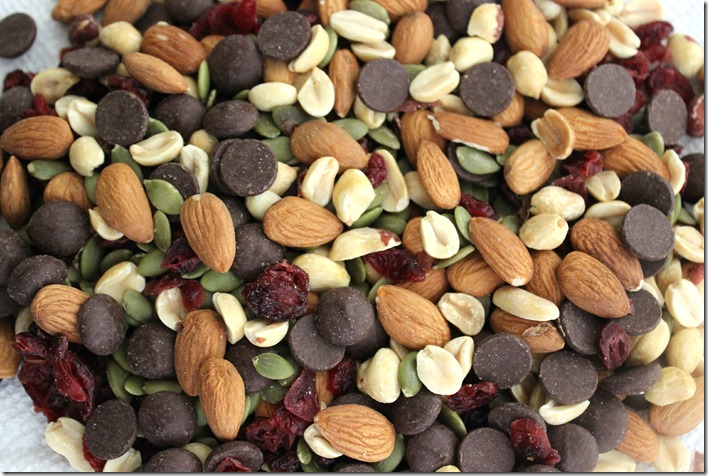 One thing I hate about a lot of pre-packaged trail mixes is that they're often the equivalent of candy. While I do love candy more than the average person (we're talking almost Leslie Knope status), I'm trying to be healthy over hurr. To set myself up for smarer snacking, I like to use mostly raw ingredients when I make trail mix—aka nuts and seeds that aren't salted/seasoned and not adding a bunch of actual candy. Dried cranberries and chocolate chips obviously have sugar, but if you want some energizing trail mix, a teeny boost of sugar can help.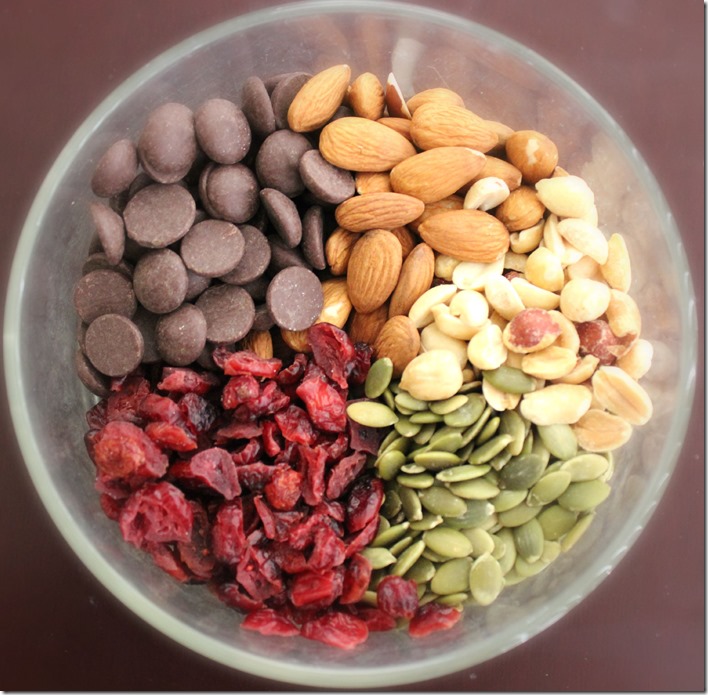 As you can see, I combined almonds, peanuts, pepitas, dried cranberries, and dark chocolate chips. Although I used raw nuts/seeds, I bet this would be quite tasty to use salted peanuts and/or almonds for a more intense sweet and salty situation.
See below for the details:
Ingredients:
1/2 cup almonds
1/2 cup peanuts
1/2 cup pepitas
1/2 cup dark chocolate chips
1/2 cup dried cranberries
Instructions:
Mix all ingredients together.
Store in an airtight container at room temperature.
Recipe from GettinMyHealthyOn.com
So throw it in a bag and snack as you please!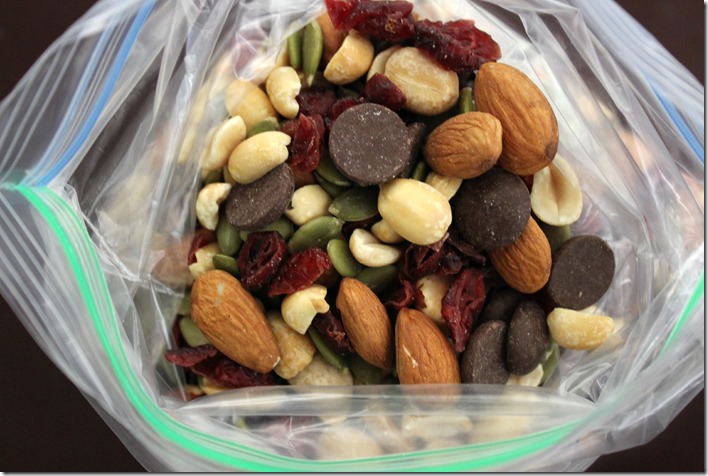 This recipe is part of The Fit Dish link-up hosted by Jill Conyers and Jessica Joy, as well as the Meatless Monday link-up hosted by Deborah and Tiny Muir.