Make this easy one-pot meal by combining green beans, potatoes, and kielbasa sausage for a simple yet flavorful dinner.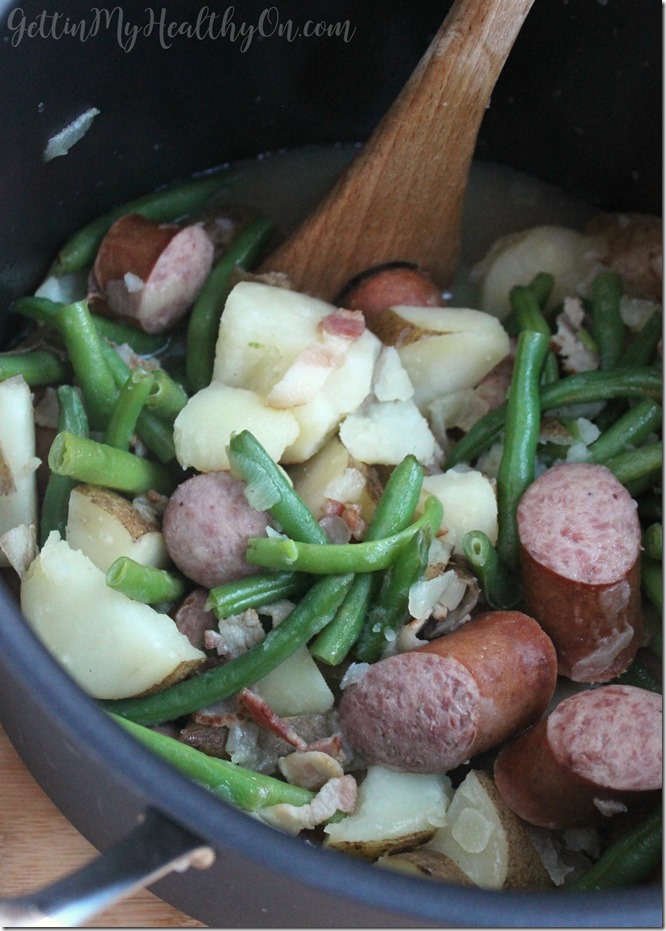 Green beans hold a special place in my heart. I grew up eating fresh ones from my dad's garden as well as my grandma's. I was spoiled and definitely did not take it for granted. Anytime green beans were cooked, it was generally accepted that Katie required a family-sized portion for herself alone. I did not—and still do not—mess around, people.
One meal that we ate frequently when I was younger is this one-pot meal situation. Sometimes it would be a side dish; other times it was the main event. Either way I was happy. It's strange, though, because I've never actually made this on my own before. It never really occurred to me until recently.
When grocery shopping recently, I grabbed a large bag of fresh green beans and felt inspired to make this go-to family dish. (Canned green beans also work beautifully for this recipe. I don't recommend frozen, though, because they're all squeaky and weird. I've never understood it. However, green beans are green beans so do what you must.)
To make this easy side dish / main dish / whatever you want it to be, you'll first need to sauté some onion and bacon (the smell of this, alone, brings me back). Then you add the green beans, kielbasa sausage, and diced potatoes. We always used canned green beans, so there was liquid already with them. If you're using fresh like I did, you'll need to add some water to help them cook evenly throughout.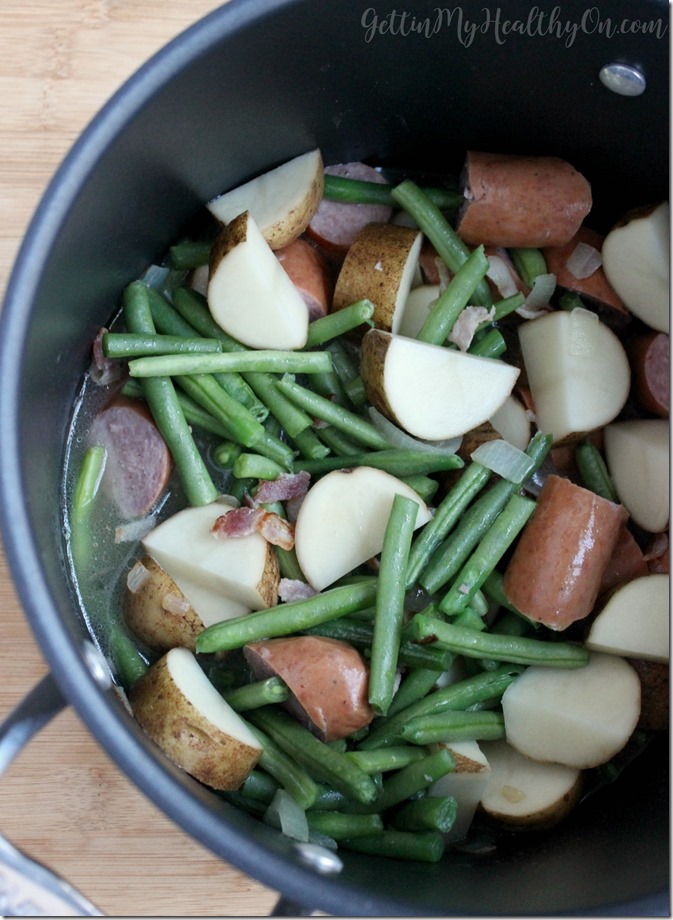 Cover your pot and cook for about 20 minutes, and voila! You've got an extremely simple yet tasty one-pot meal.
Granted, this is not the most groundbreaking meal idea ever. But if you want something easy and fairly balanced, this works like a charm. Growing up with this, I think I have an abnormal appreciation for it. I will admit, though, that it tastes much better when my grandma or dad make it. That seems to happen with any foods though. Grandmas, especially, are known for their food skillz.
Green Bean, Potato, and Sausage One-Pot Meal
Ingredients:
1/2 yellow onion, roughly chopped
3 strips bacon, cut into small pieces
12 oz. green beans
3 large russet potatoes, diced
1 (13-oz.) kielbasa
1 cup water
Salt and pepper to taste
Instructions:
In a large pot, sauté onions and bacon until onion is translucent and bacon is cooked, stirring frequently.
Add green beans, potatoes, sausage, water, and salt and pepper. Cook covered for about 20 minutes, or until potatoes and green beans can be pierced with a fork with little resistance.
Serve immediately.
Recipe from GettinMyHealthyOn.com
No one ever measures this, so I just came up with my own ratio of ingredients above. Really, though, just throw a little of this and that according to your preference. Enjoy!
Do you have any go-to one-pot meals?
What are some dishes you grew up eating and love to make yourself now?