Amazing weather, beautiful scenery, exciting nightlife, diverse food scene—there are a million reasons to love San Diego. Over the past five years of living here, I've come to appreciate one aspect of "America's Finest City" more than all others…
The vast assortment of fitness activities that are available, many of which are free!
With every passing year, I become more aware of just how much there really is to do here. All you have to do is take advantage of it! Me being the dedicated home-body that I am, it can be difficult to get out sometimes and explore all that San Diego has to offer. But let me tell you, it is always worth the effort.
So whether you're a fan of the buddy system or prefer to ride solo, I'm sharing what I consider to be the best, easiest ways to exercise in San Diego (/San Diego county)…without spending a dime.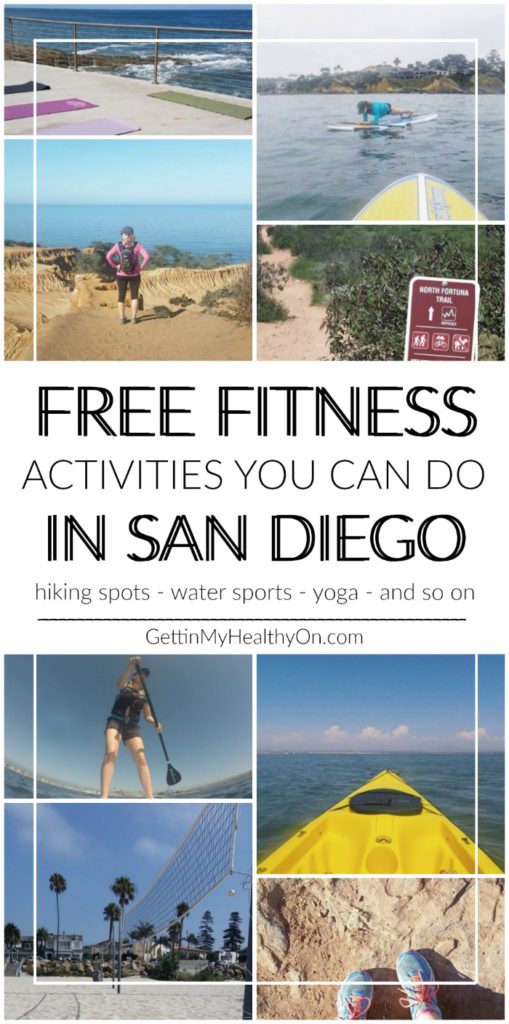 Hiking in Mission Hills or Torrey Pines. 
San Diego is covered in mountains, so there are numerous trails to choose from, with varying terrains, inclines, and scenery. These are two of my favorite hiking spots.
Playing beach volleyball.
Grab some friends and head to areas like Coronado Beach or Mission Beach for some sandy competition. The courts can get busy fast, so it usually takes some planning, but it's a lot of fun if you can make it work!
Free yoga and other fitness classes by the water.
This is one of the best kept secrets of fitness in San Diego. There are SO many free (or donation-based) classes. For example, I've done a boot camp at Mission Bay Park and yoga at Sunset Cliffs and downtime, which were all free. (I recommend exploring Meetup.com to check out opportunities.)
Running by the beach or on a trail.
If you're a runner, you've got it made. There are so many beach paths and scenic trails to choose from. Back when I running was my jam, I really liked going along Mission Bay Park or up around Lake Miramar (or even on the beach).
Swimming, surfing, kayaking, paddleboarding, and other water sports. 
For this one you might need to own or borrow equipment, but seeing as how San Diego is along the coast, there are numerous water activities to partake in. The water sports I've done most are kayaking at Mission Bay and the Silver Strand and stand-up paddleboarding in La Jolla.
Climbing the stairs at the San Diego Convention Center. 
Head downtown if you want to run up and down the intimidating outdoor stairs that cut through the middle of the Convention Center. I haven't done this, personally, but I have some friends who have. Doesn't matter your fitness level, this will most definitely be a challenge.
Walking along the beaches at Coronado and Torrey Pines. 
When in doubt, just head towards the coast and start walking along the beach. My favorites spots are Coronado Beach, Mission Bay, Torrey Pines State Beach, and Carlsbad State Beach.
And if you really want to live, there's this thing where over the course of one day, you snowboard in the mountains, mountain bike in the desert, and surf in the ocean.
The city is your oyster.
What are some of your favorite fit activities to do where you live?