Happiest of Fridays to you!!! Let's celebrate the end of the week with an ice cold pint of refreshing…water!
I've seen the topic of drinking one gallon of water per day a lot lately. Apparently being hydrated is all the rage these days. 😉
As I've noticed this "gallon challenge" becoming a trend, I've realized that I've actually been doing this for about three months without meaning to. At first, yes, it was definitely intentional. Most people don't just…drink 128 ounces of water without trying to do it. At first I had set a goal for myself to drink a gallon every day without a specific end point in mind. I just wanted to drink more water in general.
Now, here am I am about 90 days later, and it has become a pretty natural part of my day that doesn't take that much effort at all. While most people try this out for 30 days, I have no plans to stop, even after three months of diligently working at the water consumption.
Fun fact: on average, our bodies are composed of 60% water. To maintain this healthy level of hydration, and keep our organs functioning like rock stars, it's recommended that we drink at least 8 glasses every day that are 8 ounces each. The amount a person needs to drink will vary based on a number of factors—including how athletic you are. So although there isn't a "one size fits all" amount of water, there seems to be a general consensus: listen to you body and drink as needed.
Although 1 gallon of water is DOUBLE the recommended amount, I've found that I feel better with this extra H20. Please note: this isn't right for everyone. However, I think it's safe to say that most people could definitely benefit from drinking more water than they already do.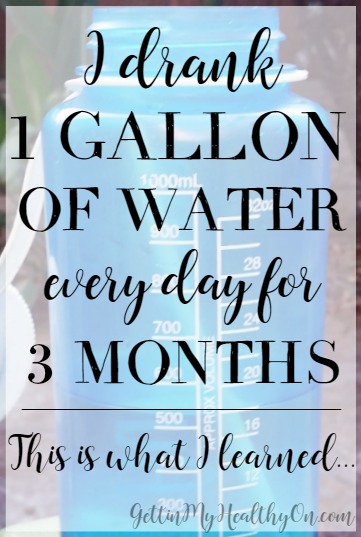 If you're curious what happens when you drink 1 gallon of glorious water every single day, here's a look at my experience:
1. I feel overall less sluggish and more alive.
Dehydration can come on so gradually that you don't even notice it until you're dying of thirst. By completely preventing this, I've noticed myself being more perky and ready to take on the day.
2. My brain feels more refreshed and alert.
There's a reason "drink more water" is on my list of ways to wake up when you're tired. It seems to really help me feel awake and "with it," I guess you could say. It's not like I take a sip of water and turn into a super hero or something, but I definitely notice myself feeling more refreshed throughout the day when I'm usually lagging. Cold water FTW.
3. Acne flare-ups are less frequent and clear up faster.
This is definitely my favorite side effect that has been glaringly obvious to me. I noticed it well into my first month of drinking #AllTheWater. Suddenly, if I noticed a godforsaken blemish pop up on my face, it would quickly fade away. What is this madness?! Ya, I'm sticking to this "drink more water" thing, fo' sho.
4. I don't need to eat as much to feel full.
It was a joke in college that I'd always chug water right before I ate and then not be able to eat much. (I can't help that seeing food makes me realize I'm extremely parched.) Similarly, just by having a good base of water in my system at all times, I seem to not need as big of meals to realize I'm nearing the happy level of full.
5. Hunger feels more authentic because I know I can't be dehydrated.
They say a lot of the time when we think we're hungry, we're actually just thirsty. Now, after having so many ounces already before each meal, I know my hunger is for food…not from needing water too. I have a happy balance of #AllTheThings in my system.
6. I get more exercise because I'm walking to the bathroom 10x every day.
Ask anyone who drinks 1 gallon of water a day, and they'll tell you they have to go to the bathroom ALL THE DAMN TIME. It's kind of a bittersweet problem. Ya, it can be annoying, but I also know I need to take more breaks at work and walk around, so it's for the best (though I fear my coworkers think I have some sort of problem).
7. My body has come to rely on the crazy amount of water.
When I'm out and about and can't bring my trusty ol' 32-ounce Nalgene bottle with me, I've noticed myself craving the good stuff like woa. It often doesn't even matter if I've already had a boatload of water already. I think my body has gotten used to the extra water. It likes the boost, and I'm pretty sure there's no turning back!
8. I feel mentally better about life.
You know when you do the tiniest healthy thing, and you're like, "Wow, I'm truly magnificent. I am the healthiest person on the history of the earth." Just me? Okay, well drinking 128 ounces of water during a day is like a small goal that turns into big results. It's not just physically beneficial for me—it puts my mind in a better places because I'm reaching such an attainable goal, which carries over into me wanting to do other healthy things.
But mostly…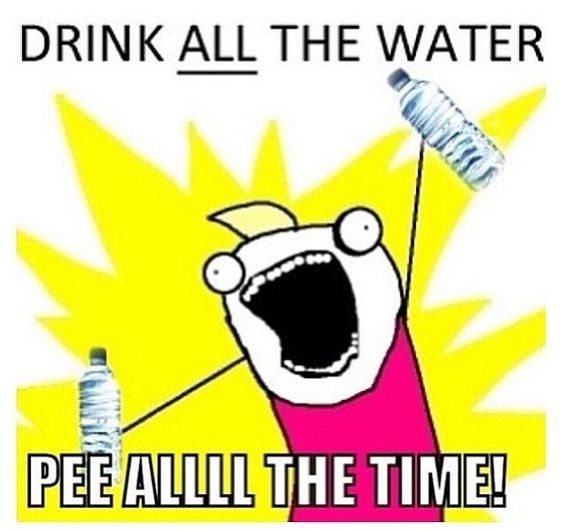 How much water do you drink every day?
Have you ever tried drinking 128 ounces? What did you learn?