Greek yogurt is one of my favorite protein-packed snacks. However, eating it everyday gets quite boring, which is what led me to discovering today's recipe.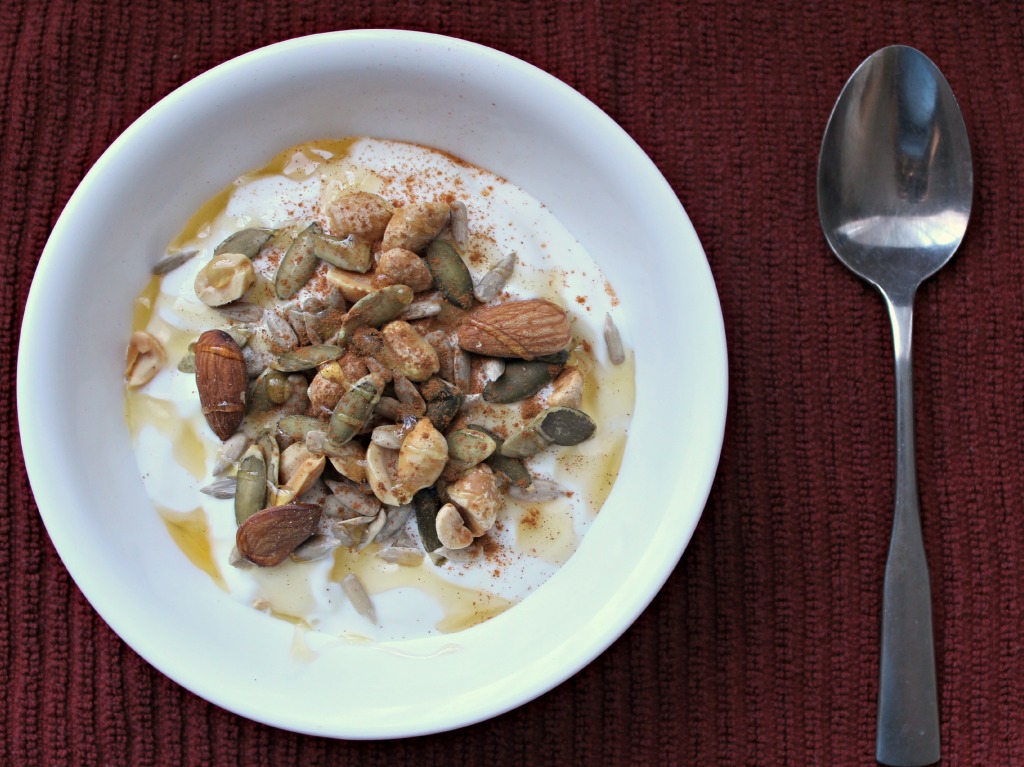 I only buy 0%, fat-free Greek yogurt because all the flavored varieties seem to be packed with sugar. Plus, having plain yogurt makes it more versatile, allowing me to cook sweet and savory dishes with it. The major downside to only purchasing plain, fat-free is that…it tastes slightly sour and disgusting plain. You get used to it after awhile, but I would rather throw some stuff in it and make it delicious. And you know what is delicious? Granola.
I used my Nut & Seed Granola recipe as inspiration by throwing a bunch of the same ingredients into a bowl of yogurt, and the results were quite satisfactory. Since I eat this yogurt concoction so often, I like to have the following nut and seed mixture on hand: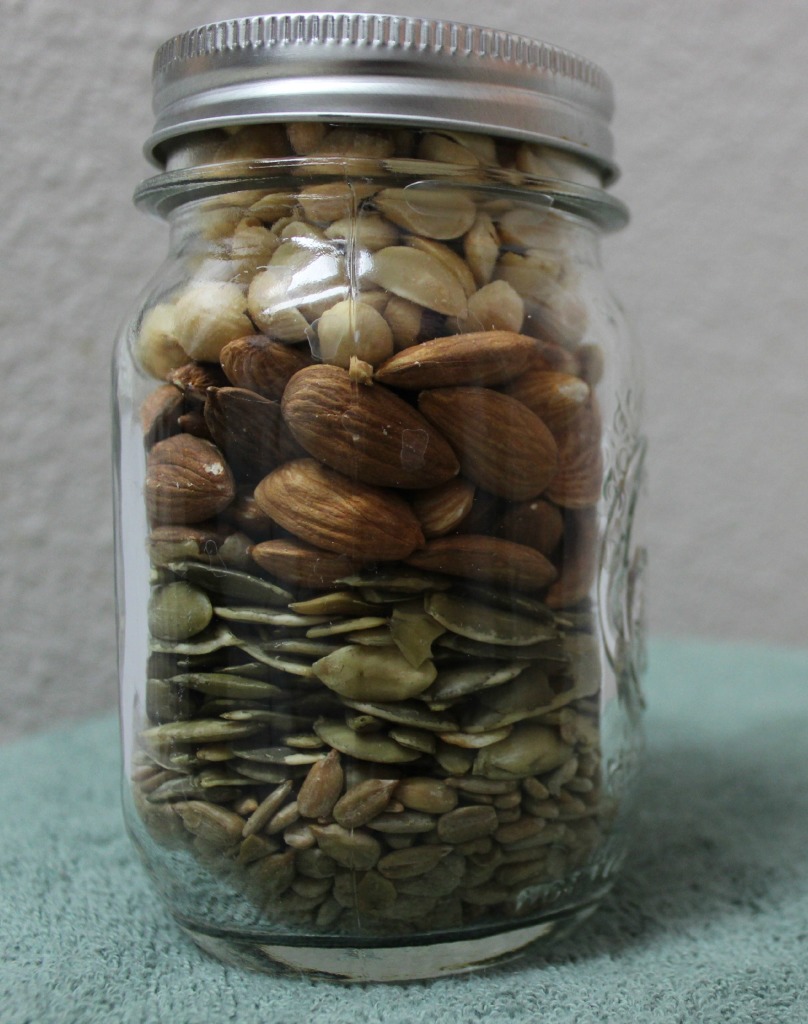 From the top down: peanuts, almonds, pumpkin seeds, and sunflower seeds — all of which are unsalted and free of any seasonings. I shake up the mixture and just pour a handful of it on yogurt most days when I get home from work as a pre-workout snack.
Also, honey is very important in this recipe. Granola isn't as good without a touch of sweetness, and that is what honey is for this. It still amazes me how well honey masks the sour taste of plain, fat-free Greek yogurt. It's magical.
Throw a touch of cinnamon on top and BAM! A deconstructed granola-esque yogurt snack that isn't disgusting..err..is delicious. Usually, oats are an important part of granola, so if you want to include that, go crazy. Even though I don't, this still seems granola-y to me. Or maybe more muesli-like? I'm going with granola. See below for the formal recipe.
Deconstructed Granola Yogurt
Ingredients:
6 oz of plain, fat-free Greek yogurt
Handful of nut/seed mixture
1-2 tsp honey
1/8 tsp cinnamon
Instructions:
Stir all ingredients together and enjoy!
Recipe from GettinMyHealthyOn.com
If you're a Greek yogurt enthusiast like I am, make sure to check out my list of healthy recipes using Greek yogurt.
Enjoy the rest of your Friday and happy weekend!!!
Questions for You:
What's your favorite way to eat/use Greek yogurt? 
What are you looking forward to most this weekend? Anyone running a race? I have a 5k to win. And by win, I mean hopefully not finish last.