Make homemade peanut butter cups with this melt-in-your-mouth recipe using dark chocolate for a rich and decadent dessert!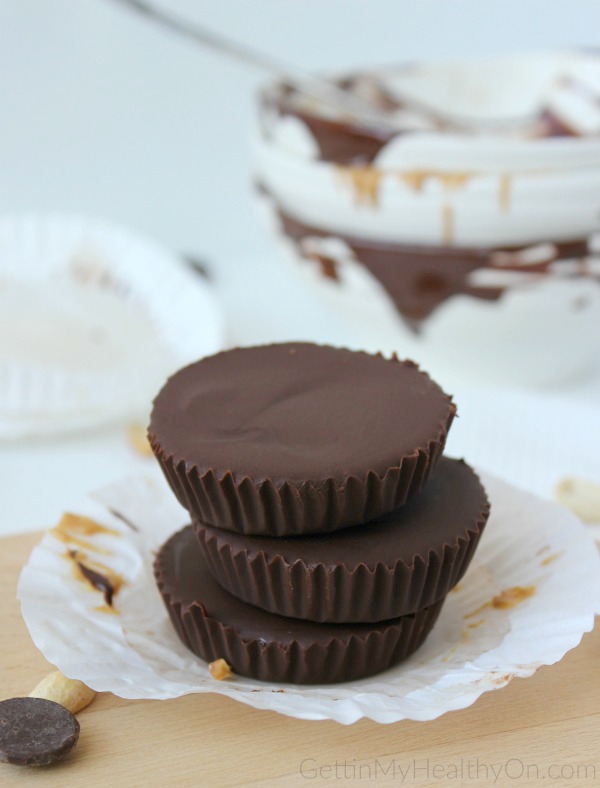 Dudes. This was one of those recipes that was completely effortless to take good photos of. I am puuumped to share this homemade peanut butter cup recipe because it has been absolutely spoiling my sweet tooth over the past few days.
Confession: I made these tasty discs a few weeks ago at about 8 p.m. on a Wednesday because I was craving chocolate like woa. I had never even made homemade peanut butter cups before then, but it just made sense when I was trying to think of a way to transform chocolate chips and peanut butter into a quick dessert.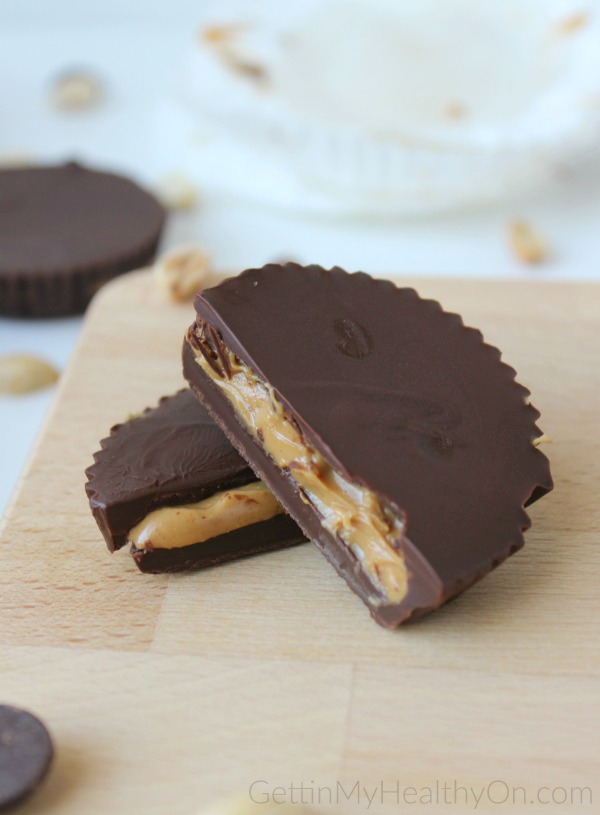 Oh my lawd. I can't get enough of these! …except I'm lying because eating more than one of these puts me over the edge because of that rich dark chocolate (and that, my friends, is what adulthood has done to my former candy-loving self).
A few things you should know about this recipe:
Only has three ingredients
Can be made in about 30-35 minutes (with minimal effort, might I add)
Is melty AF once you start to devour them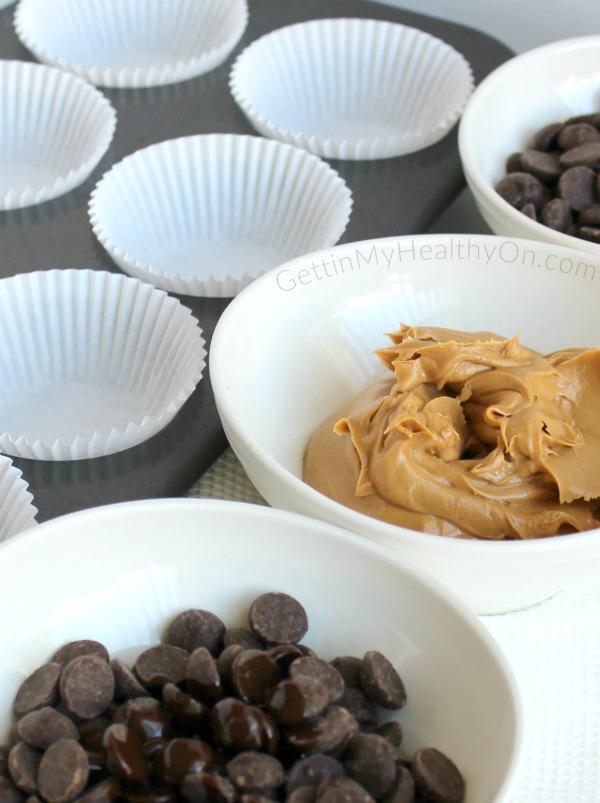 To make these, it's a pretty simple step-by-step sandwich-making process. First, melt the chocolate chip and coconut oil mixture together. Divide that among the lined muffin tin cups. Freeze for a bit. Then warm the smooth peanut butter so it flows like a sticky waterfall. Divide that among the cups.
PRO TIP: don't make the PB go all the way to the edges if you want the chocolate to completely cover the peanut butter guts. Or make it go to the edges if you want to see all three layers before biting into them. (If you do this, it's even messier because the peanut butter squishes out the sides. Don't say I didn't warn you.)
Once the peanut butter is spread to your liking on top of the chocolate layer, melt the rest of the chocolate-coconut oil mixture and pour that over the top of the cups. Freeze for a little longer. Then they're ready to eat!
Honestly, though, you can mess up the directions for this recipe, and it'll still turn out delicious. The first time I made these, I didn't even freeze them until after they were all put together. The layers were a little uneven since I kept adding melted layers on top of each other, so that's why I'm providing so much direction below—in case you want the optimal structure. 😉
Dark Chocolate Peanut Butter Cups
Ingredients:
2 cups dark chocolate chips (10-12 oz bag)
4 tsp coconut oil, divided
2/3 cup smooth peanut butter
Instructions:
Line a muffin tin with 12 cupcake liners. Set aside.

Bottom Layer:

In a small bowl, add 1 cup chocolate chips and 2 teaspoons coconut oil. Microwave for 1 to 1 1/2 minutes, until the mixture is melted and smooth when stirred.
Divide the melted chocolate mixture among the lined muffin cups (about 1/2 tablespoon each). Using a spoon, make sure the chocolate completely covers the bottom of each cup. Freeze for 10 minutes.

Middle Layer:

In a separate small bowl, microwave the peanut butter for about 15 seconds, or until it becomes thin and easy to pour.
Pour the peanut butter over the top of the chocolate-filled muffin cups, dividing it equally. Freeze for 5 minutes.

Top Layer:

Microwave the remaining chocolate chips and coconut oil until melted and smooth.
Pour over the filled muffin cups, dividing the mixture equally and spreading to touch the edges. Freeze for another 15 minutes.
Enjoy! Store cups in airtight container in the refrigerator.
Recipe from GettinMyHealthyOn.com
Like I said early on in this post, these are hella melty once you pick them up (especially if they've been at room temperature for very long). Due to this fact, I'd recommend always keeping these in the fridge (or even freezer), until you're ready to eat one.
I hope you love these homemade peanut butter cups!! They are SO easy, and the way each layer hits your taste buds in their specific order (you know…like any peanut butter cup ever) is just perfection. Try it out and see what you think!
What's your favorite candy? Reese's peanut butter cups or Yorkshire peppermint patties (yes, really) are hands down my top two.
Are you making any festive treats for Halloween in a few weeks?!