Thank you Breton for sponsoring this post. Make everyday entertaining better with Breton!
Cowboy Caviar combines beans, peppers, and other fresh ingredients along with a flavorful dressing for an addictive dip or salsa!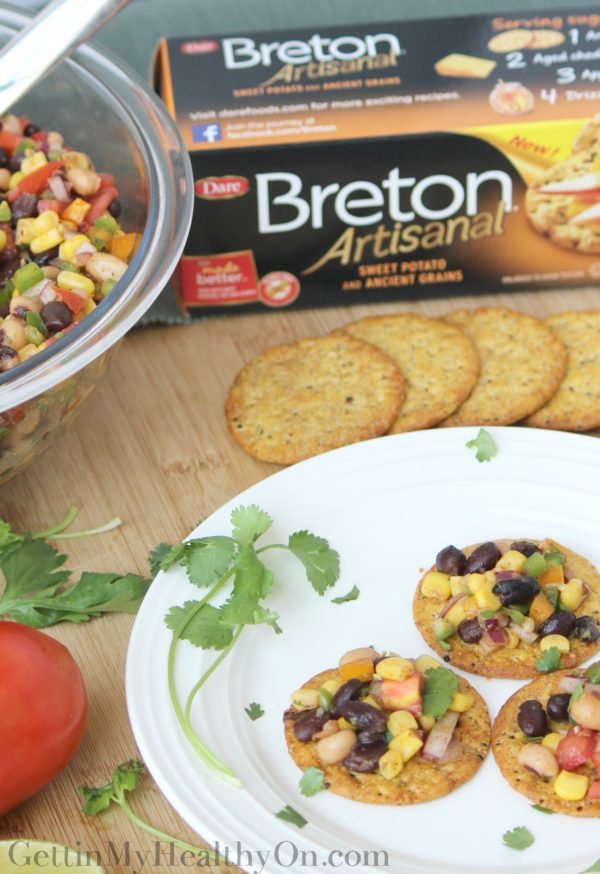 There's just something about fresh salsas and dips. The textures, the flavors, the colors—they all work together to create to-die-for recipes. They're the perfect appetizer or side to make ahead for a gathering, and since a lot of them are served chilled, they're one of my favorite dishes to bring to cookouts.
I haven't tried making too many varieties at this point, but one recipe I recently whipped up was Cowboy Caviar. This is typically a mixture of black beans, black-eyed peas, peppers, and other vegetables. There are several variations with the ingredients, based on what you prefer. I created my own version based on some of the fresh ingredients I love.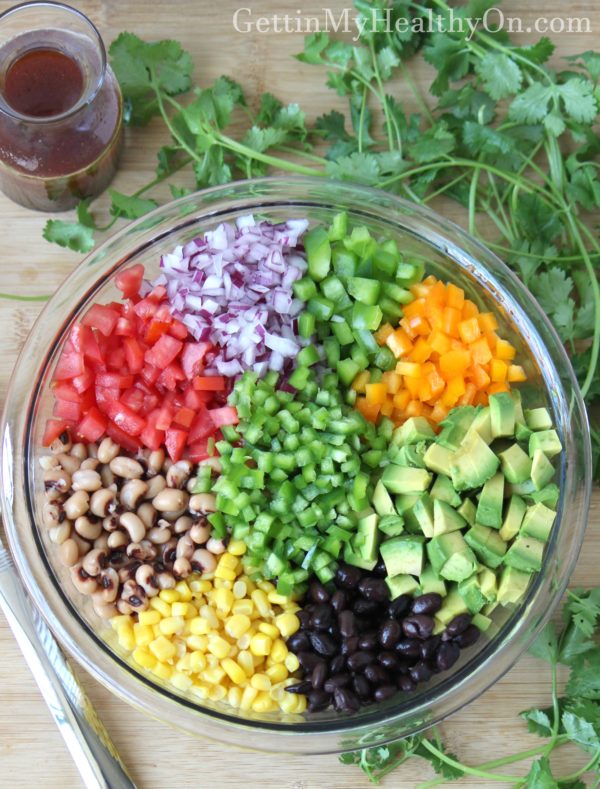 While Cowboy Caviar is typically eaten with tortilla chips, I opted to go more of a cracker route using a new-to-me product from Breton. More specifically, I received Breton Artisanal Sweet Potato and Ancient Grains crackers, which paired well with the fresh Cowboy Caviar dip. I've been eating the crackers with this recipe, as well as with hummus and straight out of the box. Even if you're not a big sweet potato fan (like my husband), I think you'd like these crackers because they have a great flavor, with the sweet potato being pretty subtle.
To put this Cowboy Caviar recipe together, you'll need to do a bit of can-opening, veggie-chopping, and ingredient-stirring. It's surprisingly simple for how vibrant and pretty the end result is. For my recipe, I decided to go with a base of black-eyed peas and black beans, sweet corn, Roma tomatoes, and bell peppers (green and orange). Extra add-ins that you wouldn't necessarily need to add include jalapeño, red onion, avocado, and cilantro. The dressing is a basic mixture of lime juice, olive oil, sugar, chili powder, and salt.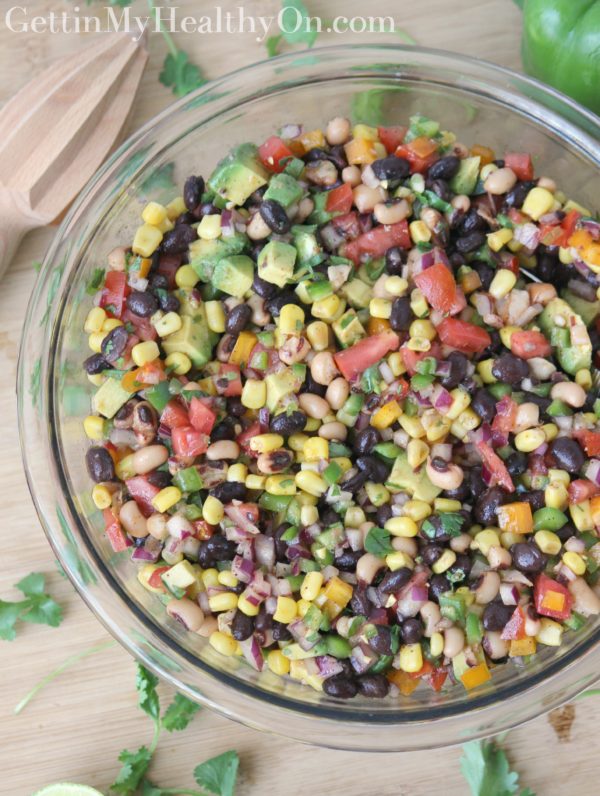 Once you've combined everything, you'll ideally want to let the dip chill for a few hours to let all the flavors mingle for an even better end result. This can be served cold or at room temperature. It works especially well to make ahead of time to bring to a gathering later.
Recipe adapted from Culinary Hill.
Ingredients:
Bean & Veggie Mixture:

1 cup finely diced bell pepper (I used green and orange)
1 jalapeño, deseeded and finely diced
2 (15 oz) cans beans (I used black beans and black-eyed peas*), drained and rinsed
1 (15 oz) can sweet corn, drained
1 cup chopped Roma tomatoes, deseeded (about 1-2)
Optional: 1/2 red onion (finely diced), 1 bunch fresh cilantro (chopped), and 1 diced avocado

Dressing:

1/4 cup olive oil
1 Tbs granulated sugar
Juice of 2 limes
1 tsp chili powder
1 tsp salt
Instructions:
In a large bowl, add all Bean & Veggie Mixture ingredients.
In a small bowl, whisk together all Dressing ingredients.
Pour Dressing ingredients into Bean & Veggie Mixture, stirring until incorporated.
Cover and refrigerate for at least 1 hour or overnight to allow flavors to mingle
Serve with Breton Artisanal Sweet Potato and Ancient Grains Crackers, or another kind of crackers or chips.
Notes:
If you can't find canned black-eyed peas at your local grocery store, make sure you check where the green beans are! That's where I've found them (rather than near the black beans).
Recipe from GettinMyHealthyOn.com
Whether you serve your dip with Breton Artisanal Sweet Potato and Ancient Grains crackers like I did or another vehicle, I recommend you get something that can hold a lot of the bean and veggie mix. You've got to get a little bit of all the flavors, ya know?!
Breton crackers are especially perfect for scooping up the Cowboy Caviar since they're made of wholesome, real ingredients—not to mention there are a lot of tasty varieties you can choose from. They're a convenient cracker for when you're busy and want a more nutritious way to eat a dip like this. If you want to learn more about Breton's cracker varieties, or other ways to eat them, just stop over to their website or visit their Facebook or Twitter.
I was selected for this opportunity as a member of CLEVER and the content and opinions expressed here are all my own.