Stay energized over the fall season by snacking on this recipe for pumpkin protein balls—chocolate chips included!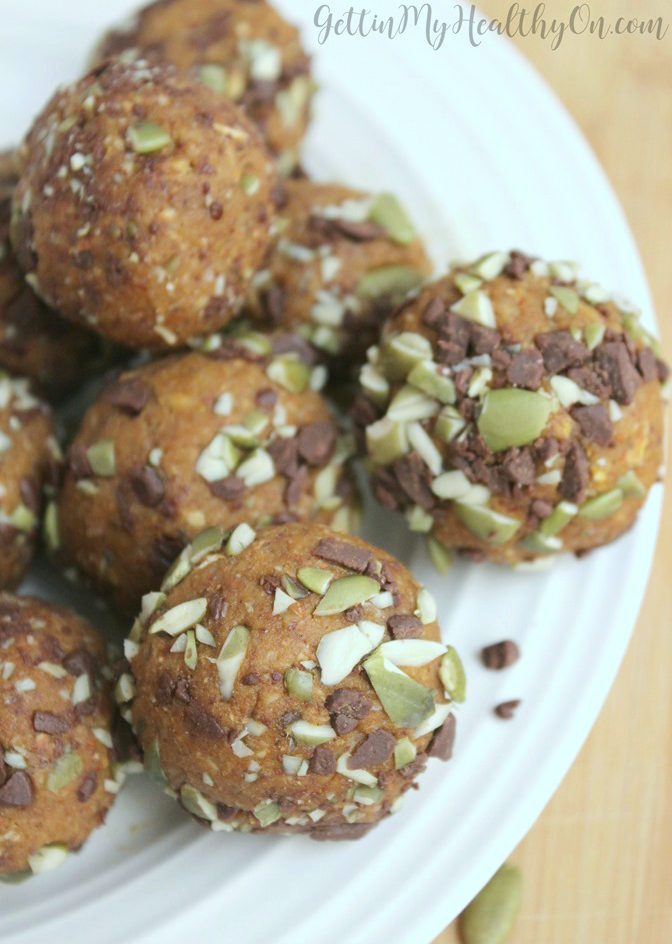 Fall has arrived! Leaves are starting to change; the weather is [supposed to be] getting cooler; boots are becoming a wardrobe staple. Although yesterday was technically the first day of the autumn season, I know some people have been celebrating it for a couple weeks already.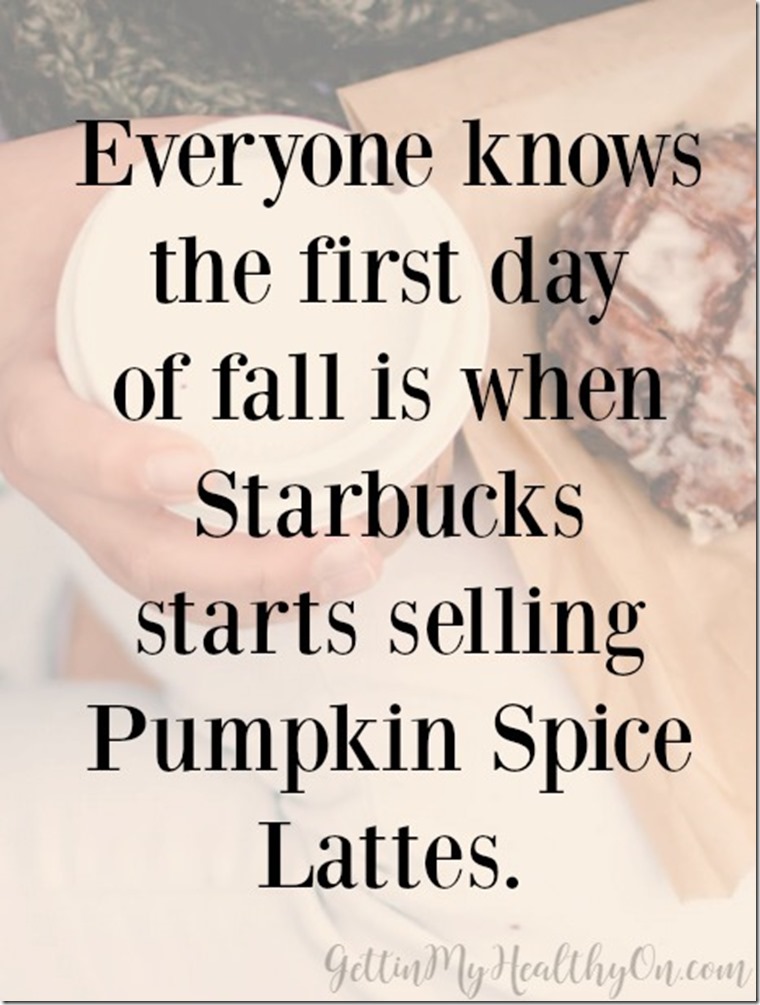 Despite when you accept the new season, one thing is certain: it's time to start embracing all things pumpkin.
Since we're on day 2 of fall, I thought what better way to dive into the wonderful tastes and smells of the season than with a protein-packed, pumpkin-filled snack recipe!
To make the little energy bites, I combined raw almonds, rolled oats, raw pepitas (pumpkin seeds), pitted Medjool dates, pumpkin puree, melted coconut oil, chocolate protein powder (vanilla would also work well), and spices (cinnamon, nutmeg, and cloves) all in my food processor. I turned it on until it no longer wanted to mix. Then I turned it off, took off the lid, and moved the ingredients around a bit with a spoon. After that, I continued processing the mixture by pulsing it. Since it's a pretty thick mixture (and we want it that way so it actually can form into balls), I had to smash the mixture around multiple times until the contents were pretty well processed. (It definitely doesn't need to be perfect; you just want it to form a pseudo-dough of sorts.)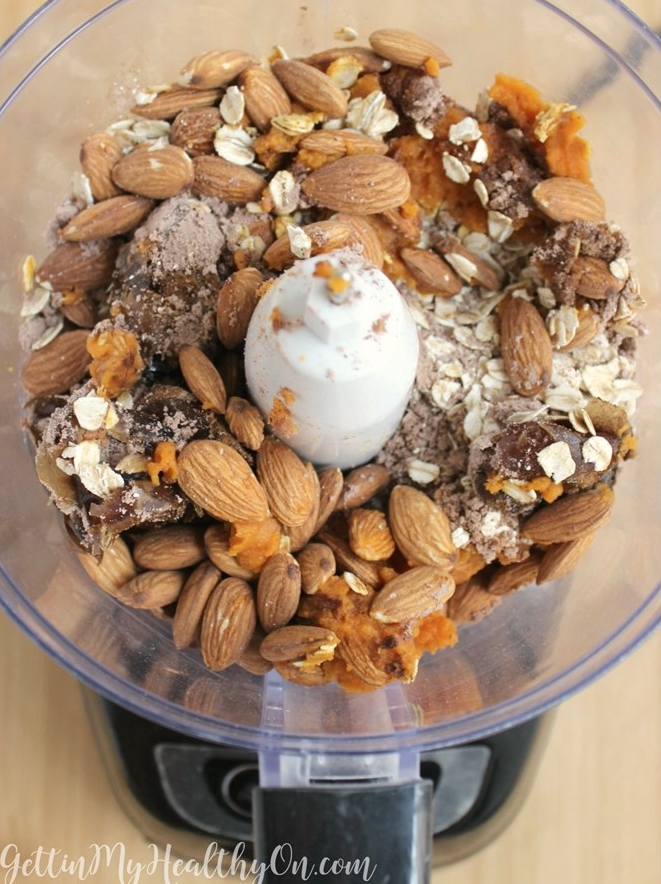 Once you deem it sufficiently processed, it's time to roll the sticky dough between your palms to make balls about 1 inch in diameter. Place the balls onto a plate until you've used up all of the pumpkin mixture. Then you're ready to roll them into a pepita-chocolate chip coating.
You'll want to chop up chocolate chips and the rest of the pepitas and mix it around in a bowl. Then you're ready to roll the sticky pumpkin bites around until they're moderately covered. The amount for this is just barely enough (I didn't want it to be absolutely covered in chocolate because helloooo, trying to be healthy here). You may need more if you're getting crazy, but the amount I specified in the recipe below was just enough for my batch of about 20.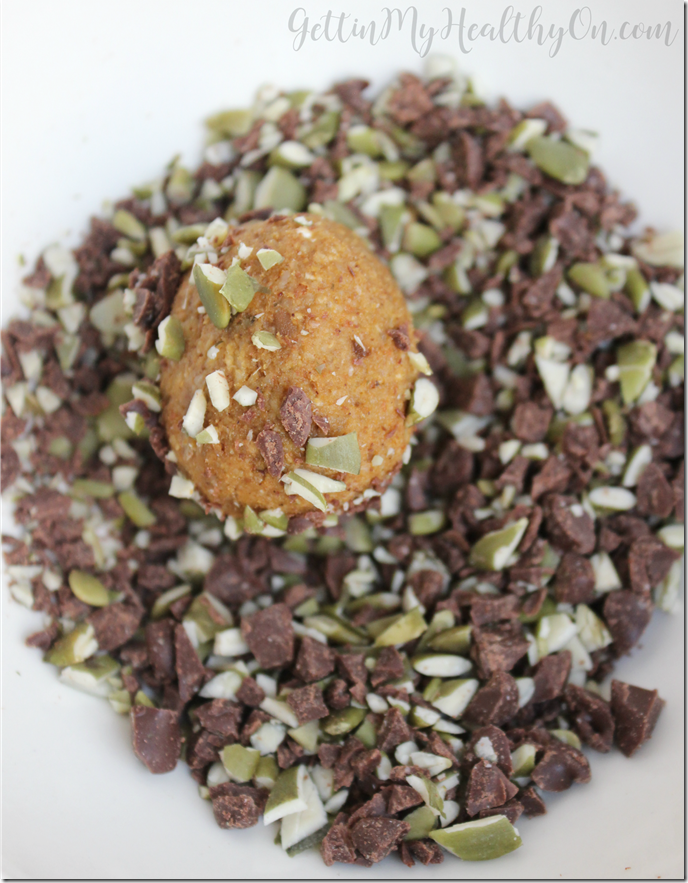 I've been enjoying a few of these every day this week as a pick-me-up at work. They're a nice little boost of energy and are quite nice to have on hand for a quick snack. I'd say they were a tasty first recipe to use pumpkin this season!
Chocolate Pumpkin Protein Bites
Ingredients:
1 cup raw almonds
3/4 cup rolled oats
1/4 cup raw pepitas
1/2 cup pitted Medjool dates
3/4 cup pumpkin puree
3 Tbs coconut oil, melted
1/4 cup chocolate protein powder
1/2 tsp cinnamon
1/4 tsp nutmeg
1/8 tsp cloves
2 Tbs chocolate chips
Instructions:
Add almonds, oats, half of pepitas, dates, pumpkin puree, protein powder, coconut oil, and spices to a food processor. Process for a couple minutes until it no longer moves. Stir mixture around with a spoon repeatedly and pulse until a moderately processed dough forms. Set aside.
Chop the remaining pepitas and the chocolate chips into smaller pieces. Pour into bowl.
Between the palms of your hands, roll dough into balls, about 1 inch in diameter. Then roll balls into chopped chocolate-pepita mixture. Place in single layer on cookie sheet and refrigerate for at least 20 minutes before eating.
Store leftovers in airtight container in fridge or freezer.
Recipe from GettinMyHealthyOn.com
And there you have it! Little pumpkin bites to give you some delicious yet protein-rific fuel for the day.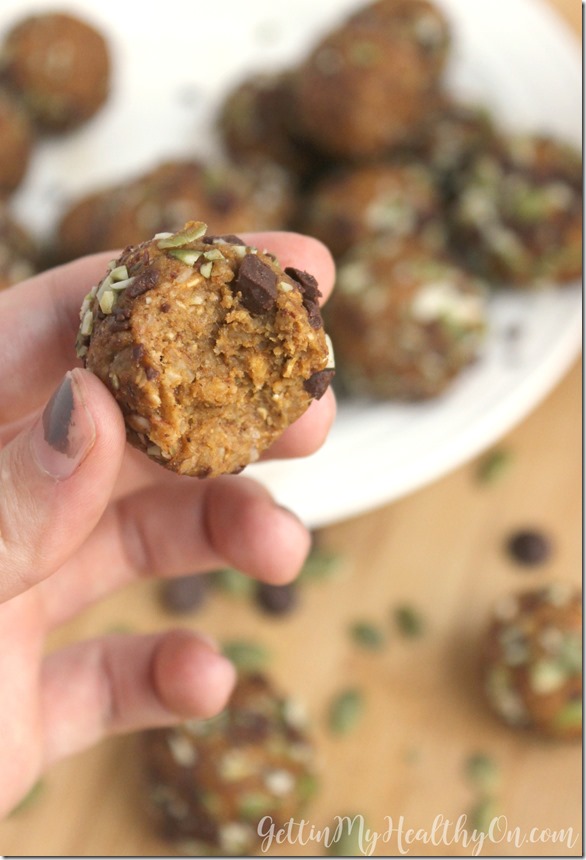 What's your favorite way to eat/drink pumpkin? I'm determined to get my hands on a PSL soon.
Do you prefer little bites like these? Or snacks in bar form?