For a creamy frozen treat, make these Greek yogurt-based popsicles that are filled with cocoa powder, peanut butter, and fresh banana.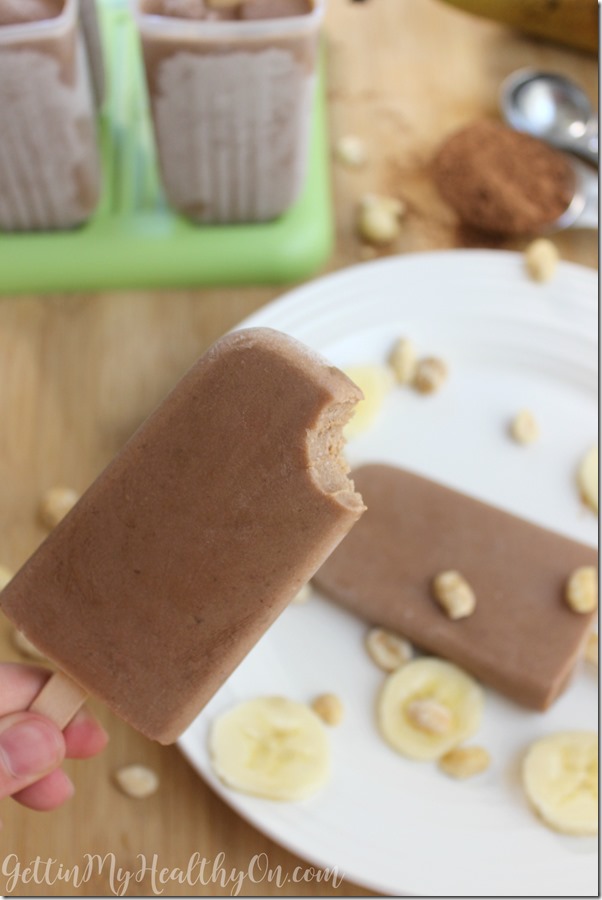 Sometimes, it's the little things in life that make every day sweeter – and I mean literally sweeter. I'm talking popsicles today, people.
When I was little, my dad had a set of popsicle molds, and we'd pour juice into them and enjoy the icy treat every once in a while. I thought it was awesome. Today, I am in my late 20s and I just purchased a new set of popsicle molds, and just like when I was 10, I am really excited about them. (This was to replace a cracked set I already had and didn't use nearly enough.)
To break the new molds in, I was trying to think of a delicious concoction to try. What's better than the best combination in the history of the world? Peanut butter and banana…and chocolate. 😉
If you browse through my recipe page, you'll find multiple recipes that have either two or all three of these items because I will never get sick of them. (It's really hard for me not to make my Chocolate Peanut Butter & Banana Protein Smoothie recipe anytime I make a protein shake.) The tasty trio is one of my favorite flavor combos, clearly, so it became the theme of my first popsicles in the new molds.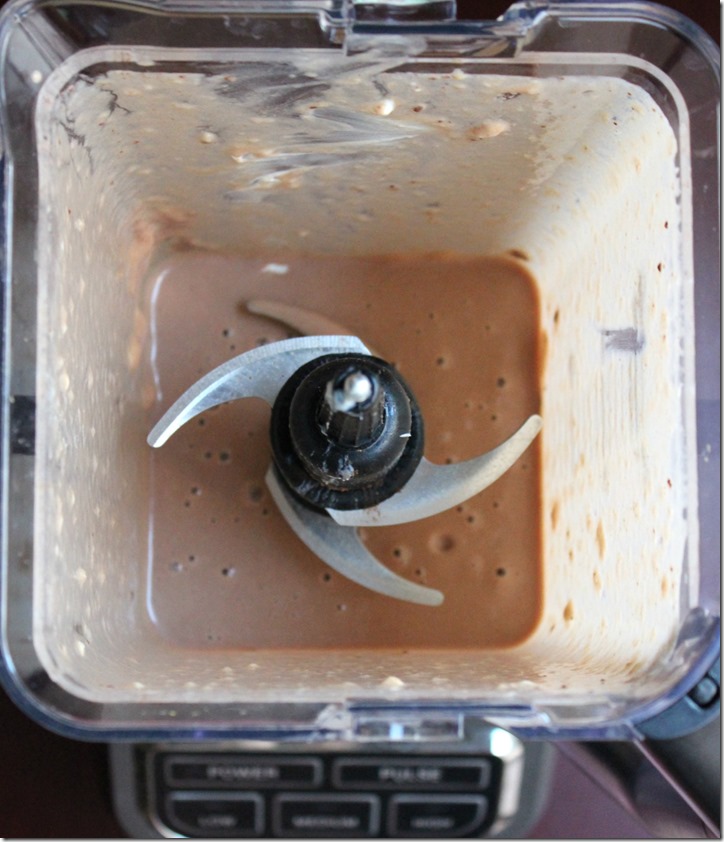 For the creamy, chocolaty popsicles, I added cocoa powder, smooth peanut butter, a ripe banana, honey, plain Greek yogurt, vanilla extract, and milk into a blender. After blending until it was a smooth mixture, I carefully divided it into my 6-mold popsicle contraption. I actually made this late on a weekday (pick-me-up to get through the week), so I let it freeze overnight before trying them. As long as you leave them on a level surface in the freezer for 4-6 hours, they should be frozen solid.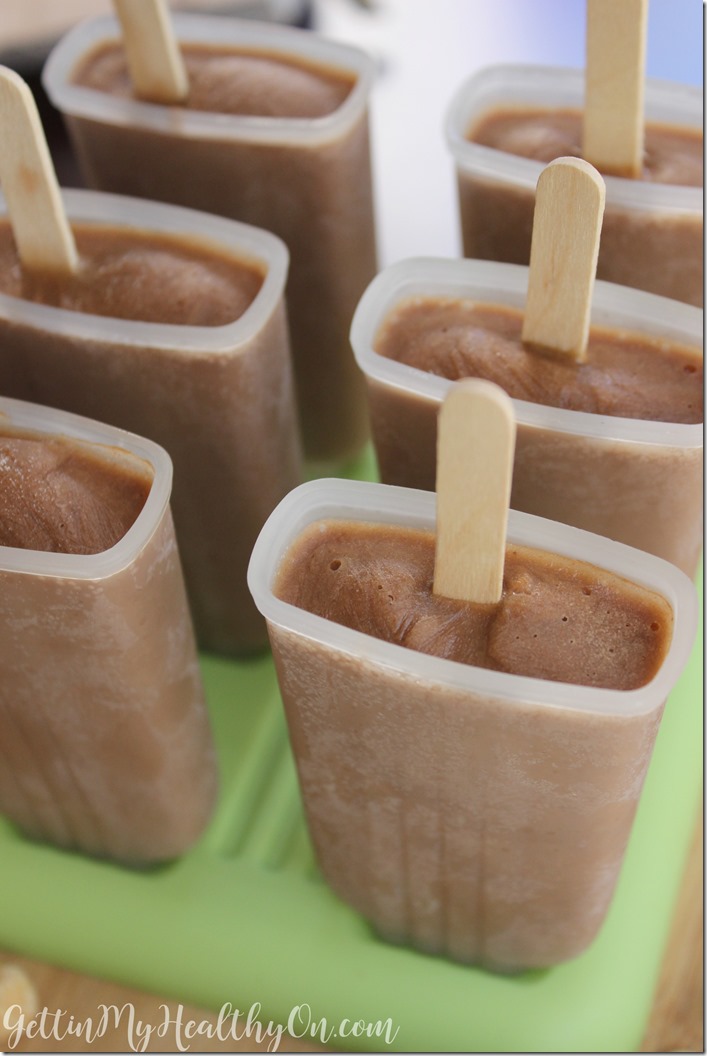 An awesome feature about these popsicles is the pseudo-fudgesicle vibe they have going on. They're not quite as creamy, nor are they solely focused on chocolate, but unlike some popsicles that are more solid, these you can actually bite into (that is, if you bite ice cream #Guilty #IKnowImInsane). The sweetness from the banana and honey help offset the sour taste of plain Greek yogurt, so it is a pleasant treat and doesn't offend your taste buds.
Here's what's up:
Chocolate, Peanut Butter, & Banana Popsicles
Ingredients:
3/4 cup milk
2/3 cup Greek yogurt
1 large ripe banana
1 Tbs unsweetened cocoa powder
2 Tbs smooth peanut butter
2 tbs pure honey
1 tsp vanilla extract
Instructions:
Add all ingredients into a blender and blend until smooth.
Carefully pour the mixture into popsicle molds and freeze for at least 4-6 hours.
Recipe from GettinMyHealthyOn.com
I'm pretty stoked about the future popsicle creations I'm going to make. So, stay tuned for potential other recipes coming up as I battle my way through the sticky summer heat.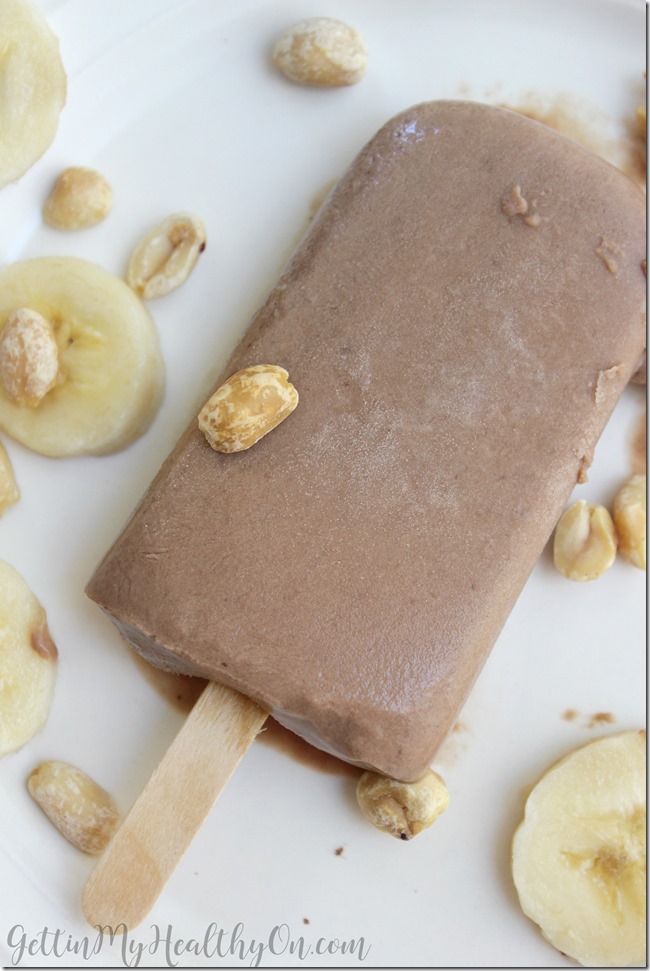 What's your favorite kind of popsicle or frozen bar?
Do you prefer a cream-like or juicy base?