Bake a batch of cheesy eggs in ham cups for a quick and delicious breakfast you can easily grab on-the-go!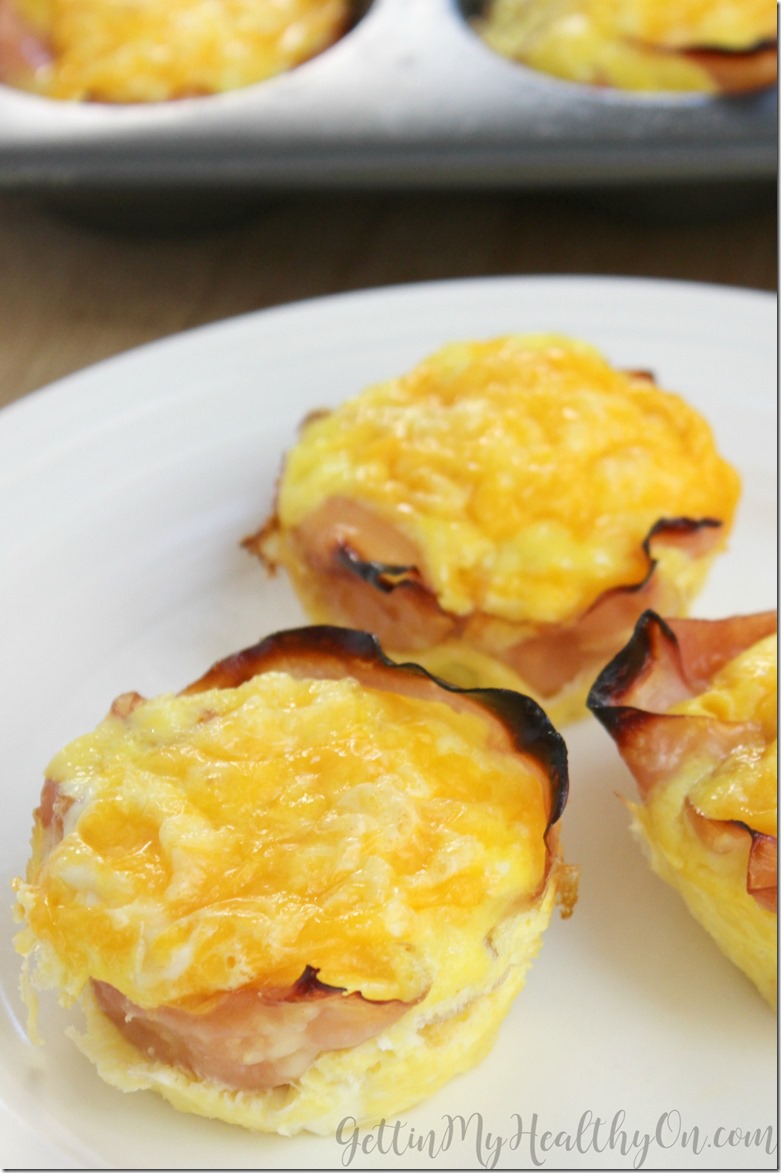 Despite my love for elaborate breakfast dishes, I'm all about the easy recipes that don't sacrifice any flavor. I've been wanting to try this whole eggs-in-ham-cups thing for awhile, so yesterday—while I was in the middle of making far too many recipes—I decided to whip up a batch of eggs baked in ham cups.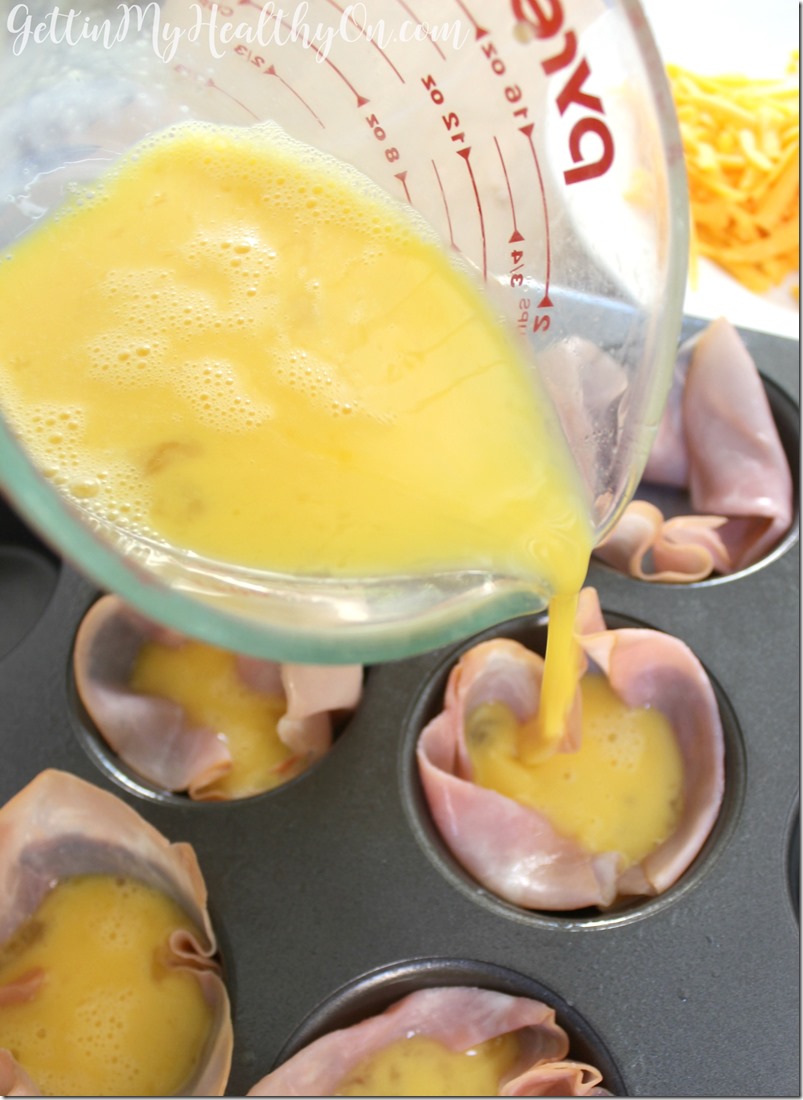 To keep things ridiculously simple, all I did was scramble 6 eggs and didn't add even a pinch of any seasoning. (I opted for scrambled instead of over-easy, since Matt's not fond of the runny yolk business.) Then I sprayed 6 muffin tin cups with non-stick cooking spray and placed a piece of smoked lunchmeat ham into each cup. Using a large measuring cup (highly recommend for the easy-pour spout, by the way), I divided the scrambled eggs into the 6 ham-lined cups.  Then I sprinkled about 2/3 cup of shredded cheddar cheese across the tops of all of them.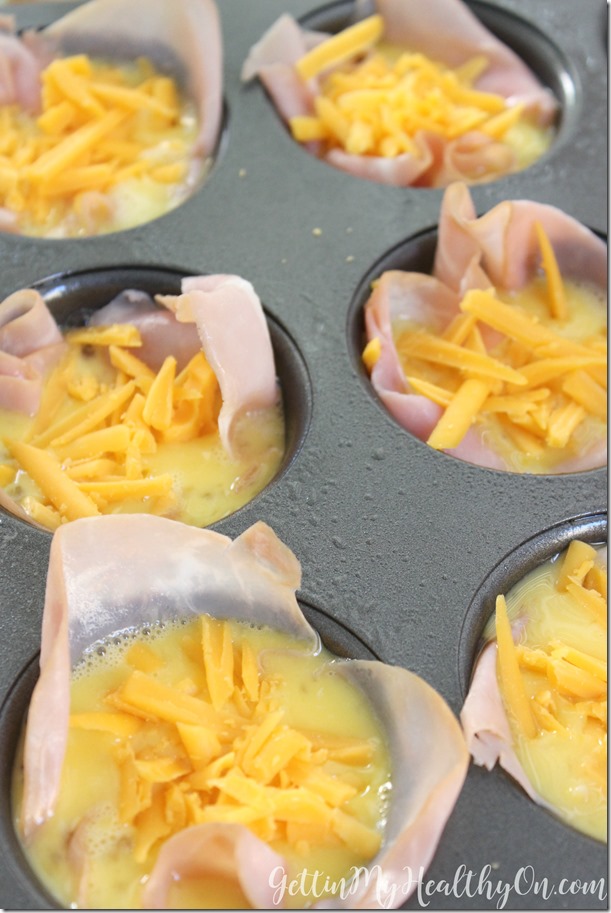 Now that you're done slaving over that super labor-intensive process, 😉 just place the muffin tin onto the middle shelf in the oven, and bake at 350 degrees for about 17-20 minutes. Basically, you just don't want the middles to jiggle, which ensures they're cooked throughout.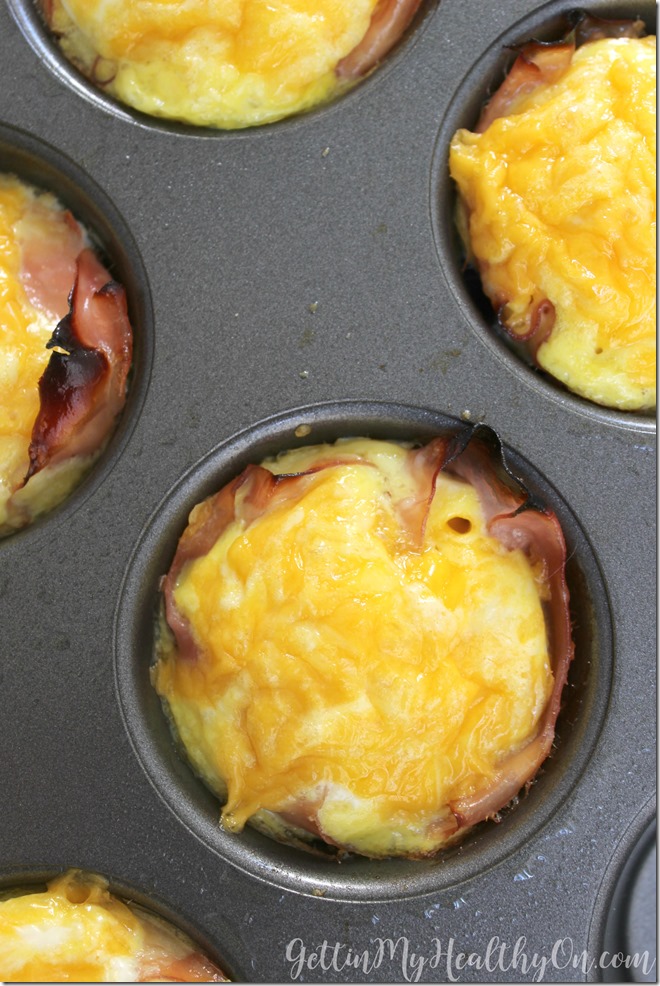 I knew these would be good, but when I opened up that oven door to take them out, I was so pleasantly surprised. They looked so cheese-tastic and egg-celent (puns are my favorite). When I took a bite out of one, I was even more impressed. Ham is such a flavorful lunchmeat, so these babies were packed with wonderful breakfast-y flavor. I was planning to salt and pepper them to taste, but uh…I found it unnecessary. So I ate these 3-ingredient egg cups as-is.
If you've ever looking for a quick and easy recipe to feed your family and/or to have leftover for the rest of the week, I highly recommend trying this out! You only need about 1 egg per muffin cup, so make as many as you heart desires.
Ingredients:
6 large eggs
6 slices thinly cut ham
2/3 cup shredded cheddar cheese
Instructions:
In a large bowl, scramble 6 eggs. Set aside.
Spray muffin tin with non-stick cooking spray. Place ham slices in 6 muffin tin cups and gently press down to create a bowl.
Pour a couple tablespoons of scrambled eggs into each ham-lined muffin cup.
Sprinkle cheddar among the 6 cups.
Bake at 350 degrees for 17-20 minutes, or until the center of the egg cups are no longer liquid.
Notes:
Other possible add-ins could include: green and red peppers, chives, tomatoes, seasonings, etc.
Recipe from GettinMyHealthyOn.com
Aside from having to clean the muffin tin, I think I actually prefer this over scrambling eggs and ham slices in a skillet, and then topping that with shredded cheddar. This was super simple to prepare. I just threw it in the oven for under 20 minutes while I cleaned up, and before I knew it, breakfast was ready! Plus, eggs in ham cups is a more fun take on the classic breakfast ingredients. It's a nice way to mix things up!
What's your favorite way to eat eggs?
Are you more of a sweet or salty breakfast person?