Blueberry Muffins made with Greek yogurt are a great way to add some flavor to your morning! Whether you eat one for breakfast or enjoy as a snack, these muffins are a healthier alternative to many other versions since they don't have any butter or oil and use a limited amount of sugar.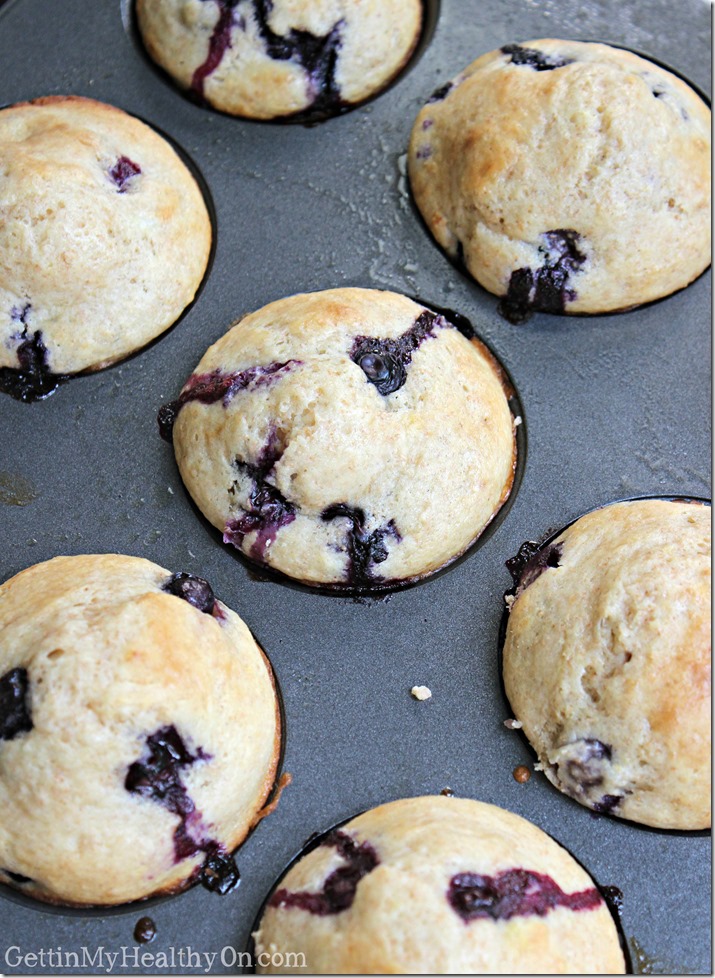 I've made about four or five batches of blueberry muffins within the past month. My determination to perfect this recipe has gotten a bit out of control, so I'm happy/relieved that I have officially created my new go-to blueberry muffin recipe. At a certain point, I was making muffins when there were still some leftover from the last batch, so I ended up freezing some, which worked beautifully, by the way.
For this magical recipe, I decided to sub Greek yogurt for oil for a little healthier ingredient base. Since I've been making so many muffins lately – and I usually am only cooking/baking for Matt and me – this recipe only makes about 9 muffins, which is perfect for us. Simply whisk together 1 1/2 cups flour (I used 1 cup white and 1/2 cup whole wheat), 2/3 cup granulated sugar, 1/2 teaspoon salt, and 2 teaspoons baking powder. Then add 1/3 cup plain Greek yogurt, 1 large egg, 2/3 cup milk (I used 2%; buttermilk would also be great), and 1 tablespoon vanilla extract, mixing until just combined. (Make sure not to over-stir this.) Finally, you'll just need to fold in the 1 cup of fresh blueberries. You can use frozen, but I personally think fresh is much better.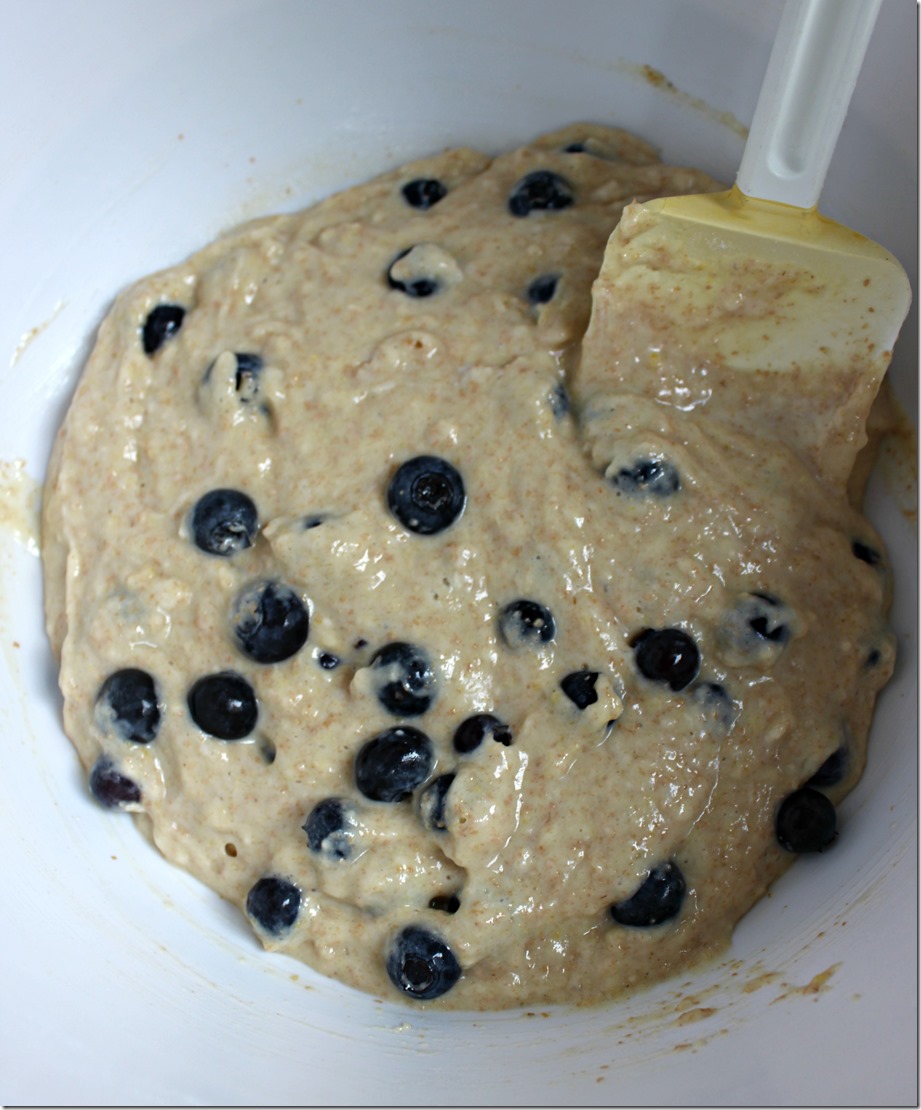 Pour the batter into a muffin tin that has been coated with non-stick cooking spray – this should make anywhere from 8-10 muffins, depending on how much (or little) you want the muffin top to fall over the edges. If you want to make them extra pretty, put some fresh blueberries on top of the cups of batter so they stick out more after they're cooked.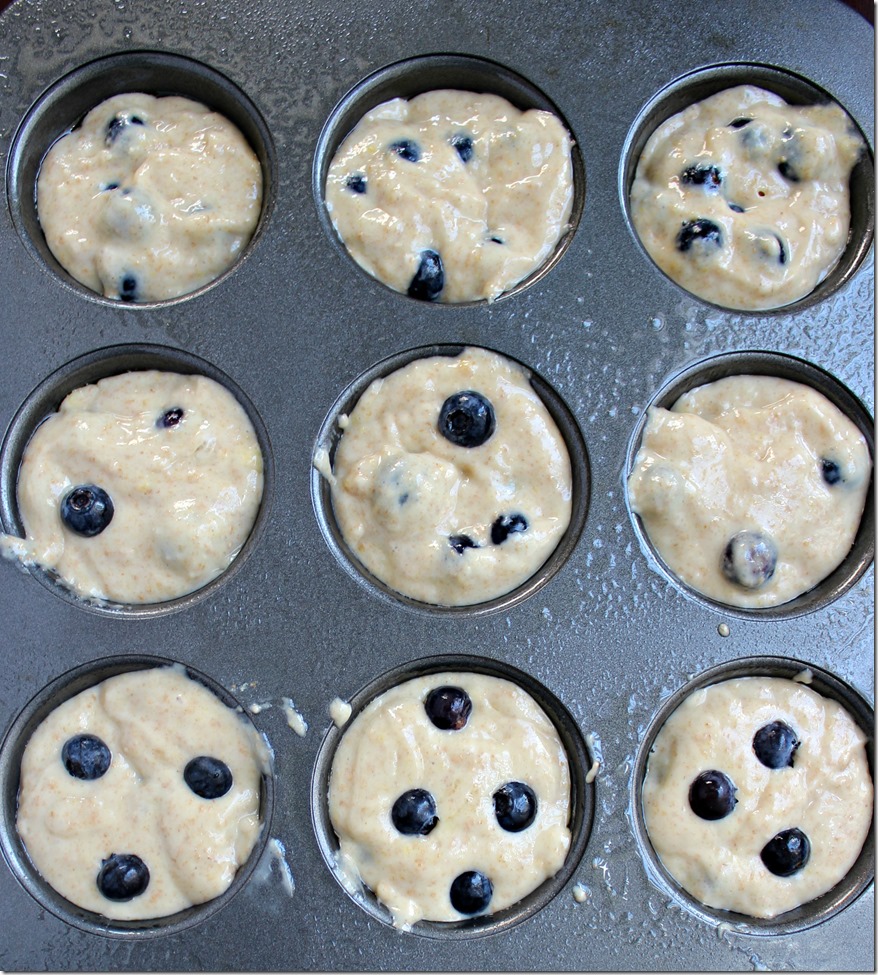 Then bake at 400 degrees for about 20 to 25 minutes. You should start to notice them getting brown around the sides and tops before you take them out to cool. It also helps to stick a toothpick or knife in the center, which should come out clean once they're sufficiently cooked. See a more compact version of the recipe below:
Blueberry Muffins with Greek Yogurt
Ingredients:
1 1/2 cups flour
2/3 cup sugar
1/2 tsp salt
2 tsp baking powder
1/3 cup Greek yogurt
1 egg
2/3 cup milk
1 Tbs vanilla extract
1 cup fresh blueberries
Instructions:
Whisk together flour, sugar, salt and baking powder.
Add Greek yogurt, egg, milk, and vanilla extra, mixing until just combined.
Fold in blueberries.
Bake at 400 degrees for 20-25 minutes.
Recipe from GettinMyHealthyOn.com
The batter seems just thick enough to keep the blueberries suspended and not falling to the bottom, which is a must if you want a bit of blueberry in every bite. I thought the batter alone was really tasty, though. The addition of blueberries gives you the juicy little pockets of fruit goodness.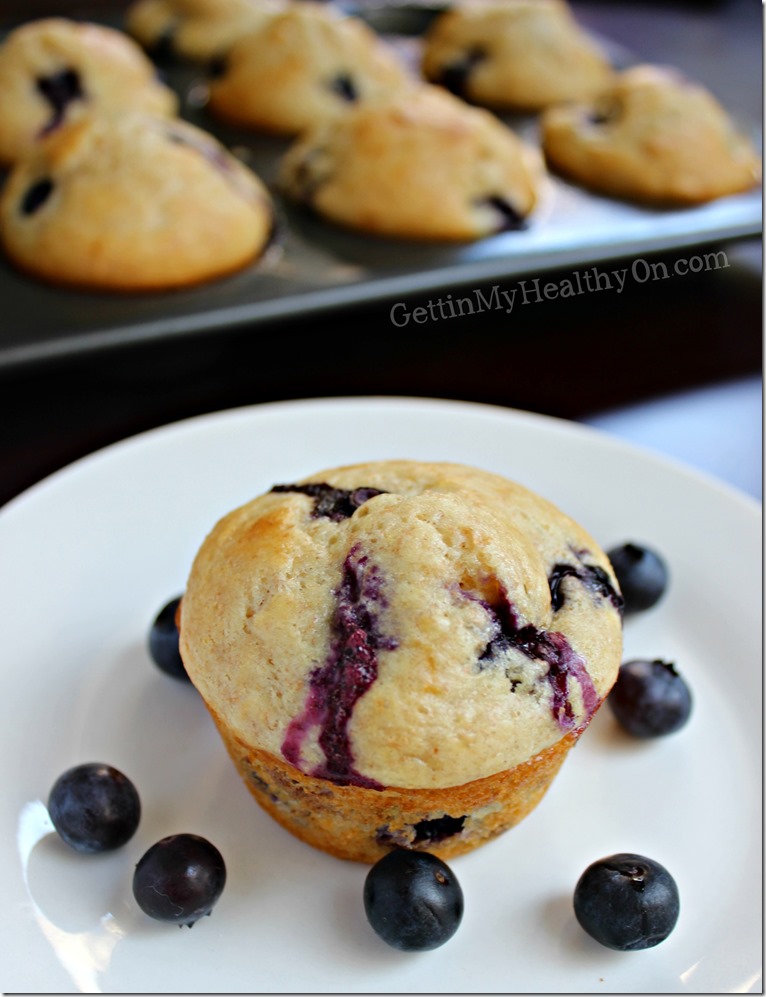 Enjoy!