For a quick and healthy breakfast on-the-go, make a batch of these overnight (refrigerator) oats with blueberries, toasted coconut, and sliced almonds for a heavenly combination of fresh flavors!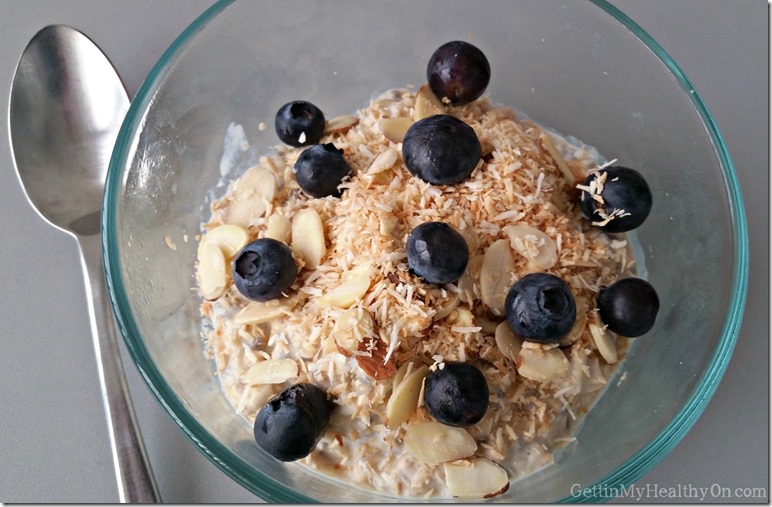 In my opinion, breakfast foods are good at all times of the day. Why? because they taste like perfection and are often really fast to make. One of my top favorite breakfast-y foods to eat for lunch lately is overnight oats. Whether I make it the night before, or throw it together in a hurry the morning before work, the bowl of cold oat goodness is seriously such a convenient and tasty dish to make.
Sandwiches smandwiches…overnight oatmeal is my new go-to lunch when there's nothing better to bring to work.
I usually just throw all-the-things in a bowl because winging it seems to work well, but I decided to make my overnight oats with a bit more structure recently. Today's recipe is actually a refined version of a combo I often make: blueberries + coconut + almonds. I don't know what it is about this collection of fresh ingredients, but I LOVE the flavor and texture of them together.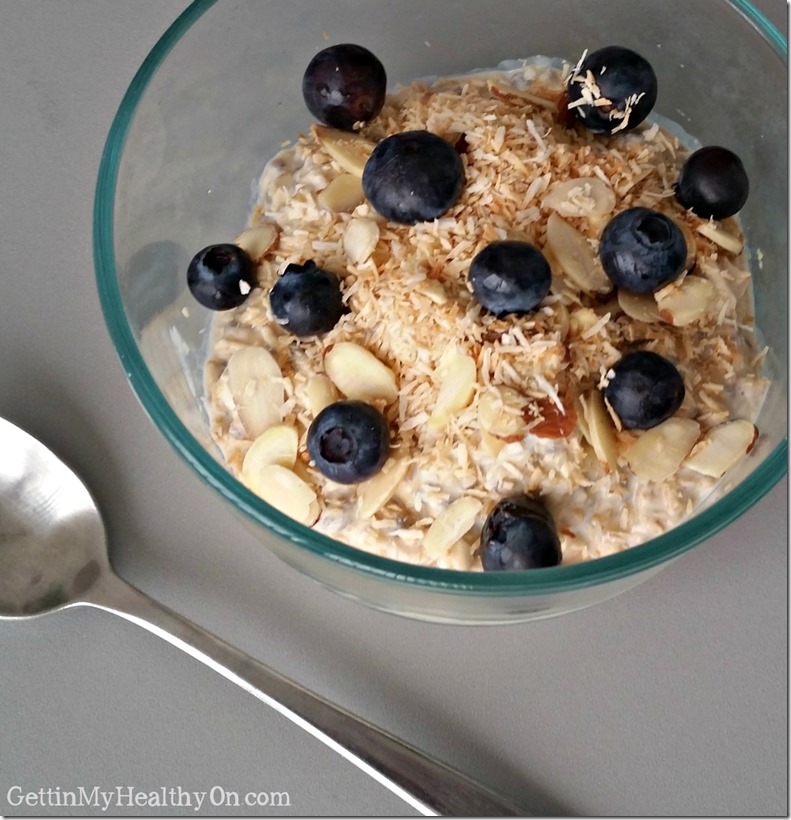 All you have to do is mix together 1/2 cup rolled (old-fashioned, not instant) oats, 1/4 cup milk (I used 2%), 1/4 cup plain Greek yogurt, 2 teaspoons honey, 1 teaspoon vanilla extract, and 1 teaspoon chia seeds. Let this sit in the fridge for at least 4 or so hours (or a couple days….meh). Then when you're ready to eat the concoction, add a small handful of fresh blueberries, about 1 tablespoon of coconut (I toasted mine because #datflavor), and 1 tablespoon of sliced almonds (whole or slivered would work fine as well). Then eat!
OR, if you're lazy / need this to be ready to grab-and-go (like mwa), just throw the toppings in before you stick it in the refrigerator. The coconut and almonds, especially, might lose a bit of its texture from soaking in the milk/yogurt mix, but it'll still taste divine.
Blueberry Coconut Overnight Oats
Ingredients:
Base

1/2 cup rolled oats
1/4 cup milk
1/4 cup plain Greek yogurt
2 tsp honey
1 tsp vanilla extract
1 tsp chia seeds

Toppings

1 Tbs sliced almonds
1 Tbs toasted coconut
1/4 cup fresh blueberries
Instructions:
Mix all base ingredients together in a bowl.
Refrigerate for at least 4 hours.
When ready to eat, add toppings and enjoy!
Recipe from GettinMyHealthyOn.com
What's your go-to lunch?
Fellow overnight oats lovers, what are your favorite add-ins?