For a light and vibrant salad, layer chicken and fresh fruit on a bed of romaine lettuce and top with crumbled feta and a drizzle of sweet poppy seed dressing.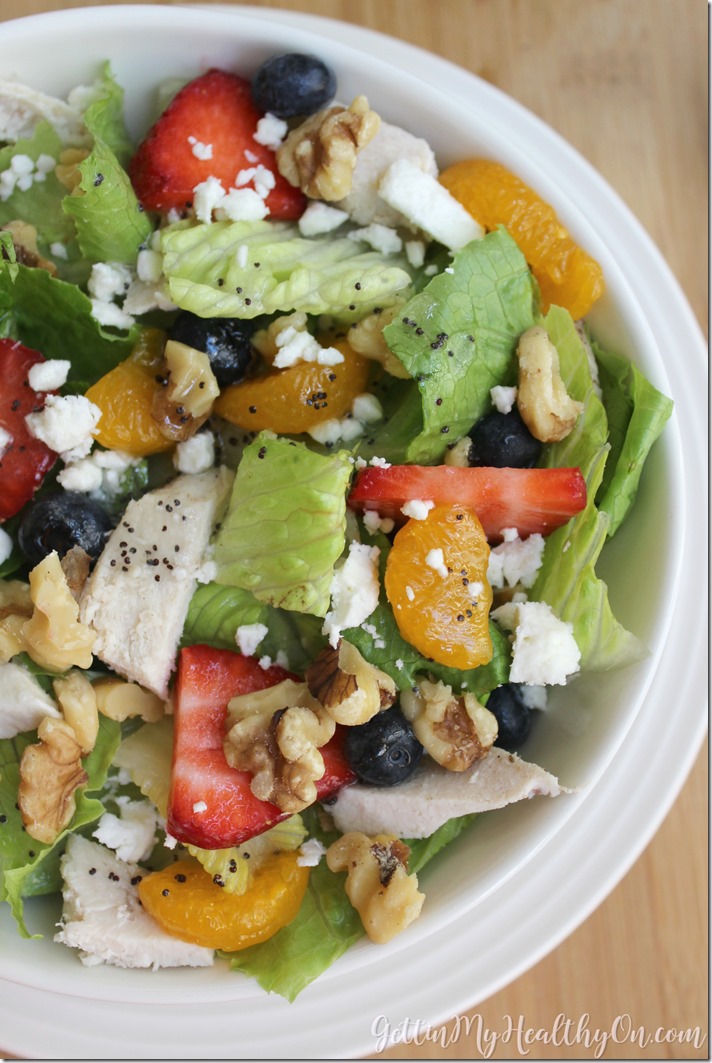 There are certain recipes that remind me how much of a "foodie" I am. While I was in the middle of assembling this salad, I was SO EXCITED at how beautiful it looked. I believe my words were, "Matt! Doesn't this look amazing?!" To which he humored me by calmly agreeing…because he doesn't get as excited about salads as I do, apparently. Lame.
But seriously. Can we just talk about the beautiful colors that make up this Berry and Walnut Chicken Salad masterpiece? Sure, it looks nice, but the true test is when you take that first bite.
I assure you it tastes even better. The feta is definitely the "cherry on top" because it offers the perfect little bite to an otherwise sweet and juicy salad. I really love fruit on salads in the first place, because it's such a refreshing change from the usual veggie-packed salads I make.  With my homemade poppy seed dressing on top, this was freakin' perfect, people.
Please look below for the simple yet ridiculously awesome salad I will now be eating all day, e'ry day.
Berry & Walnut Chicken Salad with Poppy Seed Dressing
Ingredients:
3 cups romaine lettuce leaves
1/2 cup fruit (sliced strawberries, mandarine oranges, and blueberries)
1/2 cup sliced, cooked chicken
1-2 Tbs crumbled feta cheese
2 Tbs Homemade Poppy Seed Dressing or your favorite brand
Instructions:
Pour romaine in a bowl or on a plate.
Layer fruit, chicken, and feta on top.
Drizzle poppy seed dressing over salad.
Serve immediately.
Recipe from GettinMyHealthyOn.com
I apologize for my excessive enthusiasm, but I'm so proud of this bowl of salad perfection. I see these types of salads all the time (and have had them before), but there's just something about putting your own spin on something and making it all at home that makes it taste that much better.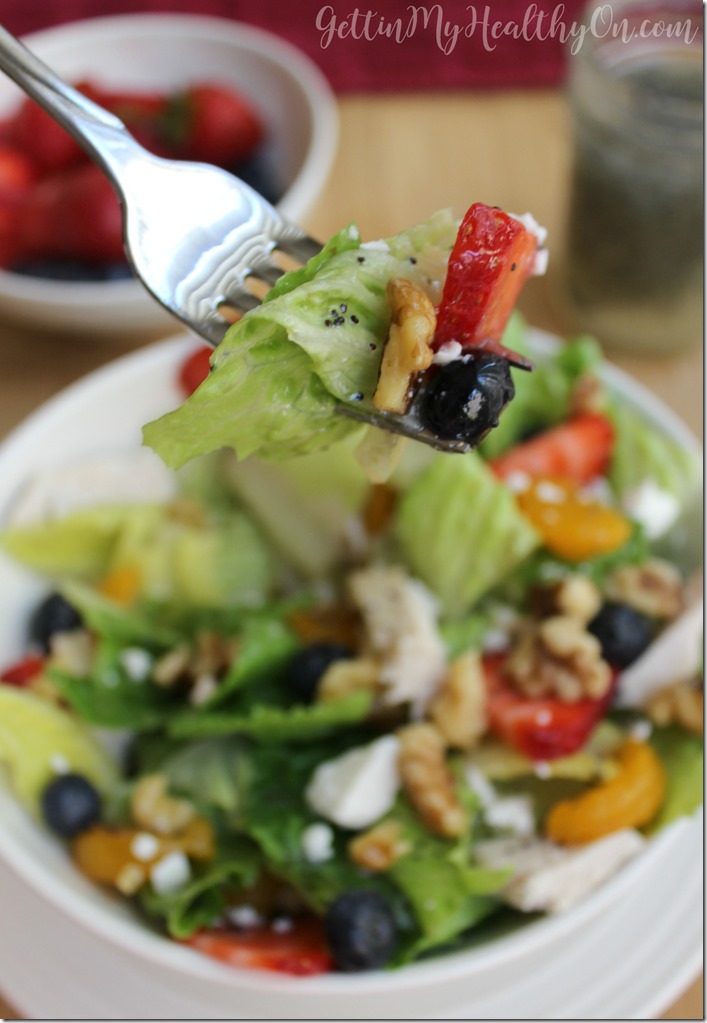 Are you more of a veggie or fruit person when it comes to salad toppings? I always feel the need to eat veggies because you know…they're super healthy and whatnot. But sometimes you just need a pile of fruit on top of the leafy greens.
What's the one topping you can't eat a salad without? Cheese. For me it's definitely cheese.