Workouts
Wednesday: Matt and I went for a 4-mile run. It was precious, besides the fact that I felt like I weighed 500 lbs.
Last night: Pumped some iron while watching some trashy quality TV.
Today: Treadmill-ing it up most likely with my Mix It Up workout.
---
Do you ever feel hungry after eating a banana?
I've never realized it until recently but…what the heck? Weirdest thing ever.
I decided to do a bit of research to figure out this nonsense. On Livestrong's website, I found the answer to my question. Here's what I got from it…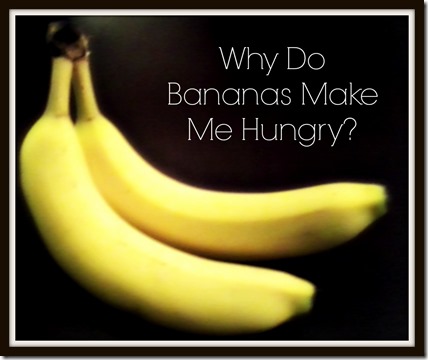 That's right…I made a graphic for this post.
Bananas are full of potassium, simple sugars, and amino acids, which is why they make such great recovery foods after a hard workout or run. HOWEVER, all these simple sugars spike your insulin levels, resulting in a crash in your blood sugar. Alas! You are now hungry.
For the average banana, there are 3g of fiber, which should actually suppress your appetite. Unfortunately, the boat loads of carbs go right through you, and the sugars confuse the heck out of your body. You just ate, but now you are hungry.
Simple enough, eh?
If you're curious, here's the nutrition facts for the average banana: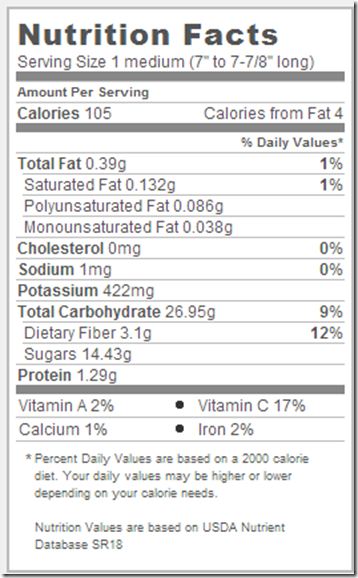 [Source]
And now you just learned something. Either that or everyone knows this, and I live under a rock.
Questions for you:
Do you feel hungry after eating bananas? What about other fruit?
What's your favorite way to eat bananas? Straight up? In oatmeal? On your pizza? I'm all about the Peanut Butter Banana Oatmeal.
What exciting things are you doing for your father on Sunday for Father's Day? (You're welcome for reminding you.)