For the longest time, I've been wanting to try this "overnight oats" business. After stumbling across numerous recipes online lately, I finally took 5 minutes out of my time to try it. If you don't know, the concoction known as overnight oats (or refrigerator oatmeal) is just a mixture of oats, yogurt and/or milk, and whatever else your heart desires. You let it sit overnight so the oats can soak up the liquid, which creates that soft texture you usually only get when you cook them.
The thought of having cold oatmeal that's been soaking up milk juices overnight sounded rather blah to me, but at the same time, I like breakfast to be a quick event, so I figured I'd give this overnight oatmeal thing a shot. The base of this is old fashioned oats, plain Greek yogurt, and milk. I decided to keep the mix-ins pretty simple and added flax seed, honey, chopped walnuts, banana, and cacao nibs (okay, it seemed simple at the time).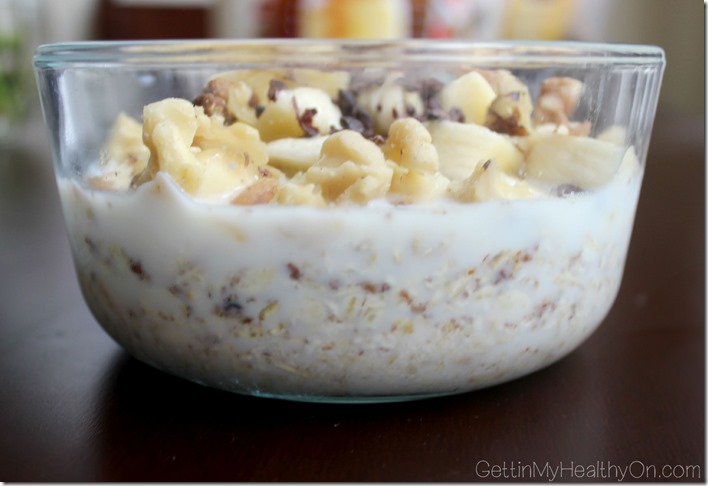 Beyond just the mushy cold oatmeal (I'm really selling this, right?!), I was excited to try cacao nibs for the first time. After receiving a sample from Pure Natural Miracles recently, I knew I wanted to throw them in this oatmeal concoction. They're raw, organic "nibs" from real cacao beans and are actually considered a health food—not the decadent chocolate goodness you may think of initially (though I like to think of them this way).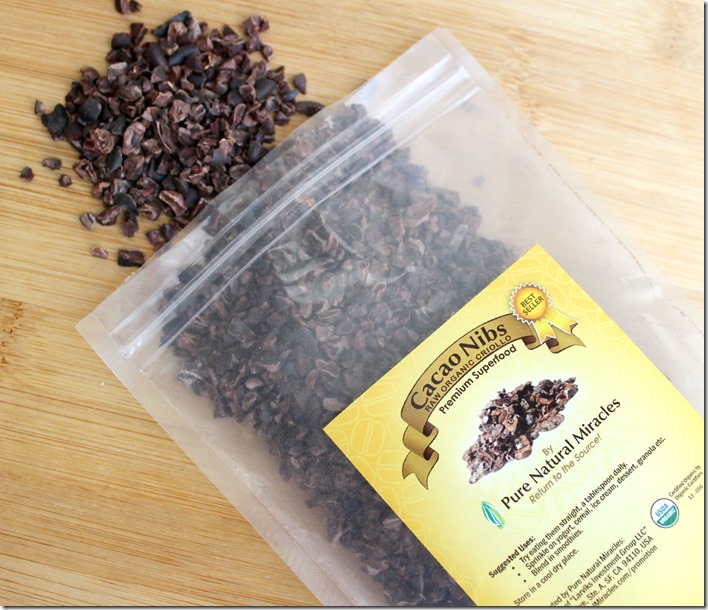 They're not sweet, maybe even a little bitter, but if you give me a pseudo-chocolate product and say its full of antioxidants, then you better believe I am 100% on board. The texture actually reminds me of nuts, so they went really well in the oatmeal. (They're actually on sale right now on Amazon if you want to check them out.)
Once you add the ingredients to your bowl (or jar) of choice, just stir it all together and—yes, you guessed it—throw it in the fridge overnight.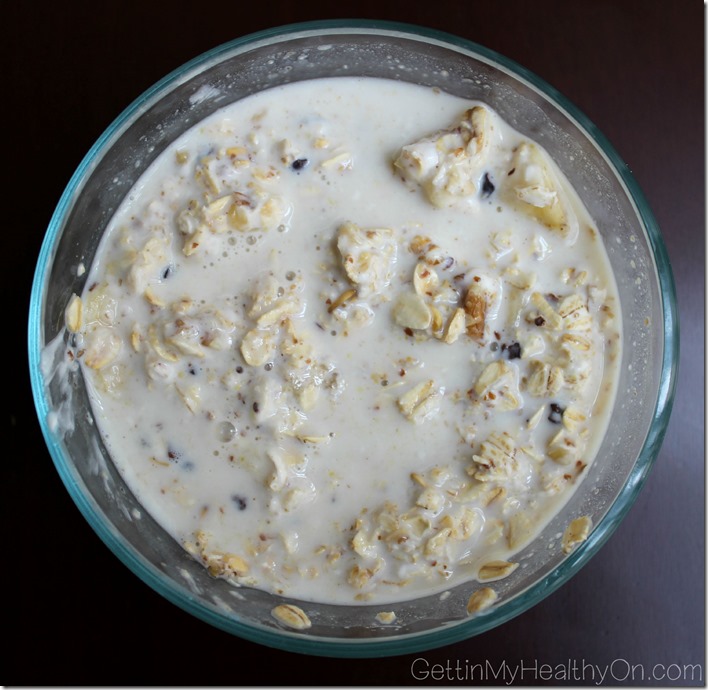 Don't fret if it seems super watery milky—the oats will absorb most of it, so you'll have a nicely thick breakfast the next morning. You could probably whip up a bunch of these for the week if you want, but even just preparing it the night before makes for a wonderfully convenient breakfast.
So what do I think of the strange trend of overnight oats? Well considering I'm sharing a recipe today, you can probably guess I'm into it. I could totally see how the cold factor might gross some people out, but it didn't bother me at all. The fact that yogurt is involved made it more of a parfait-type situation in my head—perhaps the love child of oatmeal and a parfait? Yes, let's go with that. If I've intrigued you enough to try it out, here's my fairly simple recipe:
Banana Walnut Overnight Oats with Cacao Nibs
Ingredients:
1/2 c old fashioned oats
1/4 c plain Greek yogurt
1/4 c milk
1 tsp flax seeds
1 Tbs chopped walnuts
1/2 banana
2 tsp honey
optional: 1 Tbs cacao nibs
Instructions:
Combine all ingredients in a bowl and refrigerate overnight.
Enjoy cold the next morning.
Recipe from GettinMyHealthyOn.com
This is actually my breakfast this morning, so yay grab-and-go food! Let me know what you think if you try it out.