Toss soba noodles with this creamy peanut sauce recipe as well as chicken and broccoli florets for a flavorful and quick dinner recipe.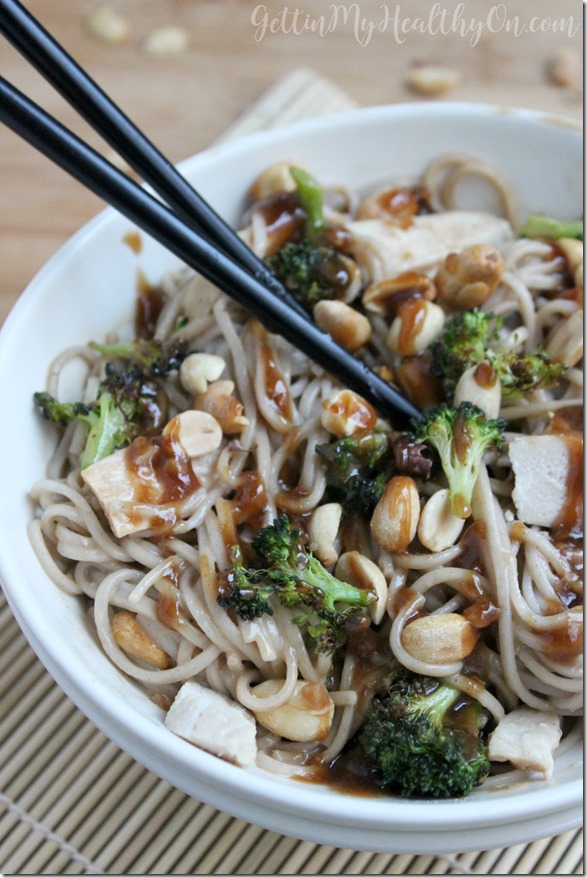 Today's recipe is one I made for the first time a few weeks ago, and I was completely shocked at how delicious it was because it's so simple. Matt even emphasized that he really enjoyed this recipe, which I'm always surprised to hear when a dish isn't packed with cheese and hot sauce.
The real hero of this dish is the peanut sauce. If you add nothing to the noodles except for one thing, it's the glorious sauce. It's a combo of fresh ginger, minced garlic, honey, peanut butter, soy sauce, sesame oil, and white rice vinegar—all stirred together and you've got the most flavorful sauce.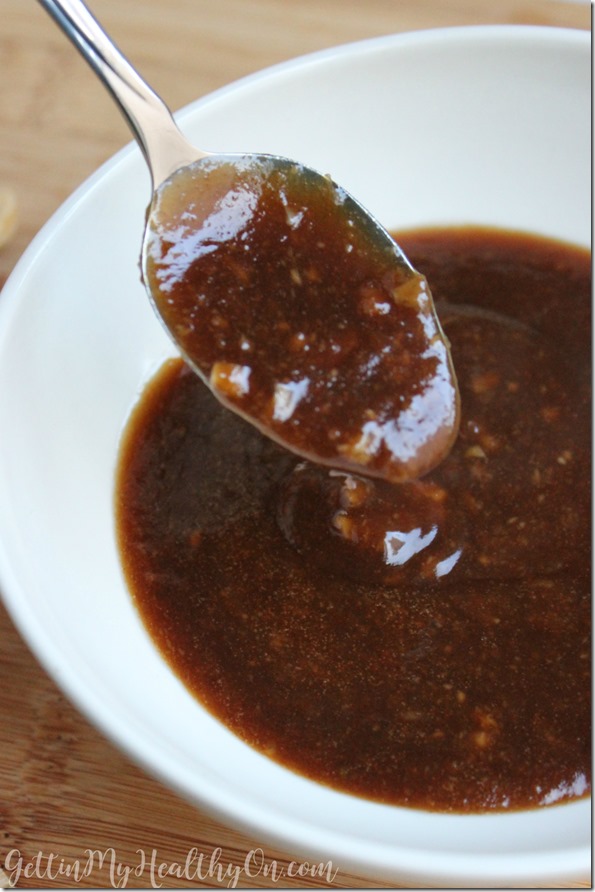 I chose soba noodles for the base of this dish because they're a Japanese noodle made from buckwheat that I've come to really like. They have fewer calories than traditional wheat pasta as well as more protein and fiber. They're a recent addition to my healthy pantry staples. Although you could definitely just use a spaghetti noodle, rice noodle, or other type, I prefer the subtle nutty flavor of the soba noodle.
Once I've cooked the noodles, and prepared the sauce, I toss it all together with cooked chicken breast and roasted broccoli because yours truly is currently trying to pack in lots of protein and veggies as I continue into week 2 of the LiveFit Trainer and its nutrition plan. This will most def' be in our regular weeknight meal rotation because it is just packed with delicious flavor. I highly recommend making extra to eat as leftovers!
Adapted from the The Wholesome Dish's recipe.
Asian Peanut Noodles with Chicken and Broccoli
Ingredients:
Peanut Sauce:

2 garlic cloves, minced
1/2 tsp fresh ginger, grated
2 Tbs pure honey
2 Tbs smooth peanut butter
2 Tbs soy sauce
1 1/2 Tbs rice vinegar
2 Tbs pure sesame oil
3 oz. soba noodles (or other favorite noodle)

Noodle Bowl:

1-2 medium chicken breasts, cooked and cubed
1 cup roasted broccoli florets
1 batch of Peanut Sauce
Garnish: peanuts (or sesame seeds)
Instructions:
Peanut Sauce:

In small saucepan, combine all ingredients. Cook on low, stirring frequently until peanut butter dissolves. Remove from heat and set aside.

Noodle Bowl:

Cook pasta according to package directions; drain and leave in pan.
Add peanut sauce, chicken, and broccoli; toss together.
Serve topped with peanuts (or sesame seeds).
Recipe from GettinMyHealthyOn.com
What's your favorite Asian-themed dish?
What are some of your go-to weeknight meals that are quick to prepare?