Thank you to Premier Protein for sponsoring this post and giveaway! Disclaimer: I was sent Premier Protein bars and shakes for free to review—all opinions are my own.
Over the past two months, I've been in "Operation: Acquire Lady Muscles," as I've been following the LiveFit bodybuilding program (currently finishing up phase 2 of 3…hollerrrrr). A major focus of LiveFit is nutrition—eating to lose fat and gain muscle. This has caused me to be incredibly aware of how much protein is (or is not) in my food.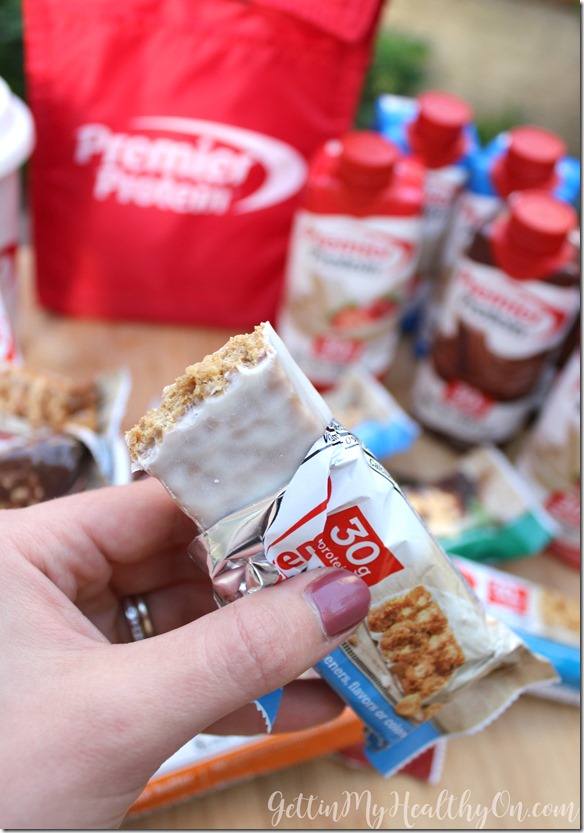 The ideal amount of protein a person should eat depends on factors like their weight and activity level. I've been trying to follow the LiveFit recommendations for women, which include: 5 egg whites for breakfast, high-protein snacks 2-3x a day, and 6 ounces lean protein for lunch and dinner. (This also includes vegetables and starches.)
Since protein is such an important part of muscle building and recovery while weight lifting, I've been very focused on where and how much of it I'm getting. Shifting my macro balance to rely more heavily on protein has definitely been a challenge for me. After all, carbs and fats are where my heart's at.
I know I'm not the only one struggling to get enough protein into their daily eats, so I'm sharing tips I've learned over the past couple months that have helped me up my protein intake.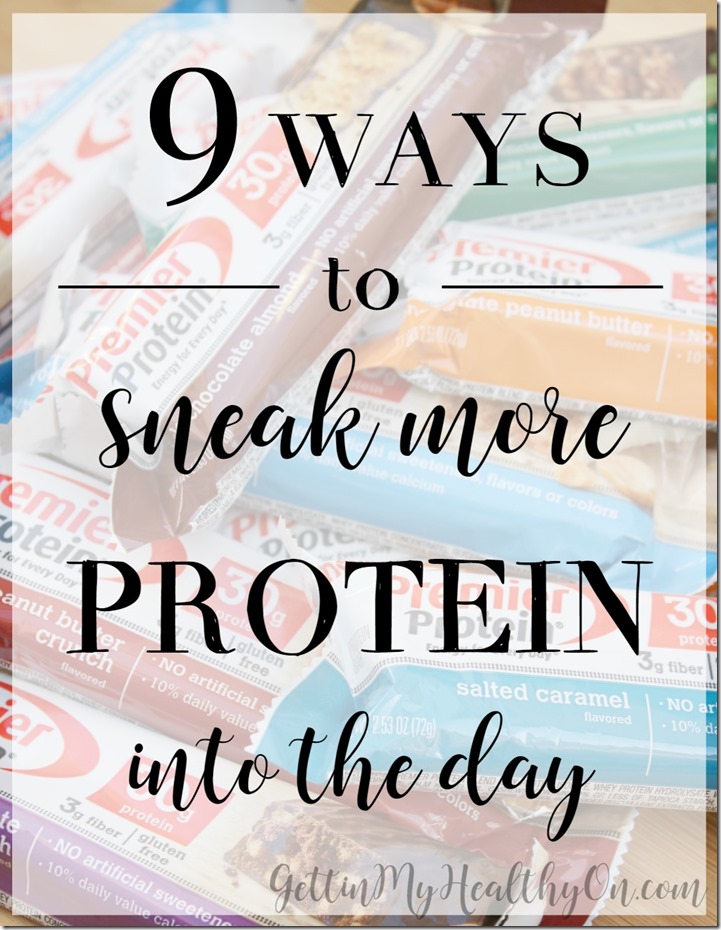 Add liquid egg whites (or regular eggs) to your breakfast. This can get extremely boring, believe me. But if you find something you like, stick to it! (My go-to has been mixing egg whites, PB, and banana into cream of wheat.)
Make homemade protein bars before each week. I've been using the LiveFit recipes, and they never disappoint. The cake-like protein bars are like mid-morning treats every day.
Keep pre-made bars and/or shakes on hand for convenient snacks (or even meal replacements). Whether you're not motivated or just don't have time, stocking up on protein bars and shakes can be a life saver. Pro Tip: Enter for the chance to win Premier Protein products below!
Incorporate lean meat into every lunch and dinner. Adding a lean meat to meals hasn't always been a necessity for me, which I've actively been trying to change. Assuming you're a carnivore, adding something as simple as leftover broiled chicken to a carb-heavy, meatless meal can be a handy trick!
Store hard boiled eggs for a quick snack throughout the week. I haven't done this lately since I eat 3-5 egg whites every morning, but this used to be one of my go-to protein-packed snack ideas. (Shout-out to Sriracha for making them less blah.)
Vary up protein sources to avoid burn-out. At first I was making overly basic meals that got quite bland after awhile. To avoid getting sick of healthy, protein-focused meals, I've been varying up my protein sources to stay motivated (e.g. meat, dairy, beans, nut butters, protein powders, etc.).
Mix protein powder into items. I don't know why I didn't do this much in the past—it's so unbelievably easy. If you're preparing items like granola bars, pancakes, yogurt, energy bites, etc., just add some protein powder to give it more staying power.
Sub Greek yogurt for part/all of an ingredient. I love this trick. Using Greek yogurt in place of butter, oil, sour cream, or mayonnaise can be such a simple method for increasing the protein and lowering the fat content in a food.
Spread it out throughout the day. Lofty goals require day-long attention! Make sure there's a significant protein source in every meal and snack you eat to ensure a consistent balance of nutrients (and count macros if you need to).
Premier Protein Review & Giveaway
As part of my mission to get all the #ProteinGainz, I've been devouring Premier Protein bars and shakes around the time of my workouts. They've been like a breath of fresh air when normally my food preparation requires a lot of effort and planning. The protein bars come in seven sweet tooth-friendly flavors (my favorite's Salted Caramel). I also received three shake flavors to try (I enjoyed Vanilla the most because it reminded me of ice cream).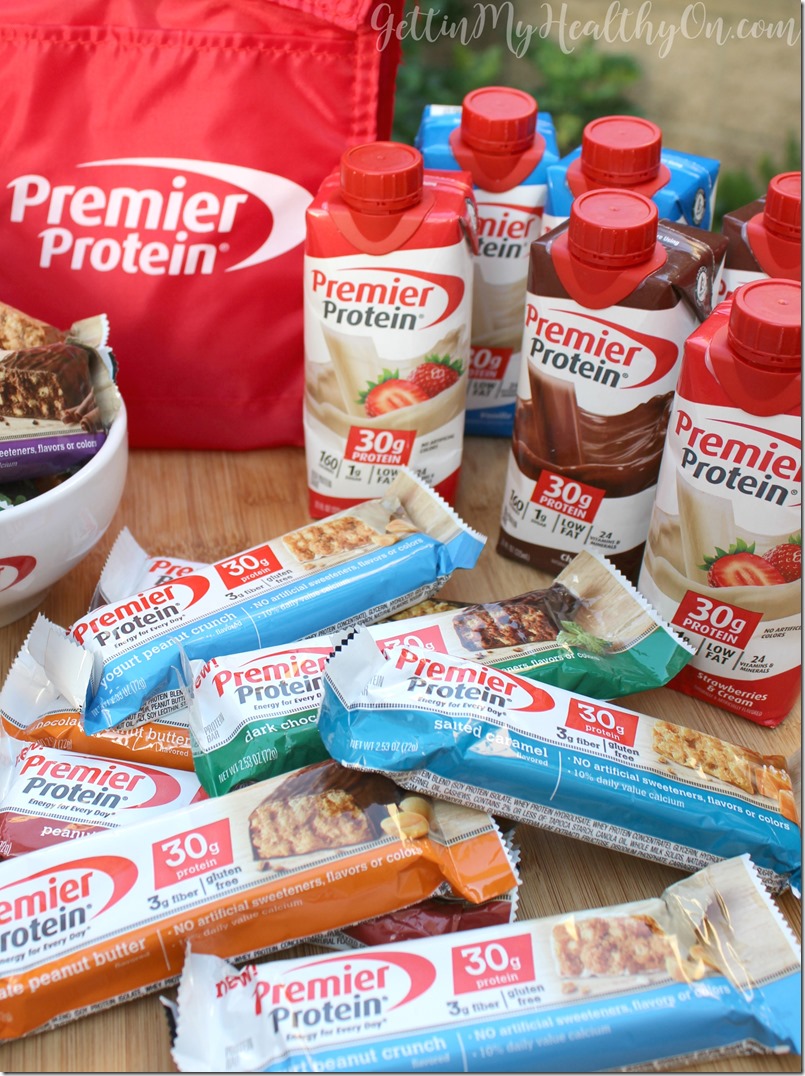 Both the bars and shakes are packed with 30 grams of protein, which I really appreciated because it can be hard to find such a protein-dense snack. The bars have around 230 calories each, so they may not be best for those wanting a low-calorie option. They have some serious staying power though! I've particularly liked them when I'm out and about and need something substantial to tide me over before I can get a legit meal.
The shakes are a nice size and have a somewhat creamy consistency, which I didn't mind. I really liked that they're resealable because sometimes I just need a little sustenance and don't need an entire protein shake.
If you're interested in trying out Premier Protein products—or have had them before and want more—you have the chance to win a pack of the bars and shakes! Just enter the giveaway below by following the prompts on the widget. The winner will receive 7 protein bars and 3 protein shakes.
Giveaway begins today and ends Monday, March 13th at midnight. Good luck!