And just like that…I've reached the three-year mark of blogging.
I've shared some posts I'm really proud of…and others I'm a little tempted to delete because they're so bad. Regardless of how I feel about them, I've published a total of 516 posts, and that my friends, is a lot of time spent talking about food, fitness, and trivial me facts.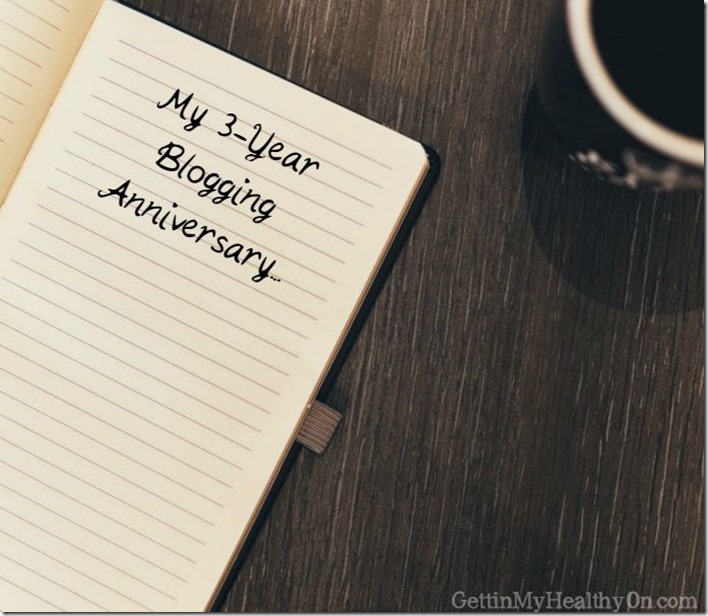 In honor of this three-year milestone, I figured I'd highlight some of the top posts I've shared during year three, as well as some goals I have for this blog for the next year.
Top 5 Popular Posts
Top 5 Recipes
Goals for the Next Year
This blog has evolved so much since I started it in August of 2012. From the design to food photography (thank God, for that) to how my blogging voice sounds (I have more of a purpose in my posts these days)—there's a lot that has changed and a lot that will continue to change in the future…I think it's all improvement though. You can check out my first two year recaps for an idea of how Gettin' My Healthy On has progressed:
Moving forward, I'm really excited to see this blog grow as I put more time and money into it. I've always invested a lot of time into this blog, but a big thing I hope to do over the next year is put the money I earn from it right back into it.
One thing that has completely transformed within the past year alone is this blog's social presence. I've put a huge emphasis on my social channels to connect more personally with people, and I've found it to be quite rewarding (follow me

). Aside from social media, a major goal I have is to get back to reading other blogs. I spend so much time working on this blog that I very rarely visit my fellow bloggers' websites—I hate it. Unfortunately, this is just a matter of not having time, but I'm hoping to find a better balance of working on this blog and reading about others' lives as well.
So there's a quick look at what's happened over the past year and where I hope to go in the next year. Thank you to all of those who have deemed my blog worthy of your precious time. It's kind of an ongoing experiment, and I'm so grateful for every person who has returned even once to see what's going on. Here's hoping for another great year!
Fellow bloggers: How long have you been blogging?
Everyone: What type of posts or topics do you like to read on here the most?