The time has come to consume an excess amount of pumpkin — and by pumpkin, I mean pumpkin-flavored treats that often don't even have that much pumpkin in them. *cough.pumpkin spice lattes.cough* Since fall is just around the corner, I figured it was about time I share another pumpkin recipe.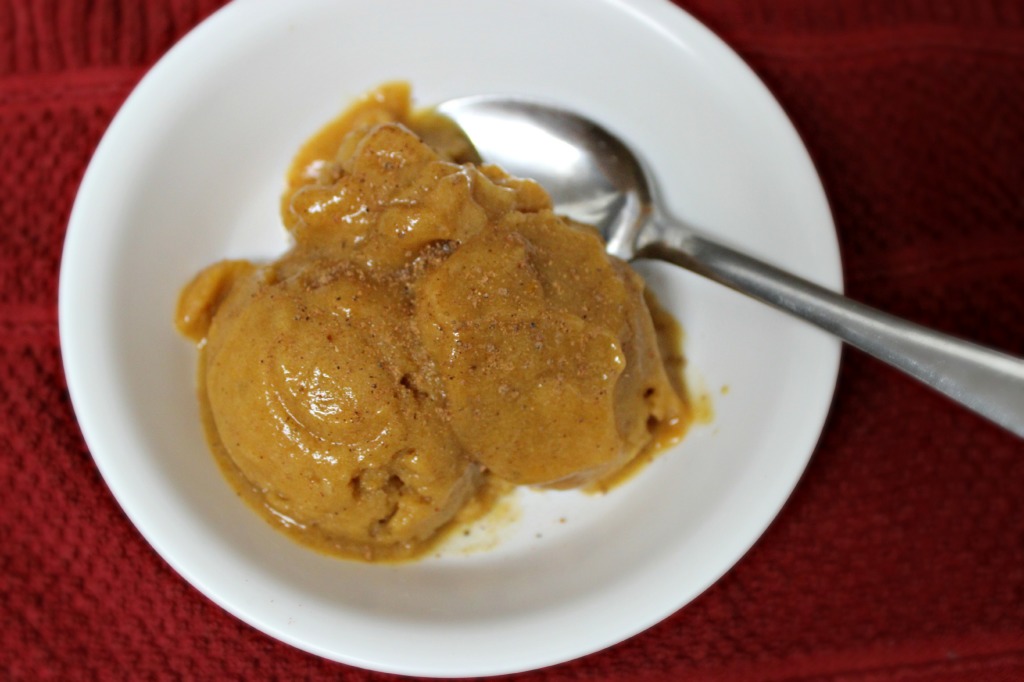 I whipped up today's recipe last night (procrastinator? me?) and was quite pleased with the result. I've shared three banana ice cream recipes on here in the past, so I'm excited to add to that collection. You see, banana ice cream is this magical dish that is straight-up bananas thrown in a food processor. All-of-the-sudden…BOOM…you have dessert. It's kind of really awesome. Now, just add some pumpkin and a little of this and that, and voila! You have the following:
Ingredients:
1/2 c pureed pumpkin (frozen or right out of the can)
1/2 frozen banana
1 tsp vanilla extract
1 tsp brown sugar
1/4 tsp pumpkin pie spice
optional: nutmeg for garnish
Instructions:
In a food processor, blend all ingredients together until smooth.
Serve immediately topped with a dash of nutmeg.
Notes:
I used pumpkin puree right out of the can, and the ice cream melted extremely fast, so I recommend using pumpkin that has been frozen. Another option if you don't want it to melt so fast is to make it with pumpkin out of the can and throw it in the freezer for an hour, stirring every 15 minutes.
Recipe from GettinMyHealthyOn.com
If you want to take things to the next level, I bet a little whipped cream on top of this would be DIVINE. Less healthy, but sometimes that's just worth it.
Check out my other banana ice cream recipes:
Have you ever tried banana ice cream? What did you think?
If you were at an ice cream bar and every topping imaginable was available, what would you put on top of your bowl of ice cream?