Sleep is a topic near and dear to my heart. It has taken me years to understand how important getting enough sleep is.
During most of my time in college, I was severely sleep deprived—half of the time this was just to go on late-night adventures. And in the summers, I would frequently stay up until 4 or 5 a.m. talking on AOL Instant Messenger (#memories). Fun fact: when the birds are chirping and the sun starts coming up, you should probably think about going to bed.

While I don't regret many of those late nights in college, despite being miserable fighting exhaustion in class, I've learned it's much more important to be amongst the living during daylight hours, as opposed to being a night owl, because I have to actually be a functioning adult now. Gross, I know.
To all of you people who frequently stay up until an ungodly hour (and deprive yourself of sleep): Do you even know how amazing sleep feels?! It's seriously so divine to be well-rested. Sounds ridiculous, but it's true. From my own experience, it is 100% worth missing out on extra episodes of your favorite show or whatever else you do late at night (though you may be called a grandma/grandpa).
Since adopting this glorious lifestyle of not being exhausted daily, I've learned quite a bit. When I tell people how many hours of sleep I get a night (my goal is usually 8), I feel like I'm bragging. Being an adult is so weird sometimes.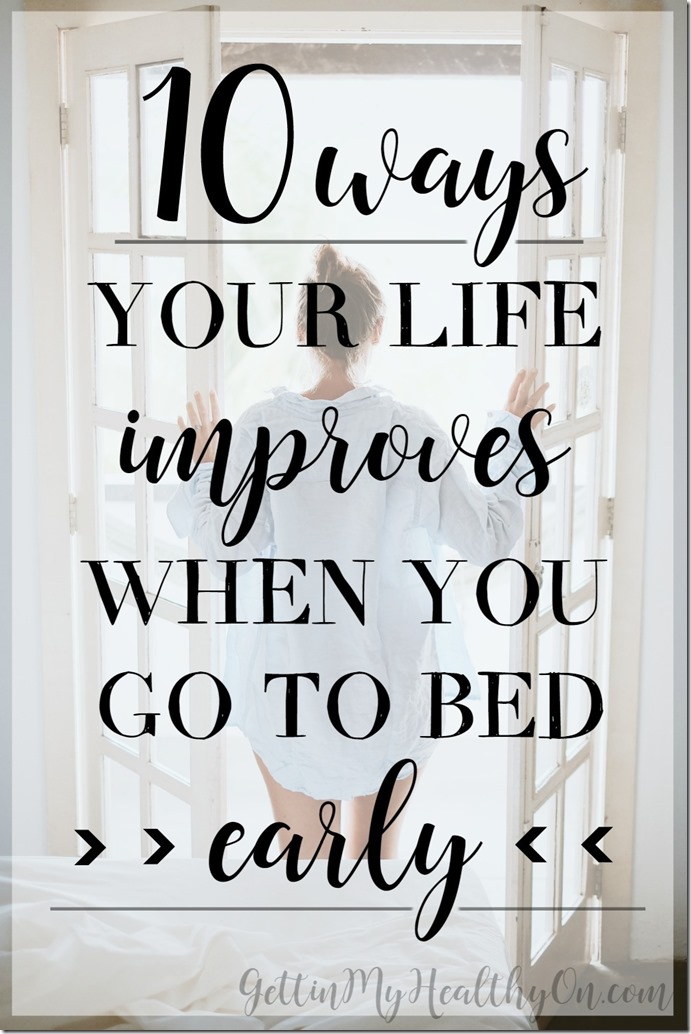 Here are some things that might happen to you if you join my go-to-bed-early club:
1. You don't need to run off caffeine anymore.
I drink coffee, but most of the time, it's not even for the caffeine—I just love the warmth and flavor. It's pretty nice to just live your life without making coffee runs all the time and so desperately rely on your next cup o' joe.
2. You won't crave junk food as much.
A lack of sleep has been linked to making poor eating choices, which I definitely notice when I'm trying to function after a super late night. Now that I think about it, I'm pretty confident my late nights contributed to my weight gain in college, so it completely makes sense that my weight loss began when I actually got some shuteye.
3. Your brain feels refreshed and actually willing to work.
Way too many people frequently complain about being tired and unable to focus as a result. Sure, this happens to all of us sooner or later, but if you prioritize getting enough sleep, you may find your brain works better—and you can be way more productive as a result. It's wonderful to not doze off during the day; believe me.
4. Your skin may look better.
It's called "beauty sleep" for a reason. I'm already cursed with dark eye circles, so I don't need sleep deprivation contributing to a tired appearance. Aside from under-eye bags/circles, you might find lack of sleep leads to dry skin, breakouts, and a generally dull appearance.  I don't really notice my skin glowing with beauty, but when I'm running off little sleep, it's very obvious to me how my skin is affected. It just feels gross overall.
5. You can wake up earlier to get more out of the day.
Mornings are the bee's knees…if you're able to drag yourself out of bed. By going to bed earlier, I've found I'm able to consistently have enough time in the morning before work to do what I need to, without feeling rushed. On the weekends, my decent bedtime is really the only reason I'm open to the idea of early-morning hikes or other fit activities. It often takes some planning, but I can usually make my weekend mornings a productive time, which translates to soooo much more day (and weekend)!
6. Your waistline might end up shrinking.
Lack of sleep has been linked to an increased appetite and a slower metabolism. If you're frustrated with your weight, it might be a good idea to simply go to bed earlier and see if that makes an impact! I see this as, if you're tired, you probably won't have much energy to workout or prepare healthy food. Plus, staying up late tends to lead to late-night snacking. Early to bed = no late night to snack during. #logic
7. You might be less cranky.
I'm irritable AF when I'm exhausted; I'm not going to deny that. I honestly don't understand how some people get 4 or 5 hours of sleep every single night and not punch at least one person per day. Waking up feeling refreshed is the best way to start the day with a good mood and positive outlook for whatever's in store.
8. Your risk of sickness and disease lowers.
Research indicates you're at a higher risk of a number of problems if you are constantly not getting enough sleep. This ranges from getting colds more often (RIP immune system) to a higher risk of depression, Type II diabetes, high blood pressure, and heart disease. For the record, the National Sleep Foundation recommends 7-9 hours for those ages 18-64.
9. You'll be a more alert driver.
Deprive yourself of sleep, and you will be less alert, which translates to many areas of your day, including your commute. Drowsy driving is a major issue, and according to the CDC, 1 in 25 adults (over age 18) have reported falling asleep while driving in the previous month. People, STAHP. If you absolutely must be on the road when you're tired, blast the AC, sing to music, or another one of my tricks for waking up when tired. Or you know, go to bed earlier. 😉
10. You'll improve your memory.
Studies show that people who go to bed early (and sleep well) tend to have a better memory. If you're tired, you're more prone to forgetting things because you can't concentrate as well. I can definitely vouch for this one because I notice myself being completely out of touch with reality when I'm mentally and physically exhausted. My short-term memory has enough issues without sleep making it worse!
There are so many people out there who literally cannot get enough sleep. From fussy children to crazy work schedules to simply having issues falling or staying asleep—if you are able to go to bed early, do it!
Get an extra hour for your homies. Sleep before your lifestyle potentially prevents the luxury. I like to think I'm stocking up on Zzz's before my future children deprive me of it. Sweet dreams! (Oh wait, it's 5 a.m….and I'm told I have to go to work or something.)