So last week I mentioned I would share my experience doing the Shoe Dog dealio at Road Runner Sports. If you aren't already aware, this is a program they have when an employee works with you to determine the specifics of what you need in your shoes to ensure a good fit. I've done it once in the past, but as part of the Running Buddies Team, figured I would do it again to make sure everything I knew was correct.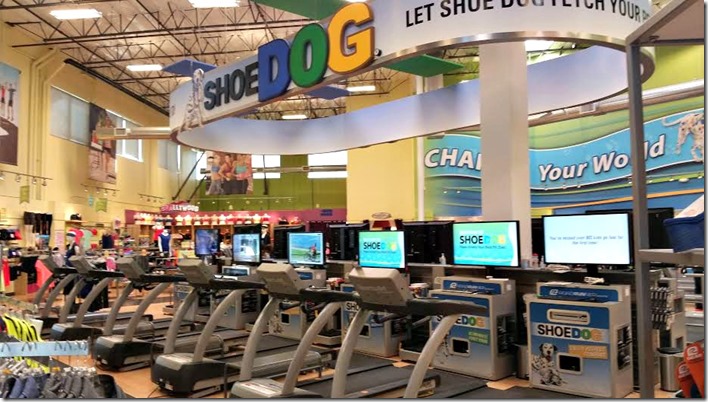 It's an awesome resource if you aren't sure what type/size/whatever of shoe you need, and the helpers are really informative, which is cool. You can sign up for the free service any time you're in a Road Runner Sports store, and it's a fairly quick process. When I did it last week, it looked something like this:
It started with me running barefoot on the treadmill while the back of my feet were being recorded, so they could analyze how I move. In slow motion, they replayed my video back focusing on each foot, and you could see how straight I run and if my ankle rolled in at all (pronated) when I planted – I always think this is really cool because I know I don't have the best running form.
My feet were also measured, and they checked my balance on a mat that showed on the screen where my pressure points were – it revealed I had pretty good balance but favored my right side a bit more, which might explain my right IT band being out of whack for awhile.
After these measurements, I stepped on their cushiony pressure pad (in the picture below, it's on the left of the screen on the floor). This allows them to create custom insoles for people partaking in the Shoe Dog experience. Whether or not you decide to buy the insoles is up to you. I know I don't necessarily need them, but I'm interested to see how they feel when I run. If you're concerned about using insoles, you could consult a doctor to make sure it's something that can help you.
Everyone I've ever worked with at Road Runner Sports has been so nice and helpful, so I encourage anyone to try out Shoe Dog because you might learn something about your feet! If for some reason you care about mine, here's the information they gave me: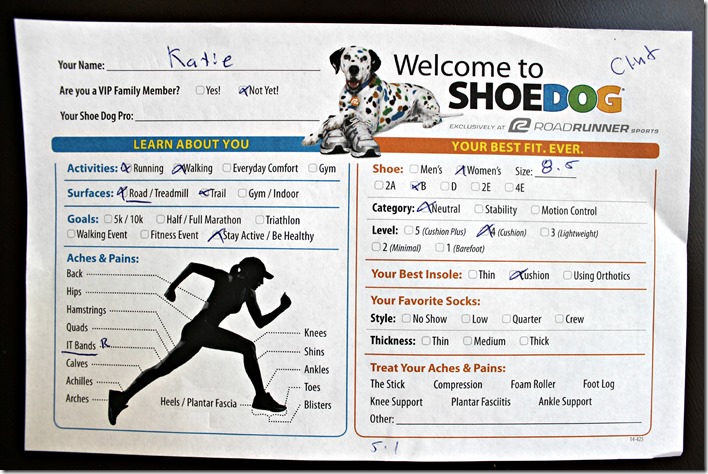 I basically already knew all of this since I've had my feet/running analyzed in the past (both at Road Runner Sports and less comprehensively at another running store), but it's always interesting to hear them explain why various aspects make such a difference.
After you go through the process, they recommend you work with one of their team members to find the best shoe based on your needs, but again, this is up to you whether or not you buy shoes or just take the info for future reference.
I personally would recommend getting your feet analyzed at a running store like Road Runner Sports. It's a great way to ensure you are buying the right shoes for whatever activity you do most! If you want to find your nearest store to try out Shoe Dog, you can visit roadrunnersports.com for more information.
Have a great weekend!
Disclaimer: This post was sponsored by Road Runner Sports; all opinions are my own.