If you are going Black Friday shopping today, I wish you luck.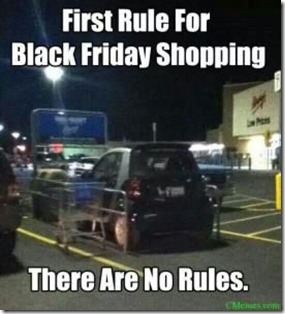 In order to not get trampled or shot, I have chosen to hang out on this fine Friday and be a bum, instead of fighting crowds at stores. As much as I love a good deal, I just don't know if it's worth the frustration of mobs of people getting all up in my personal bubble. Therefore, I am enjoying this day off from work by working out, watching trashy TV, and trying as hard as I can to wait till December 1st to start decorating for Christmas. That's the rule, apparently.
I hope you all had a great Thanksgiving! Ours was quite delightful, even though we didn't see any family, besides a short Skype session with Matt's family. My favorite part about the holiday has always been spending the day cooking with my family. Ever since we were little, my dad has always encouraged my sister and I to join him in the kitchen and prepare meals together because it makes for great bonding time. Now, it's one of my favorite things to do with my family.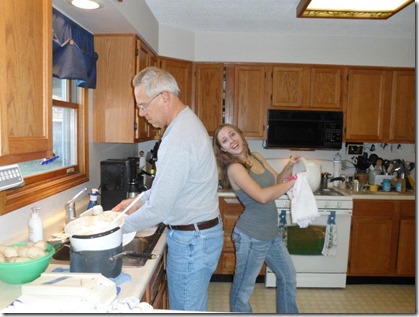 (Picture from a few years ago.)
Since it was just Matt and I this year, I missed out on the family cooking fun, but it was still a fun day with the boy. It was our first time actually celebrating Thanksgiving together, and it was my first time actually cooking the entire meal. As a result, I definitely learned a lot…
I had no idea what I was doing.
I had the general idea of what I wanted to do but probably should have planned out more. I asked Google approximately 50 questions, regarding how to cook dishes, how to know when they're done, and so on. It worked out in the end though. It crossed my mind to call Matt's mom, my dad, or my grandma multiple times, but I powered through.
Baking a pie is more complicated than I thought.
I've made a few pies in the past, but they didn't require baking (i.e. French silk and a fluffy pumpkin cool whip concoction). So this year I was determined to make my first pie from scratch. The pumpkin pie filling was pretty straight forward; I was more worried about the homemade crust. It wasn't as hard as I thought though! Love my food processor. I even learned what blind baking is (aka baking the crust before the filling is in there to help it hold its shape and cook throughout). I feel like such a seasoned baker now. Ha.
Even when you think the turkey is thawed, it probably isn't.
We had the turkey in the fridge for about four days, but there was still some ice inside the cavity. It apparently was good enough, though, because it cooked beautifully! Made me nervous though.
All salt is not equal.
Matt had heard cooking turkey on kosher salt was delicioso, so we tried it out. The drippings were way too salty to use for gravy, but the turkey tasted pretty good! Apparently the salt draws out the juices, and the turkey reabsorbs them. The internet informed me that if you use the same amount of regular salt, it would be waaaay saltier. No one probably cares about this, but I found it interesting.
Prepare for contamination.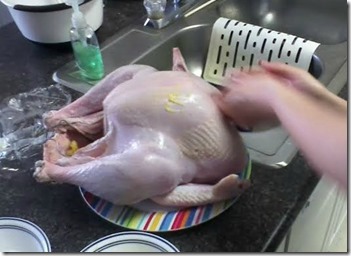 Draining the water/blood/nastiness from the turkey, rinsing it, and needing to wash my hands 5,000 times created quite the mess. I had to quarantine half the kitchen because of the contamination from all the salmonella-filled juices. Yum.
The smoke alarm doesn't hate me after all.
I've said it before, and I'll say it again: I'm amazing at setting the smoke alarm off when I cook. It's usually from putting too much non-stick spray on pans in the oven and that burning but still—worst sound ever. I did NOT set the smoke alarm off yesterday, and I am quite pleased. This seemed worth noting.
No matter how hard I try not to, overeating is inevitable.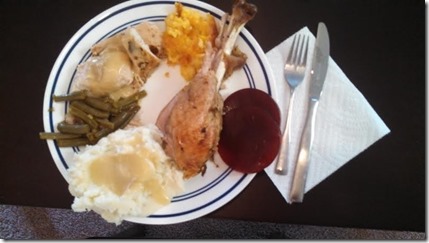 There's just something about Thanksgiving that causes people to overeat. Maybe because it's socially acceptable? Expected? Too much food, too little stomach? I'm still working on this. Eating a real meal still sounds repulsive.
Despite his unfortunate mustache, Matt can still be a baller.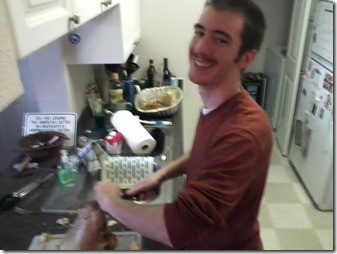 1. Someone doing the dishes while I'm cooking is the best thing ever. 2. After forcing him to watch a tutorial of how to properly carve a turkey, he did it like a pro. 3. He didn't outwardly judge me during any of my "oops" or "oh no!" or "well, that's not good" moments as I cooked. Very much appreciated.
Questions for you:
Will be partaking in the Black Friday insanity?
How did you spend your Thanksgiving? With family? At a Chinese restaurant?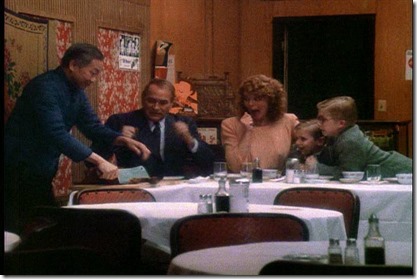 When do you start decorating for Christmas? Or are you like my father and think decorating is just a pain in the arse?
P.S. Make sure to check out my Creative Ways to Remake Thanksgiving Leftovers post for ideas of how to use all of those leftovers!