**Make sure to enter my Feetures! running socks giveaway! Only 3 days left!**
Today, I am sharing with you a unique perspective on the athletic lifestyle.
It's common knowledge that being fit is amazing for your health. The process of getting there, however, can be a bit unattractive and unpleasant. From the wear and tear on your body to the excessive amount of money spent on fancy gadgets and gear, working out can lead to some side effects. While some people may dwell on these unfortunate occurrences, I choose to lie to myself see the glass as half full.
If you think about it, we runners, cross fitters, yogis, or whatever you call yourself are constantly pampering ourselves as we work our butts off. Although some of this "pampering" is not the obvious kind of getting pretty, I have found that a bit of digging and creativity reveals a whole new side to fitness. Below are some ways I have discovered athletes (especially runners) are enjoying the finer side of life…ish…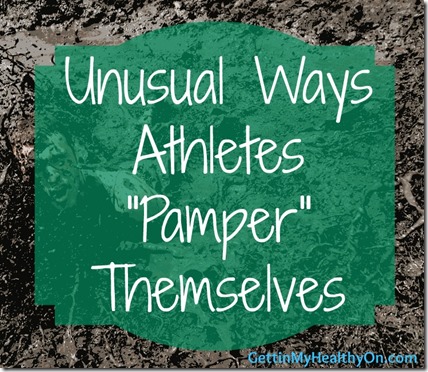 Relax in a mud bath

…in the form of an intense mud run with obstacles, where you crawl through nasty mud pits

Chill in a sauna-like atmosphere…

or so it seems from your hot, sweaty workouts

Get a deep tissue massage

…as you undergo painful foam rolling
Spoil yourself with a pedicure

…or rather, paint your toe nails so your running feet aren't as obviously horrific

Get a "healthy" glow from the sun

…with crazy tan lines from your workout clothes/gear that never seem to go away

Purchase a little getaway for yourself

…also known as spending too much money on races, which you hope to get through as fast as possible

Shop for new clothes

…athletic clothes to wear every day, despite whether you're working out or not

Take a hiatus from your normal responsibilities

…also known as

temporarily stopping training because you're injured
Enjoy a gourmet meal…as you're carbo-loading the night before a big race

Invest in some new shoes

…because you are one of the "lucky" ones who has lost one or more toenails and don't know how the world will react if you expose your feet

Indulge in desserts

…in the form of crazy, occasionally disgusting, refueling products, such as cookies 'n' cream protein powder, peach cobbler energy gels, pink lemonade energy chews, and so on

Starting the day with a refreshing routine

…by waking up at the crack of dawn to get your cardio on (oh the joy of morning workouts)

Take a nice, chill bath

…filled with ice to soothe your achy muscles after a crazy workout or run
Questions for you:
Do you partake in any of these pampering rituals?
In what ways influenced by fitness do you "pamper" yourself?
Anyone running a race this weekend!? I know soooo many people who ran races last week and was quite jealous. I'm pumped to run my cops and robbers-themed 5k tomorrow! (Followed by a Halloween party. Woo!!!)