Workout
I plan to do a bit of running on this fine evening. My 45-Minute Speed Pyramid workout will probably be happening. Don't quote me on that though. I tend to lie, which I talk about later in this post.
---
HellOOOOOOOOOOO (said in Mrs. Doubtfire's voice).
How was everyone's weekend?! Mine was lovely.
Friday
I did absolutely nothing. It was nice. Oh, and it was an impromptu rest day…
Saturday
I went through with a lie I told you guys on Friday. Okay, so I didn't know I was lying. Matt and I did not go on the 10-mile bike ride/run. Apparently his bike doesn't have good brakes, and he didn't want me to die as I went down hills. The nerve of that guy, I tell ya.
I DID, however, attend the baby shower via Skype. Awkward? Oh yeah. Worth it? Yes yes yes. I miss those people.
And to end the day, I decided to shatter some glass. I must have been bored or something—but not really. I sent glass flying across the kitchen floor for the millionth time because I threw innocently dropped a shot glass on the floor. I've mentioned it before, and I'll say it again: I break things (hence the title of this post)
Sunday
We played some beach volleyball! 'Twas a beautiful, friggin hot sunny day. Also, I finally redeemed my free cookie for Which Wich! It was really good just so you know. Not sure if it was worth the half hour waiting for my food though.
Also, root beer floats are AMAZING. Go get one. Now.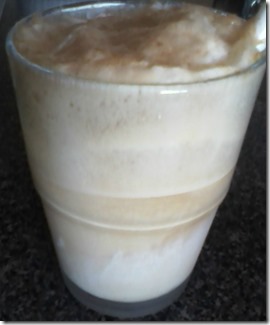 How was your weekend? Did you call your mother?
Root beer float fan? Have you tried any other cool floats? I've had a pepsi float and an orange soda float, but root beer is where the money's at.
What was your favorite part of the weekend? Volleyball!