This past four day weekend was everything I thought it could be.
I wasted lots of time doing things that were not productive in any way, and it was absolutely wonderful. We also set a new record for ourselves for the earliest viewing of a movie at the theatre. Saturday morning, we saw Hunger Games Catching Fire at 9:15 am…to beat the rush of a potential crowd following the holiday. My memory of how good the book was made my expectations a bit too high for the movie, but we both still really enjoyed it.
Once we got home, we were planning to go workout, but I found a great way to stall that…
Christmas tree decorating!!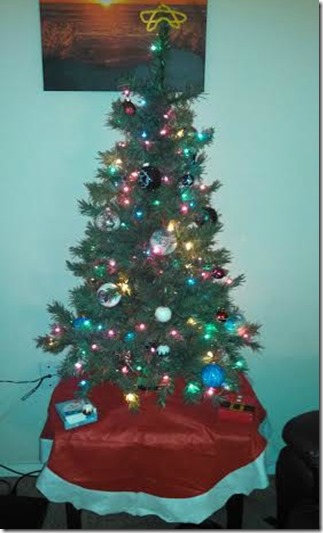 That's right. I broke the rules and put our little 4-foot tree up on November 30th. I couldn't believe Matt let it happen, but I didn't want to question it. It's ridiculous how such a little addition to the apartment can make me SO HAPPY. We also got out stockings and put some string lights around the window. It's quite colorful up in here. Makes me miss college, where it's acceptable to have Christmas lights up year round.
Also, I just want to share my artistic touch to the tree…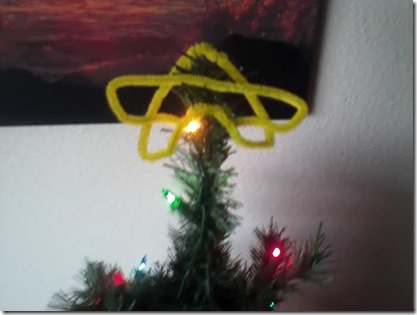 Matt didn't have an angel or star or anything to top it, so I crafted a beautiful pipe cleaner star. I'd be more than happy to create one for anyone needing a tree topper. Just let me know.
Questions for you:
Have you put up a tree or decorated yet?
How did you spend your weekend? Did you have a 4-dayer like me?