Music is one of my favorite parts of…all events, really. So naturally, I had to share a post about all the awesome music we chose for our wedding day.
This component was, by far, one of the best parts of our wedding. I'm so happy with all of our choices, and I want to relive it by sharing it with you on this fine Friday. Most of the focus is on our wedding reception because you know…that's where the dancing and real fun happens. But! I have a couple features from the actual ceremony too.
The Ceremony Music
I burned a CD for a friend to play over the church's sound system throughout the ceremony, which worked pretty well. There was a bunch of piano covers (by Benny Martin) of popular songs for when people were sitting. I decided to have Ben Folds' The Luckiest piano cover by Benny Martin for the bridesmaids to walk into. And then for my big entrance, I decided to go with Turning Pages (Instrumental) by Sleeping at Last, which, to this day, makes me tear up if I hear it. There's just something about that song that makes me emotional. It's crazy.
At the conclusion of our ceremony, Matt and I skipped out to Crazy Little Things Called Love by Queen, which was a lot of fun. It felt super cheesy, but I think people enjoyed the little splash of color during an otherwise traditional ceremony.
The Reception Music
Okay, now to the good part: the wedding reception. First things first, Matt and I chose Chelsea Dagger by The Fratellis for the bridal party to walk into, which was super upbeat and perfect. A big reason why we chose this was the fact its the song the Chicago Blackhawks play every time they score a goal. The Hawks were already out of the playoffs by our wedding…but…we went with it anyway because we have fond memories of jumping up and down screaming it at Hawks' games.
On our way to the head table, Matt and I stopped at the cake table to cut our super simple yet awesomely topped (if I do say so myself) cake. We cut the cake to Better Together by Jack Johnson because it seemed like a good idea at the time. Fun fact: our high fiving cake toppers were the very first thing we purchased for our wedding soon after we got engaged. #priorities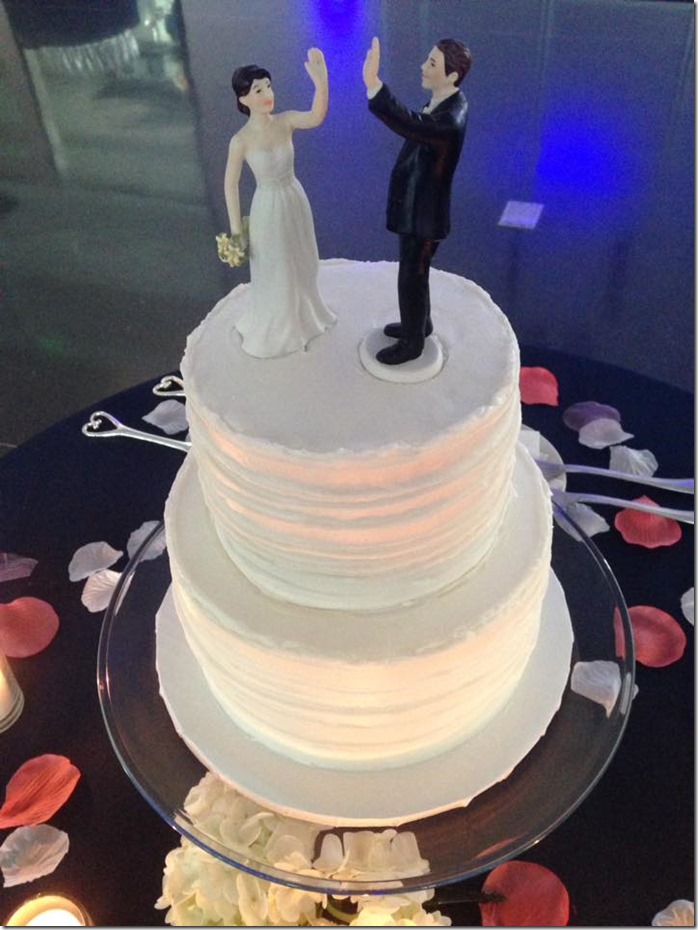 Now, we're getting to the juicy part. Our first dance was to Everlong (Acoustic) by Foo Fighters – it was absolutely perfect, and I'm so happy we went with it. Foo Fighters is the first (and only?) concert we've actually gone to together, so that was a fun connection – not to mention I not-so-secretly love Dave Grohl. My heart melts when I hear this version of the song.
For the mother-son dance, Matt and his lovely mother danced to Shinedown's cover of Simple Man by Lynyrd Skynyrd. It made me so happy because it's such a perfect song for a mother and son to dance to. Also, I heard a lot of ooo's from a couple tables because they enjoyed our song selection. Then a bunch of people held up the votive candles at their table to mimic a lighter at a concert. It was kind of awesome.
The father-daughter dance was set to Constellations by Jack Johnson. There's just something about Jack Johnson that reminds me of home and makes my heart happy. Constellations, specifically, is a sweet song about growing up with a father, so I thought it was perfect. My dad had never heard it before in his life, but that's beside the point.
Then the DJ put on some great music (or so I assume; I have no recollection of this because we were trying to mingle with all the people, which most certainly did not happen…gah!). Eventually, we got to the bouquet and garter tosses. For the ladies, I chose Where Them Girls At by David Guetta and Nicki Minaj. Something absolutely ridiculous about this song choice: when I chose this a couple months before the day, it legitimately made me tear up. Upbeat pop/rap/whatever made me want to cry. What is wrong with me?! Apparently the emotions caused by my wedding day anticipation were just too much. Oy vey.
And then Matt chose to throw the garter with Get Lucky by Daft Punk and Pharrell playing in the background. We wanted to up the fun factor and had a football on deck for Matt to attach the garter to to throw to the single men. I think people enjoyed it. Can't wait to see pictures of that!
All in all, it was a wonderful music-filled day, and I'm pretty darn happy with all of our choices (some of those were difficult to choose!). Our DJ was absolutely amazing, and I should probably get on writing him a stellar review like a good person would. I was basically on the dance floor 95% of that reception, even as people filed off for less-than-popular songs. I don't know why, but I felt the need to stay put and encourage everyone to get out there. I feel like I barely even danced with Matt. Haha. But meh, it was so much fun.
Some of our requested songs were Piano Man by Billy Joel (a major song for Matt and his track/cross country guys), Bye Bye Bye by NSYNC (I have no shame about the childhood choreography that ensued), Total Eclipse of the Heart by Bonnie Tyler (basically the anthem of my college friend group), and I don't remember what else.
Please excuse me while I go listen to all of these songs…
Married people: What were some of your favorite songs at your wedding?
Everyone: What are some songs you think are must-plays at weddings?