I'm not a calorie counter, and I never want to be. People who are able to keep track of their caloric intake fascinate me because I find it to be a pain in the arse, unless everything you eat is out of a package.
My goal is to always eat somewhat healthy with some room for indulging here or there. I understand why some people count calories, but it's just not for me. I do my best to be laid back about my diet without getting too crazy. I know some people struggle with that, though, and it helps them keep track of what they've consumed. To that I just say…more power to you.
I've counted calories once before out of pure curiosity. Since I can't remember what the result was that time, I decided to do it again because I often wonder how many calories I consume in an average day.
Yesterday was the dreaded day.
I researched what the average calorie count is in certain foods to help me get an estimate and looked at the nutrition label on what was packaged. After way too much math, I got a rough estimate.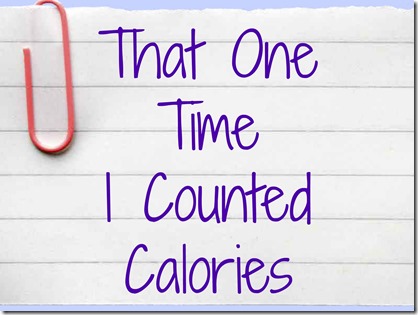 This is what I ate:
Breakfast: Peanut butter banana oatmeal + coffee with homemade creamer
Morning snack: Peanut butter-filled pretzels (anyone else see a trend so far?)
Lunch: Sandwich with turkey, kale, avocado, and cheddar
Afternoon snack: Chobani blueberry Greek yogurt
"Pre-workout" snack: Cheerios with almond milk
Random: Candy (little peppermint patties and Hershey's kisses)
Dinner: Taco with ground turkey, avocado, black beans, cheese, hot sauce
The grand total: 1900 calories
Counting those calories was so ridiculous. I tried to jot it down throughout the day and do a little research at a time, so it wasn't an insane math-filled evening. For several foods, I ate less than the serving size, so I had to do several calculations. This is what I had throughout the day: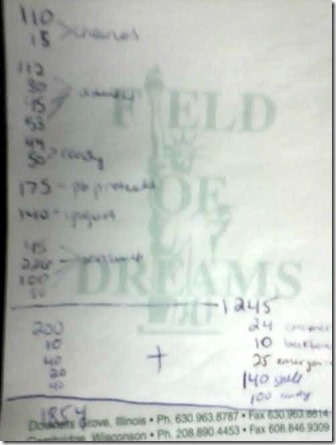 I realize how ridiculously disorganized it looks. While I don't know if 1900 is 100% accurate, I feel like it gives a pretty good idea of how many calories I consume in an average day.
Even though I felt like I ate a decent amount, I realized something…
I had several snacks, but my actual meals weren't insanely high. Breakfast and dinner were each barely under 300 calories. Lunch was the most, as it got up to about 420. I find that kind of hard to believe since it was such a thin sandwich but…I guess that's the price you pay for cheese. (Worth it.)
After adding up my day's calories, I then wondered how many I technically should be consuming in a day. That's when I discovered the Harris-Benedict equation for women. This is apparently the most common way to figure out how many calories you should consume in a day. To calculate yours, do the following:

655 + (4.35 x weight in pounds) + (4.7 x height in inches) – (4.7 x age in years) = BMR (basal metabolic rate)
I got 1448, which kind of set off an alarm since I had about 500 over that…
All I know is I've maintained the weight I'm at for awhile now, so apparently I'm active enough to eat that many calories. I found it really interesting, though. If you want to learn more, check out this article from Shape.
Side note: you see those quotes around "Pre-workout snack" in my list of foods from yesterday? That's because I waited too long to go run yet again, which caused me to lose every ounce of motivation. I then justified not going by telling myself I would deep clean the house instead. Hey, it's better than nothing.
Questions for you:
Have you ever counted calories before? What was your total?
People who regularly count calories, do you have any trick for figuring the calorie count easily?
Do you ever try to convince yourself you don't really need to workout? I've gotten pretty good at persuading myself it's okay to skip another a day. It's a problem.