If you follow me on twitter, then you know there was an earthquake around here yesterday.
Apparently there was an earthquake in LA, and I felt it all the way down here in San Diego. It was pretty small, so no worries. I was glad I wasn't working out at the time though. I already struggle with balance on cardio machines without an earthquake involved…
Looks like being lazy and putting off a workout could be a ..good..thing..?
When I finally did get around to working out yesterday, I did my 35-Minute Gradual Increase Run. Today, I plan to do my Dumbbell Circuit.
Now, let's talk about food.
Like I mentioned in yesterday's post, I have a recipe for chocolate chip cookies for you today!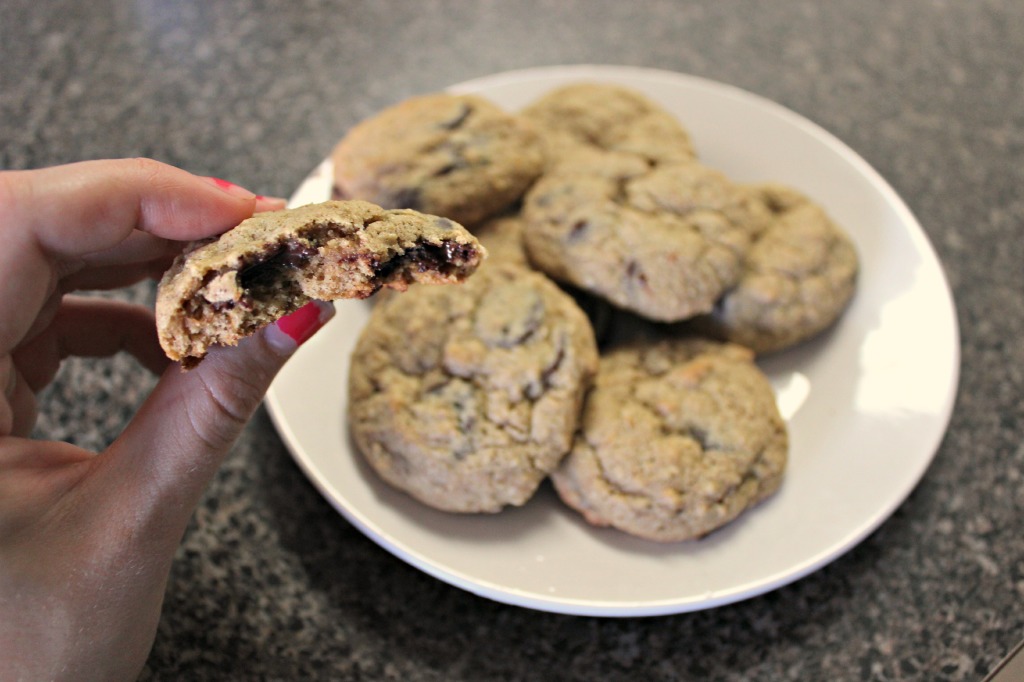 Thanks to a few different recipes for chocolate chip cookies and the following Chobani conversion chart, I was able to make my own cookie recipe without issues!
[Source]
I was super excited to try out the Greek yogurt substitute for half of the butter. I'd say the results were quite pleasant! I love the texture of the cookies, and the flavor is definitely not lacking.
Healthier Chocolate Chip Cookies
Ingredients:
1/4 c old fashioned oats
1/2 c all-purpose white flour
1/2 c whole wheat flour
1/2 t baking soda
1/4 t cinnamon
1/2 c brown sugar, packed
1/4 c sugar
1/4 c butter, softened
2 T 0% Greek yogurt
1 egg
1/2 t vanilla extract
1 c dark chocolate chips
Instructions:
Preheat oven to 375 degrees. In food processor, blend oats until fine.
In a small bowl, combine oats, flour, baking soda, and cinnamon.
In a larger bowl, cream sugar, butter, and yogurt together. Add egg and vanilla.
Once mixed, add dry ingredients to the wet. Then stir in chocolate chips.
Drop dough by rounded spoonfuls onto a cookie sheet. Bake for 10-12 minutes.
Recipe from GettinMyHealthyOn.com
Not going to lie. As of yesterday at about 5pm, all the chocolate chip cookies were gone. They lasted about 4 days though. Not too shabby.
What's your favorite kind of cookie?
I'm all about the chocolate chip oatmeal variety.
Do you healthify cookie recipes? 
I'm starting to use more wheat flour in recipes, and it's not too bad!