When it comes to breakfast foods, I tend to stick to oatmeal, pancakes/waffles, and eggs/bacon. There's one dish I haven't had much experience with but have been wanting to master for a long time: French toast. It seems so simple, and apparently, it really is. Soak some bread in an egg mixture and fry them biddies up. Boom. French toast.
Well I figured I'd share my new, go-to recipe for French toast. It's basic, yes – but it's delicious, people. Therefore, I must share. You can make it more interesting with fun toppings like nuts, whipped cream, honey, syrup, or whatever your heart desires. We chose maple syrup and a light dusting of powdered sugar. Yummmm. I enjoy cooking breakfast on the weekends, and this recipe will become a regular in our household from here on out.
To come up with this recipe, I looked at a few French toast recipes online and decided to mesh some of them to form my own concoction. So first, combine all the ingredients (minus the bread and toppings) into a bowl – then soak the bread for at least 15 seconds each, a few at a time.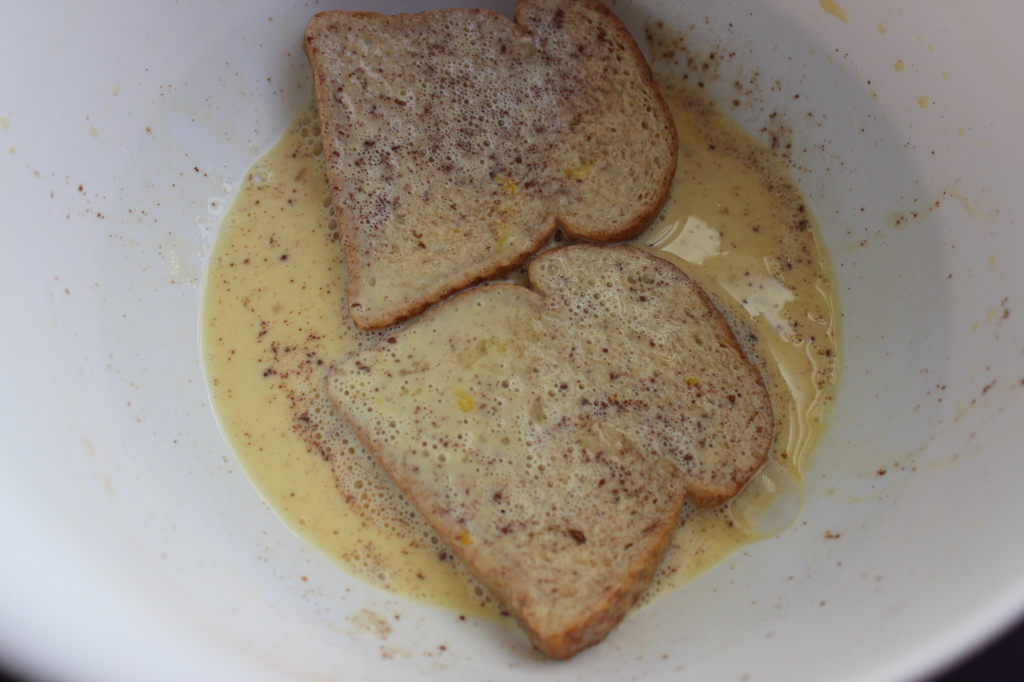 Next, throw them in a skillet that is coated with melted butter or non-stick cooking spray. Cook them for a few minutes on each side, or until they've started to brown a wee bit.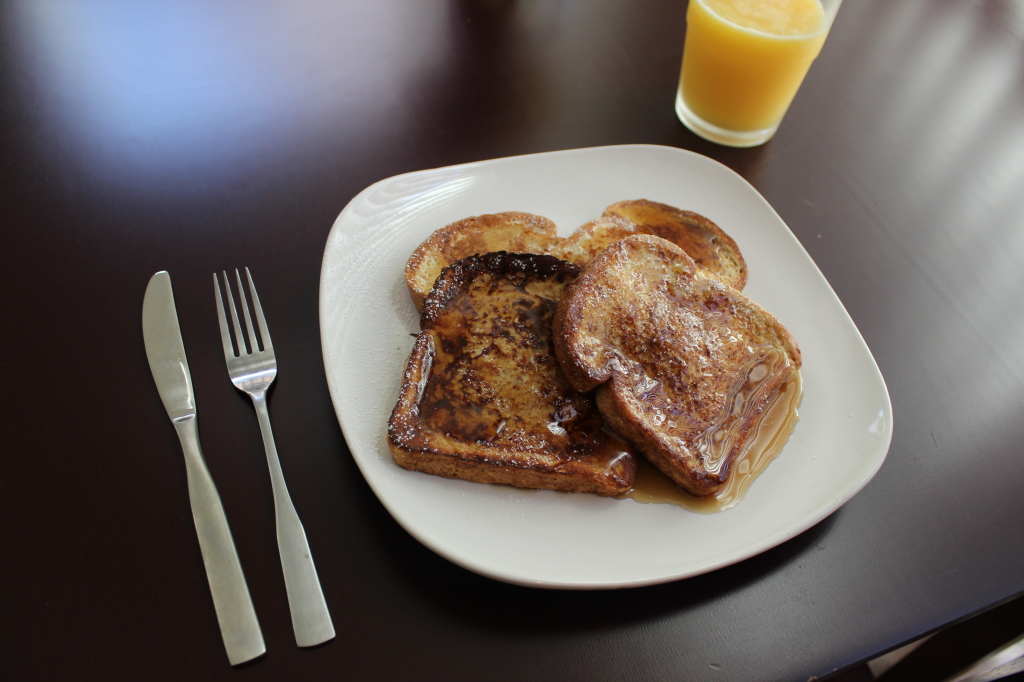 And serve! Next time, I might experiment with using some fruit or something. I thought this was quite tasty for straight-up, classic French toast though. See the recipe below:
Ingredients:
4 slices bread
1 egg
1/4 c half and half
1/4 c milk
1 Tbs honey
1/2 tsp vanilla
1/2 tsp cinnamon
1/4 tsp nutmeg
dash of salt
Instructions:
Combine all ingredients together except bread.
Soak each slice of bread in mixture (both sides) for about 15 seconds.
Cook on skillet set to medium heat until bread begins to brown, then flip.
Continue process until all bread is cooked.
Serve with maple syrup and a dusting of powdered sugar.
Recipe from GettinMyHealthyOn.com
Enjoy! And make sure to check out my other breakfast recipes.