Cool down with a refreshing glass of iced tea sweetened and flavored with homemade peach simple syrup.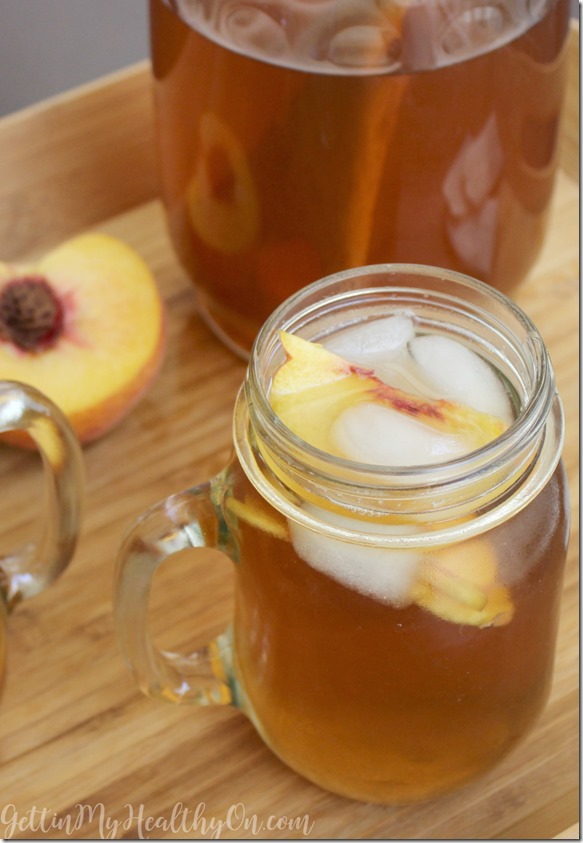 I've been on an iced tea kick for awhile, and today I'm taking it to a new level. I said it in my July favorites, and I'm here to remind you how wonderful iced tea is. Since I very rarely drink pop or other sugary drinks, iced tea has become a favorite of mine since it's so basic. Usually, I'm all about adding lemon for a little burst of flavor. Recently, though, I branched out and made a special little concoction: Sweet Peach Iced Tea.
Weirdly enough, I'm not even a big fan of sweet tea – I find it way too sweet. I'm all about that unsweetened iced tea. However, I've been picking up a lot of peaches lately, due to them still being in season, and they ripen HELLA fast, so I wanted more creative ways to use them up. That's how I stumbled upon the idea of making a simple syrup out of them.
I've never even made a simple syrup before, which is basically a concentrate of half sugar, half water. Add in some peach and BAM, you have a flavorful addition to tea.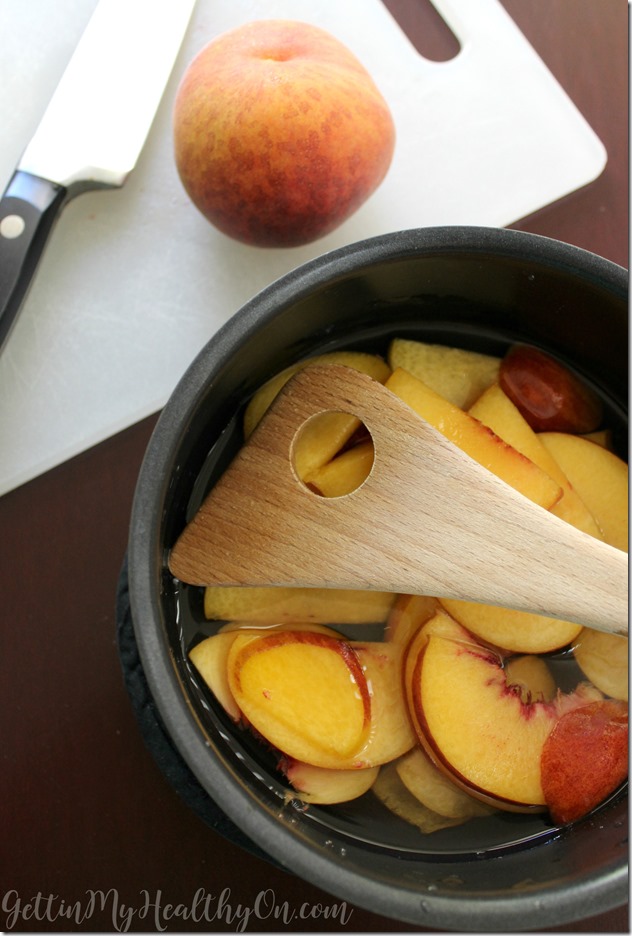 To make the peach simple syrup, I added 1 thinly sliced peach, 1/2 cup granulated sugar, and 1/2 cup water into a saucepan. After bringing it to a boil, I turned the heat to low, mashed the peach slices with a wooden spoon (and a muddler to really get all up in there), and then covered it, turned the heat off, and let it steep for about 25 minutes.
Throughout that time, I made some iced tea. To do this, I brought about 2 cups of water to a boil, and then turned off the burner and added 3 decaf black tea bags (Lipton), letting that steep for about 10 to 15 minutes. Once a dark tea concentrate was created, I poured it into a pitcher with 8 cups of water, setting it in the fridge to chill.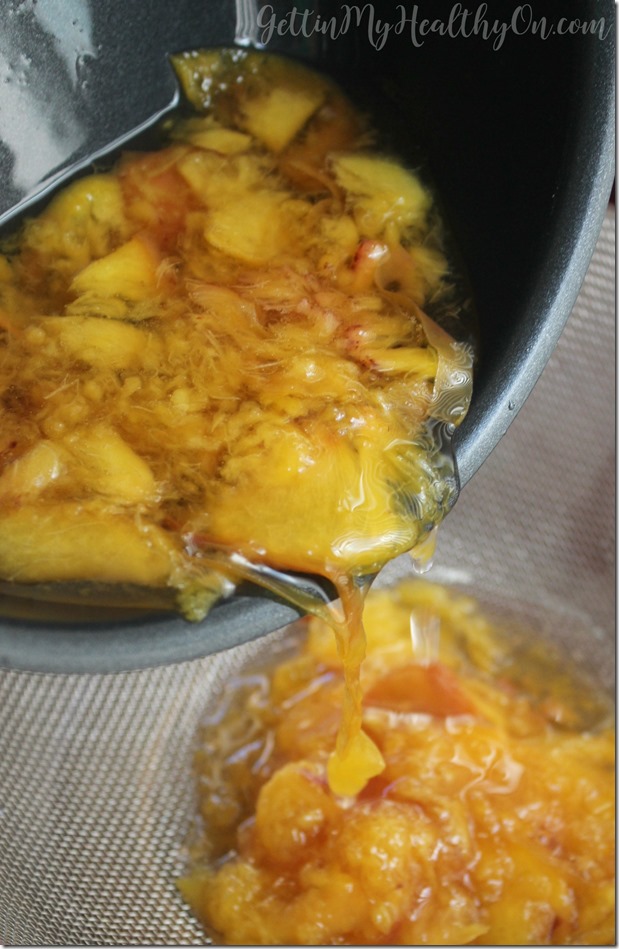 After the 25 or so minutes were up for the peach syrup, I strained it through a fine mesh strainer to separate all the juices from the pulp. (I plan to use the peach pulp in oatmeal for a little flavor boost – I couldn't bare to throw it away because it smelled divine.)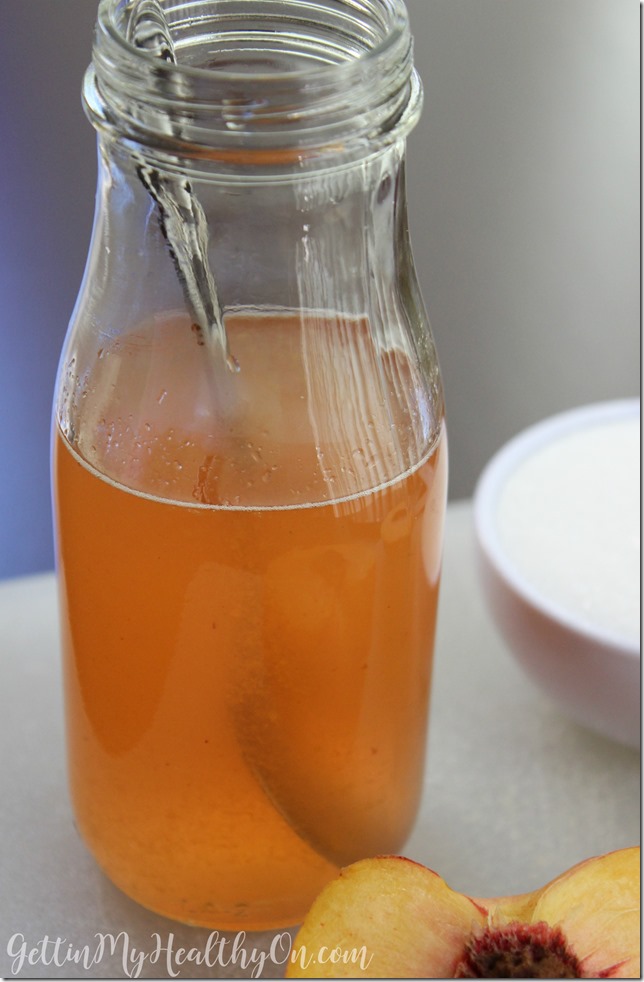 Once the simple syrup and the tea were both prepared and ready to mingle, I poured the fresh, homemade peach simple syrup into the pitcher of iced tea. There's just something special about peach and tea – they're meant for each other. The sweet peach flavor from the syrup and the basic black iced tea was perfection on our Sunday afternoon as we were doing the usual boring adult errand thing.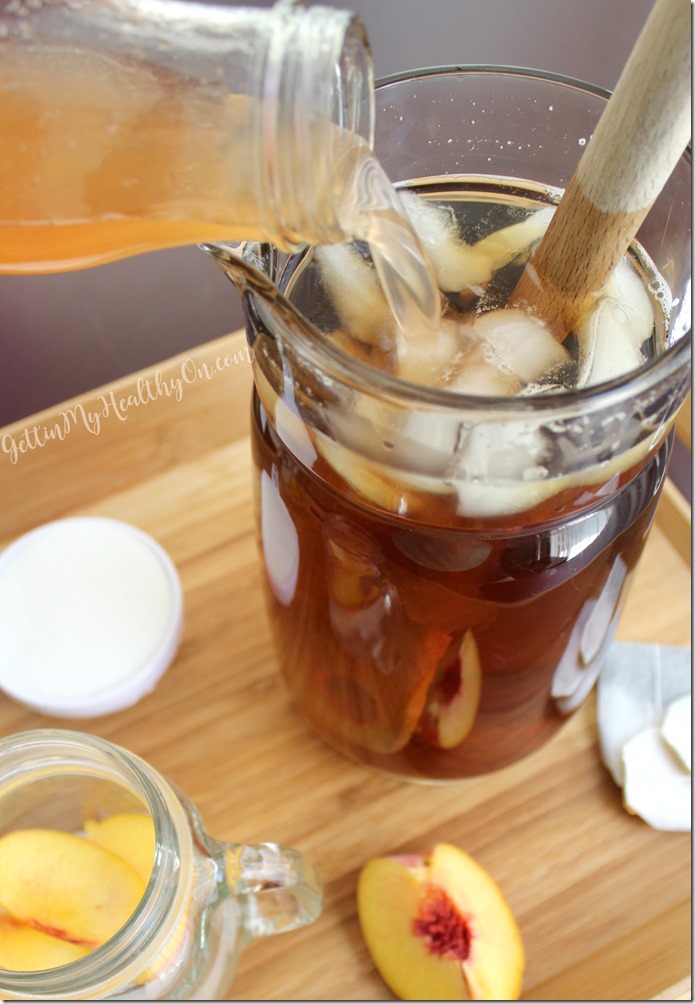 If you're looking for a way to spruce up your average glass/pitcher of iced tea, I highly recommend trying out your own peach simple syrup! It was a little adventure for me, and I may have to play around with more simple syrup recipes to see what other tasty concoctions I can come up with!
Ingredients:
Iced Tea

3 bags of black tea
10 cups water, divided

Simple Syrup

1/2 cup granulated sugar
1/2 cup water
1 ripe peach, thinly sliced
Instructions:
Iced Tea

Pour 2 cups of water into small saucepan; bring to boil. Turn off heat and drop tea bags in. Steep for about 10-15 minutes to make the tea concentrate.
Pour 8 cups water into pitcher. Add tea concentrate.

Simple Syrup

Bring sugar, water, and peaches to a boil in a saucepan.
Turn heat to low for a couple minutes, stirring and mashing peache slices with a spoon.
Cover and take off heat. Let sit for about 25 minutes to infuse the syrup.
Recipe from GettinMyHealthyOn.com
Add some ice and more sliced peaches to your glass of sweet peach iced tea for a cold beverage worth taking 500 pictures of (or maybe that's just me).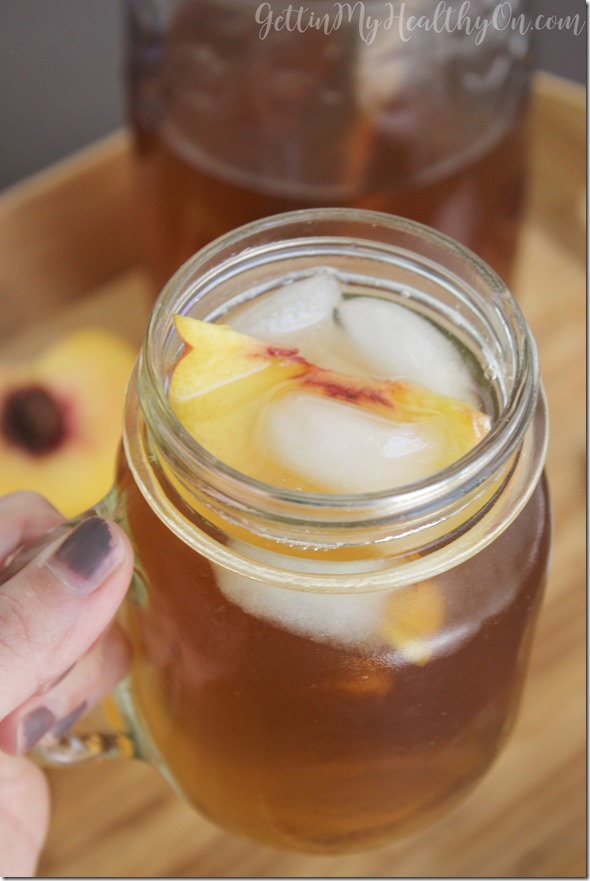 Are you a lover of sweet tea?
What's your favorite flavor of (hot or cold) tea?