Make strawberry shortcake a little bit healthier with the help of Greek yogurt and coconut oil for a slightly more nutritious, yet still delicious, cupcake recipe.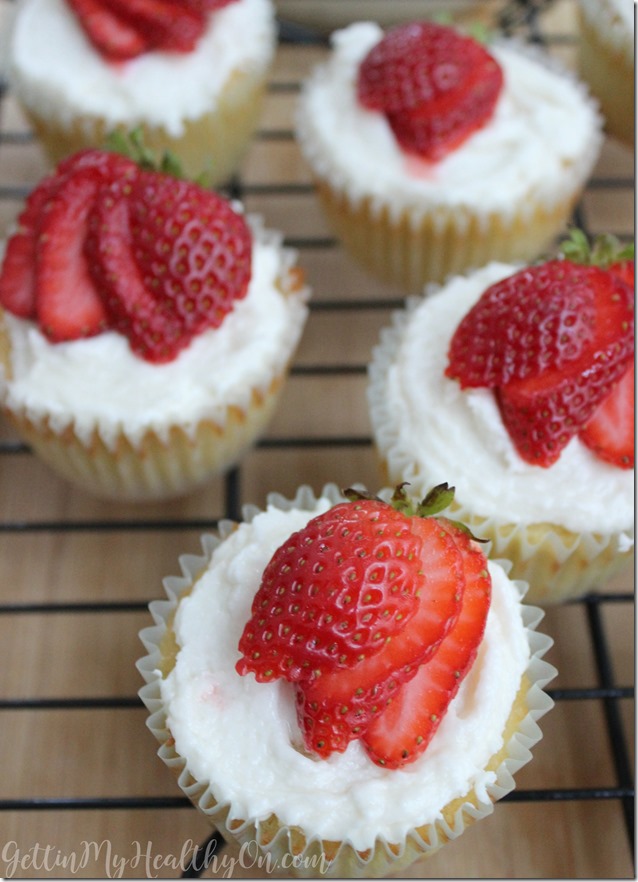 It was the end of the workday on a Friday, and I had plans to go to a friend's birthday dinner. I wanted to contribute a little bit of sweetness to the meal, so I quickly browsed the internet for some inspiration. Among the list of flavors she likes was vanilla (girl after my own heart), so then it hit me. Strawberry shortcake! Yes! But, she's one of the people in my friend group who is really trying to be healthier. That's when I decided I'd make cupcakes using one of my go-to ways of making recipes healthier—by replacing butter with plain Greek yogurt and coconut oil.
When I got home from work, I was like a madwoman making these cupcakes, while also documenting the recipe so I could share it with you in case it turned out (spoiler alert: it did, and so much better than I imagined). First I made the cupcakes. These are basically just vanilla cupcakes, but in place of half the butter is plain Greek yogurt (I used Chobani). It created the perfect base for the beautiful toppings.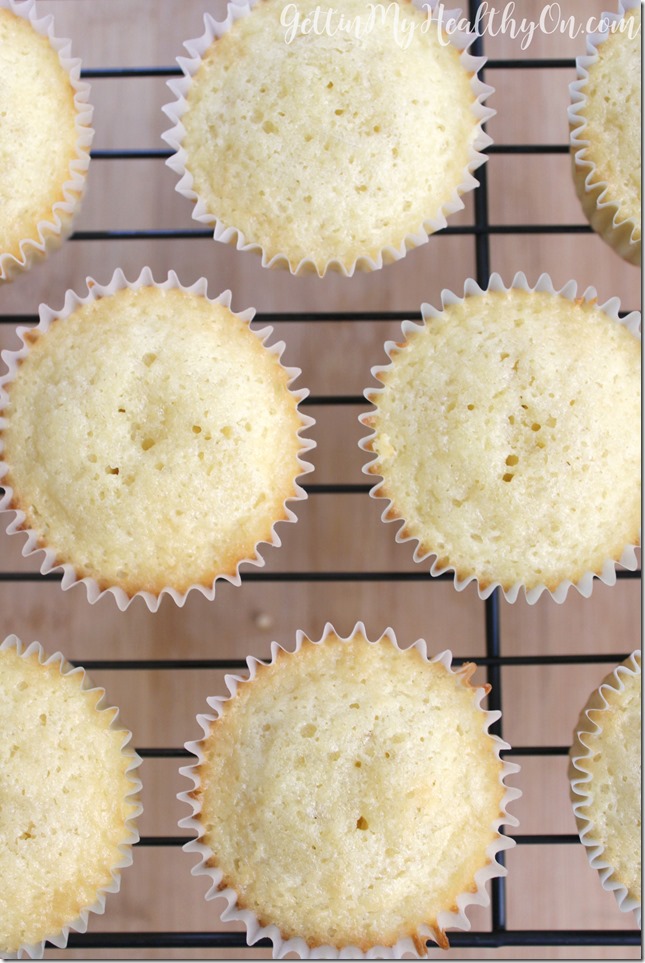 Once these were out of the oven, I set them out to cool while I worked on the buttercream frosting. Making frosting is always mentally difficult for me, as pitiful as that sounds. It's just…the thought of adding a cup+ of sugar with milk. It's just so bad (but oh-so-good). I didn't really want a vat of delicious buttercream, so that's when I found the idea of coconut oil.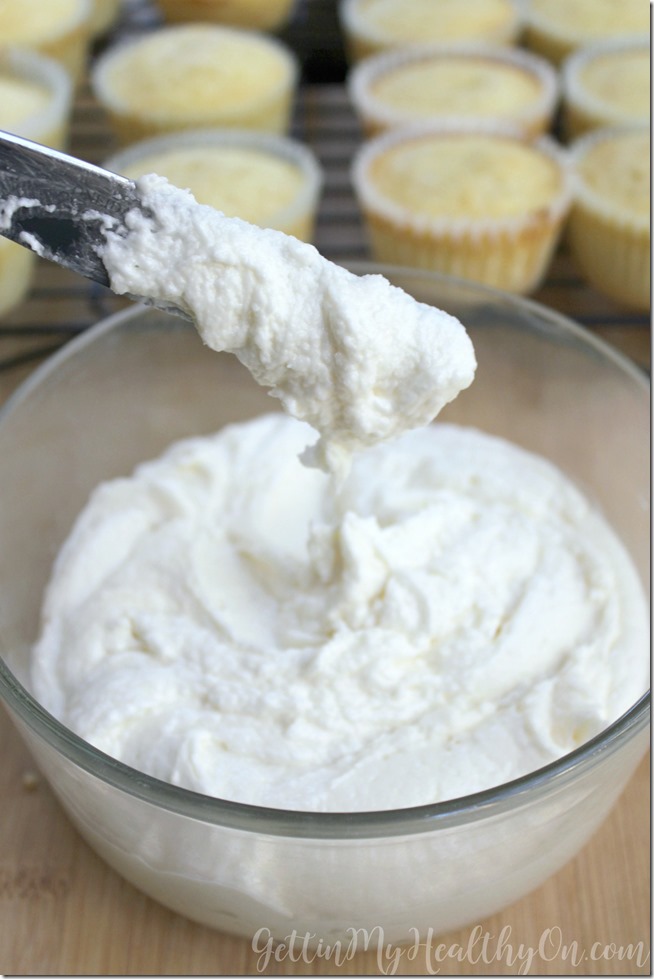 Now, when I make recipes healthier, I don't always like completely transforming them. I still want them to taste like the real deal (especially if I'm serving them to strangers). That's why my favorite trick is to only substitute part of the unhealthy ingredients with smarter options. That way, the recipe is healthier (albeit still not "healthy") but also tastes like you shouldn't eat the whole batch. This coconut oil buttercream frosting did the trick!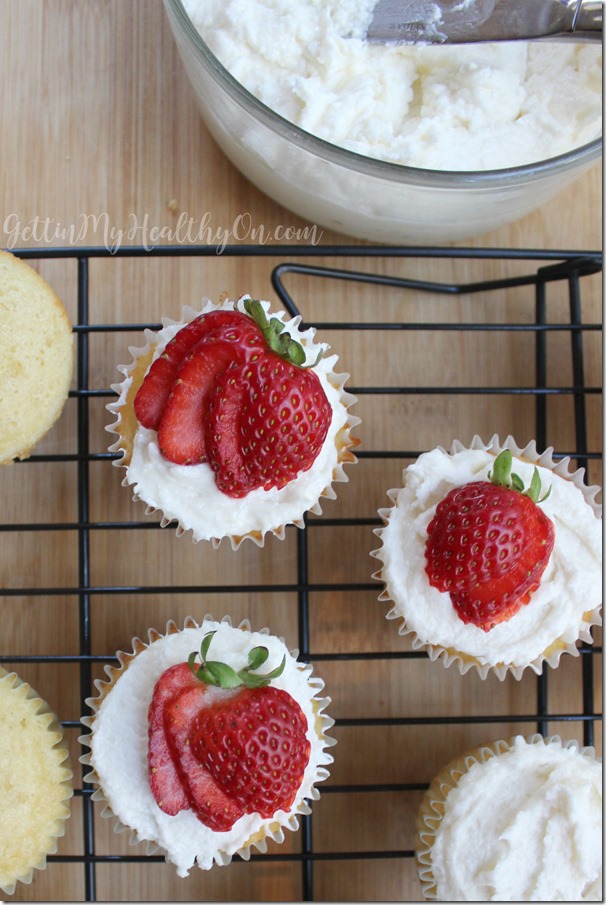 And you guys, I was so impressed with myself with how these looked, considering I was rushing to get these done in a couple hours. I asked Matt's advice on how to style the strawberries on top, because I couldn't get it quite right, and he chose my idea of fanning halved strawberries. My main squeeze knows what he's talking about, because come on…do these not look beautiful!?
To get that strawberry look, just slice each strawberry in half through the green leaves (you can remove that, but I thought it added a nice pop of color). Once they're all in half, cut two or three divots from the pointy end up near the top (don't go all the way up or they'll fall apart!).
Obviously, when people eat these, they'll need to remove the green part (unless they're a human garbage disposal; in that case, carry on). I will say that these cupcakes are slightly more dense, but then again…shortcake is more dense and biscuit-like than cupcakes, so I'll pretend like this was on purpose. 😉
Cupcakes adapted from Chocolate with Grace.
Strawberry Shortcake Cupcakes with Coconut Oil Buttercream Frosting
Ingredients:
Cupcakes

1/4 cup Greek yogurt
1/2 cup butter, softened
1 1/2 cups granulated sugar
4 large eggs
1 Tbs vanilla extract
2 3/4 cups all-purpose flour
2 tsp baking powder
1 cup milk, lukewarm

Coconut Oil Buttercream Frosting*

1/2 cup butter, softened (1 stick)
1/4 cup coconut oil, melted
3 cups confectioners sugar
1 tsp vanilla extract
3 tsp milk

Strawberry Topping

12 fresh strawberries, cut in half length-wise
Instructions:
Cupcakes

In a large bowl, cream together the yogurt, butter, and sugar for a couple minutes until light and fluffy. Beat the eggs in one at a time, then add the vanilla.
In a separate bowl, whisk together the flour and baking powder. Mix into the wet ingredients, alternating with the milk. Stir until just combined.
Pour the batter into a cupcake pan filled with liners that have been sprayed with non-stick spray.
Bake at 350 degrees for 15-20 minutes, or until a toothpick can be inserted and come out clean. Let cool.

Coconut Oil Buttercream Frosting

Beat the butter for a few minutes, or until light and fluffy. Mix in the melted coconut oil; then slowly add the sugar, vanilla, and milk. Beat until smooth.

Strawberry Topping

Cut 2 or 3 slices into each strawberry half, from the tip up to before the stem (don't cut all the way to the stem, or the slices will come apart).

Strawberry Shortcake Cupcakes

Spread desired amount of frosting onto cooled cupcakes. Before serving, top each cupcake with fanned-out sliced strawberry half.
Notes:
*You may have extra frosting, depending on how much you put on each cupcake.
Recipe from GettinMyHealthyOn.com
If you're not going to eat these all right off the bat, make sure to store them in the fridge (for a couple days; no more than a week). Seeing as how coconut oil melts when warm, keeping these at room temperature is a bit of a gamble. I didn't want the strawberries sliding off the butter-sugar-coconut oil frosting, so I kept these in the fridge until they were ready to serve, which worked just fine.
They were tasty, pretty, and individually sized, so they were the perfect complement to a birthday dinner. Let me know if you decide to try out the recipe! I'd love to hear your thoughts.
Cake or cupcakes? For some reason I find cupcakes so much better than cake. #convenient
What's your favorite flavor of cake? I'm usually all about the chocolate on chocolate on chocolate, but straight-up vanilla is a refreshing classic from time to time.