I've been on a muffin kick lately. This is the third week in a row I've made them. First, it was my Greek Yogurt Banana Bread. Then I made the Banana Bran Muffins I shared recently. Yesterday, I made a new recipe that I've been wanting to try for months—muffins filled with strawberries, chocolate chips, and Greek yogurt. I'm quite pleased with how they turned out.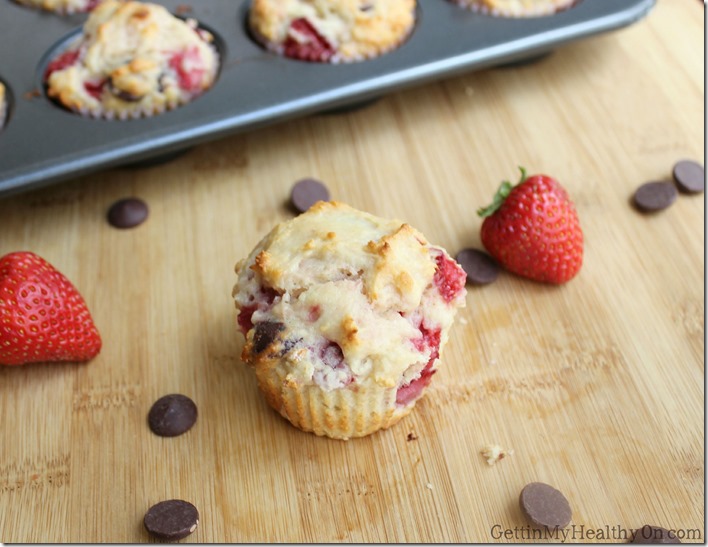 The base of these muffins reminds me of pancakes. Add in chocolate chips and strawberry chunks and BOOM–a decadent breakfast of sorts. Or these could be a snack. Or dessert because there's a chocolate-covered strawberry theme going on.
I used fresh strawberries for these, but you could definitely use frozen ones that have been defrosted. Just cut them into small-ish chunks.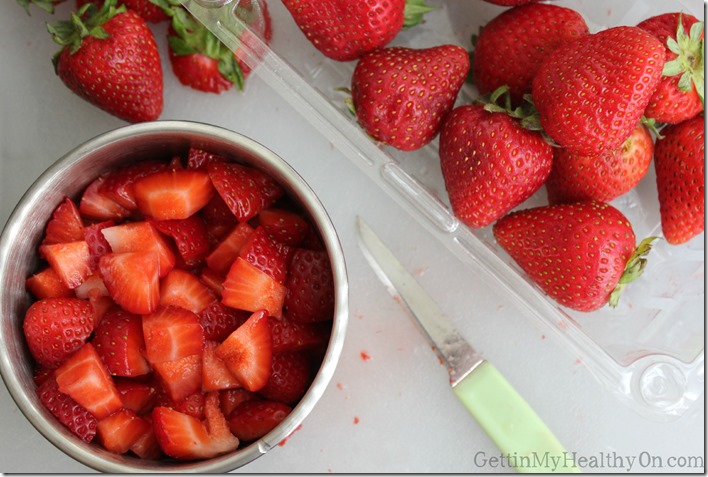 To begin, you'll need to whisk 2 cups flour and 1 tablespoon baking powder in a bowl. Add in 3/4 cup chocolate chips (I used Ghirardelli 60% cacao bittersweet chocolate chips because I'm obsessed with them) as well as 1 cup diced strawberries—combine, and set aside.
In a larger bowl, scramble 1 egg; add 3/4 cup sugar; and then slowly stir in 4 tablespoons of melted butter (half a stick) that has been slightly cooled (unless you want chunks of cooked egg all up in your muffins, which is what will happen if you put hot butter into the egg mixture). NOW, you want to mix in 1 1/4 cups of plain Greek yogurt, JUST until combined (I'm in love with how much Greek yogurt goes into this recipe—hello, protein gains).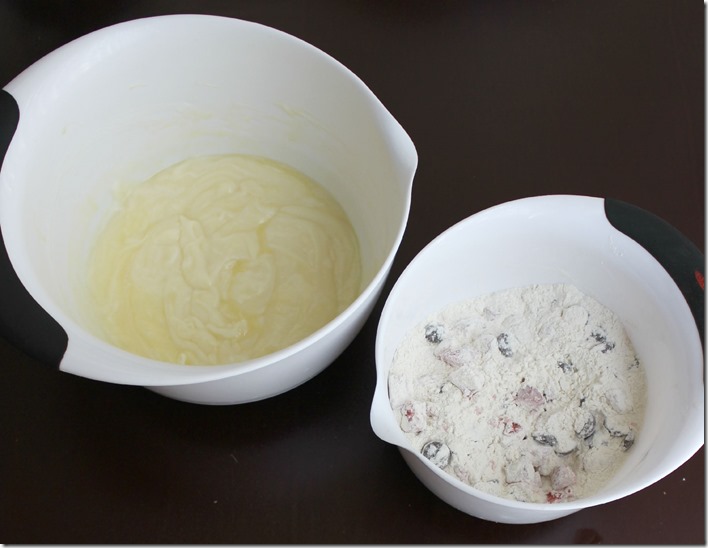 At this point, you're ready to make the magic happen. Slowly incorporate the dry ingredients into the wet mixture. You want to stir these just until combined. You batter is going to be hella thick now. This is what you want—don't fret.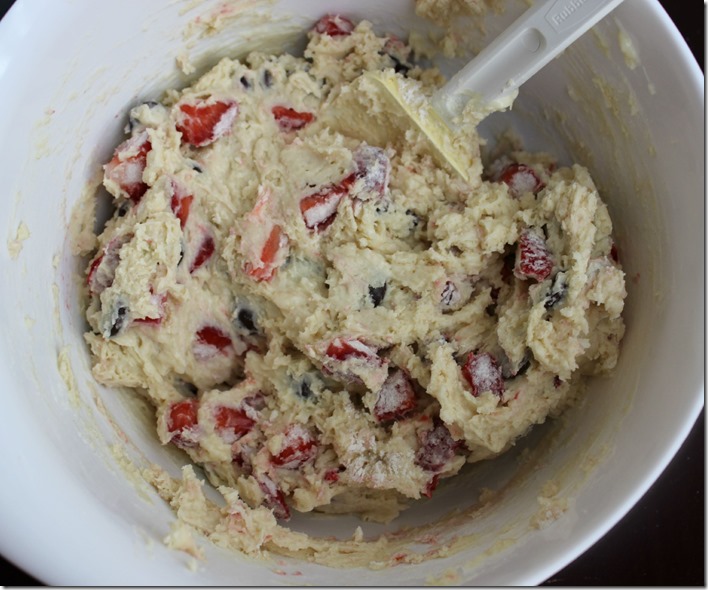 Now spoon that goodness into a muffin tin. I lined mine with paper cups and sprayed some non-stick cooking spray in each one. You'll want to fill each compartment to the top (or even slightly over) with the batter. I made a total of 12 muffins—but you can make up to 14 or so if you want.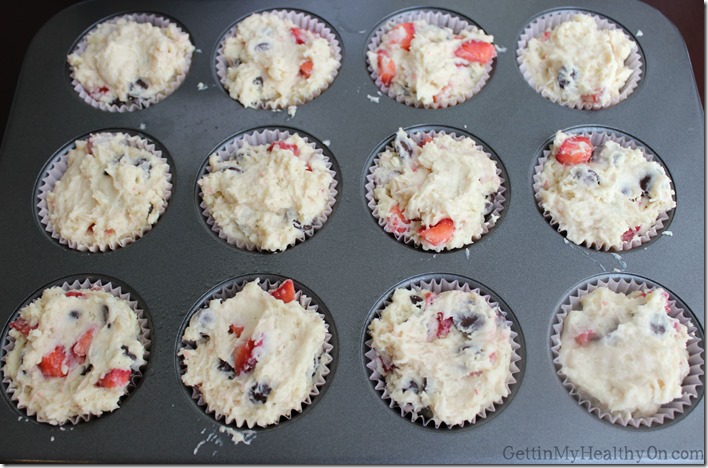 Bake at 425 degrees for 5 minutes. Then continue baking at 350 degrees for 20 to 22 minutes. I waited until the tops were just starting to turn golden brown.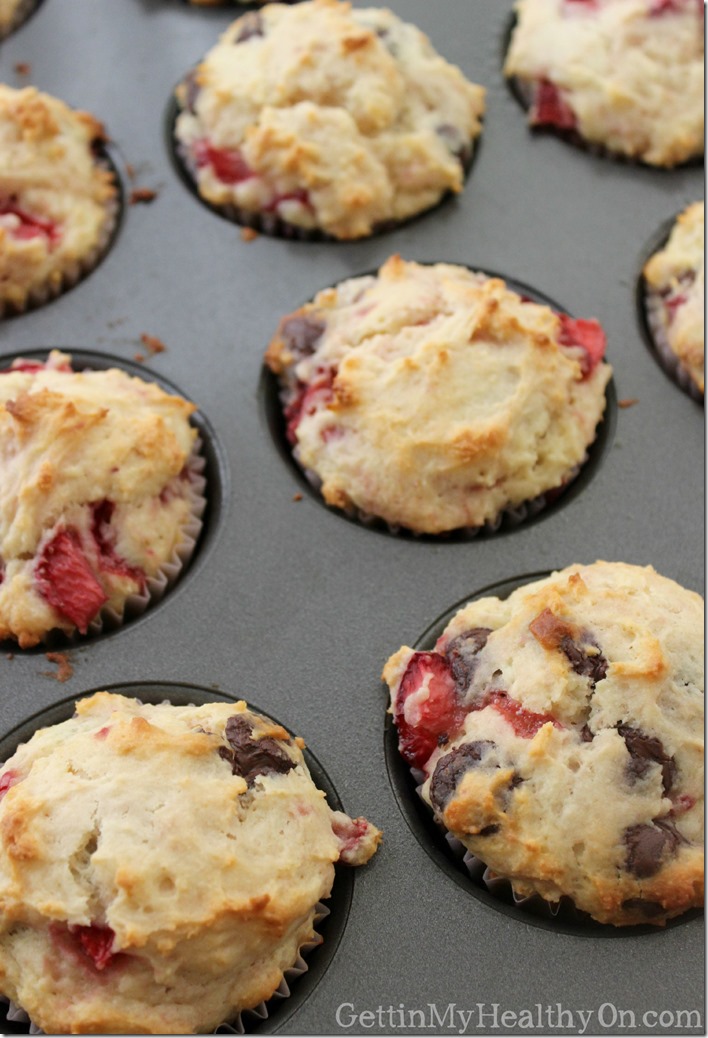 These don't rise excessively, so filling the batter to the top works well. Then you get the good kind of muffin top going on. See below for the condensed recipe:
Strawberry Chocolate Muffins with Greek Yogurt
Ingredients:
2 c flour
1 Tbs baking powder
1 c chopped strawberries
3/4 c chocolate chips
1 egg
3/4 c sugar
4 Tbs salted butter, melted and slightly cooled (1/2 stick)
1 1/4 c plain Greek yogurt
Instructions:
Whisk together the flour and baking powder in a bowl. Then add the chocolate chips and strawberries. Set aside.
In a larger bowl, scramble the egg, and mix in the sugar.
Slowly stir in the butter. Then mix in the yogurt, just until combined.
Now pour the dry ingredients into the wet mixture, stirring just until incorporated.
Spoon into a muffin pan lined with paper muffin cups that have been sprayed with non-stick cooking spray. Fill all the way to the top.
Bake at 425 degrees for 5 minutes. Then continue baking at 350 degrees for 20 to 22 minutes.
Let cool; serve!
Recipe from GettinMyHealthyOn.com
Adapted from Sally's Baking Addiction.
They turned out beautifully fluffy. You can store these at room temperature for a few days, but since the strawberries make pockets of moistness, I'm going to keep these in the fridge to prolong their shelf life.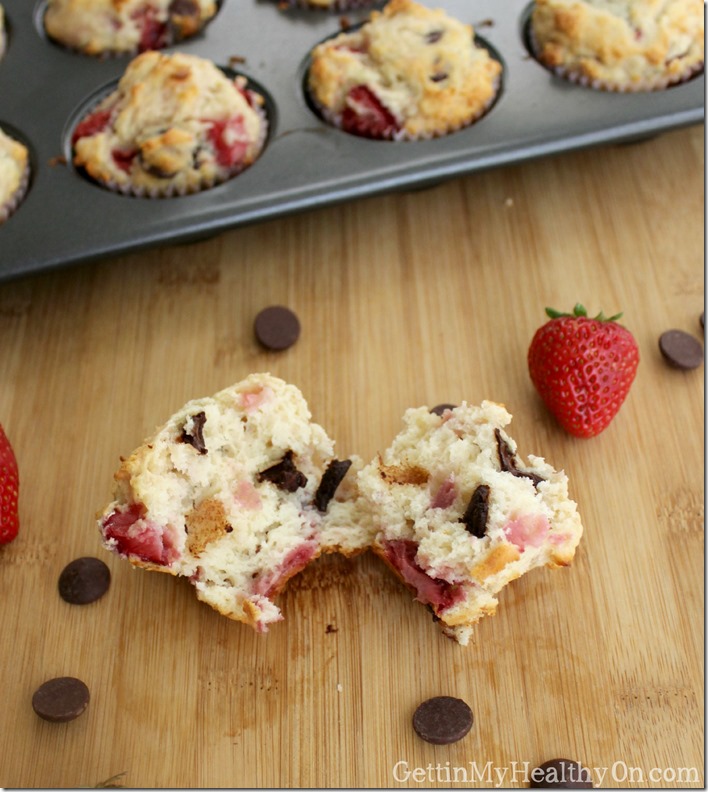 Enjoy!
Since this a healthier muffin option, I'm participating in The Fit Dish Link-up hosted by Jill Conyers and Jessica Joy. And since it's a meat-free breakfast option, I'm also joining Deborah and Tiny Muir for the Meatless Monday link-up! Yay for all the things!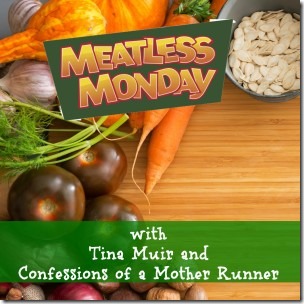 Hope you all have a great Monday!