For a breakfast that won't disappoint, try this sweet and thick pancake full of strawberry and almond flavors—cooked to golden perfection in a cast iron skillet.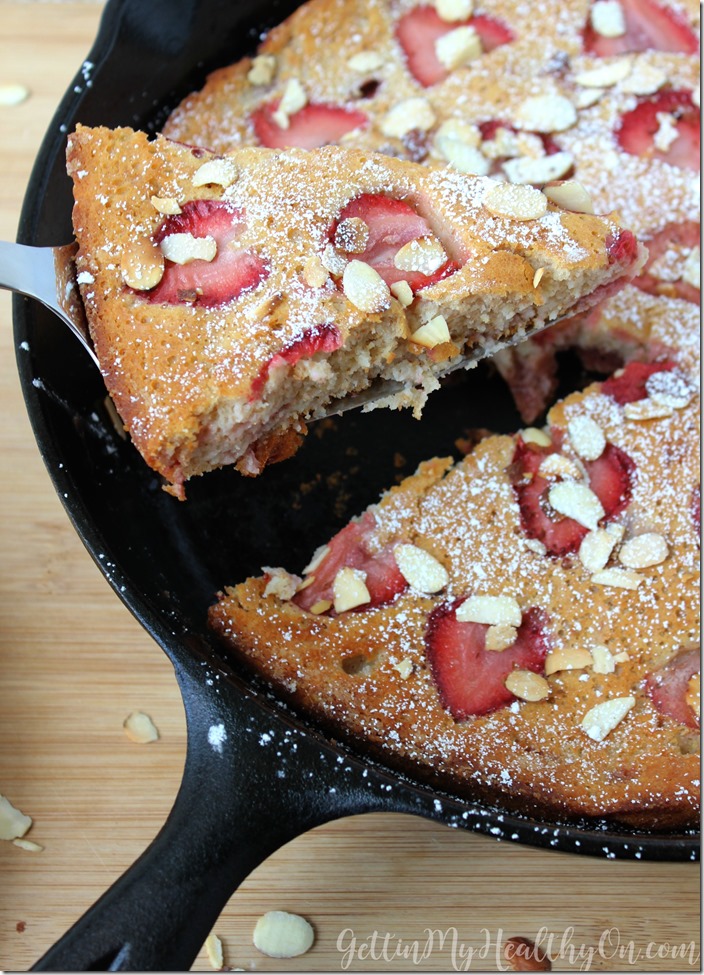 I've said it time and time again—breakfast food is the best food. I mean, there's a reason I joked about starting the breakfastism diet. I never get sick of all the delicious goodness that's categorized as breakfast or brunch foods.
Today's recipe is one I planned to share almost a year ago, but it just kept getting pushed to the backburner. Then yesterday morning, after going on a sweaty yet short run, I felt inspired to make something sweet and pretty. So I decided to make the thick strawberry pancake in my cast iron skillet like I did before, but this time I made a minor tweak—I added almond extract and topped with toasted sliced almonds. Strawberry + almond = match made in heaven.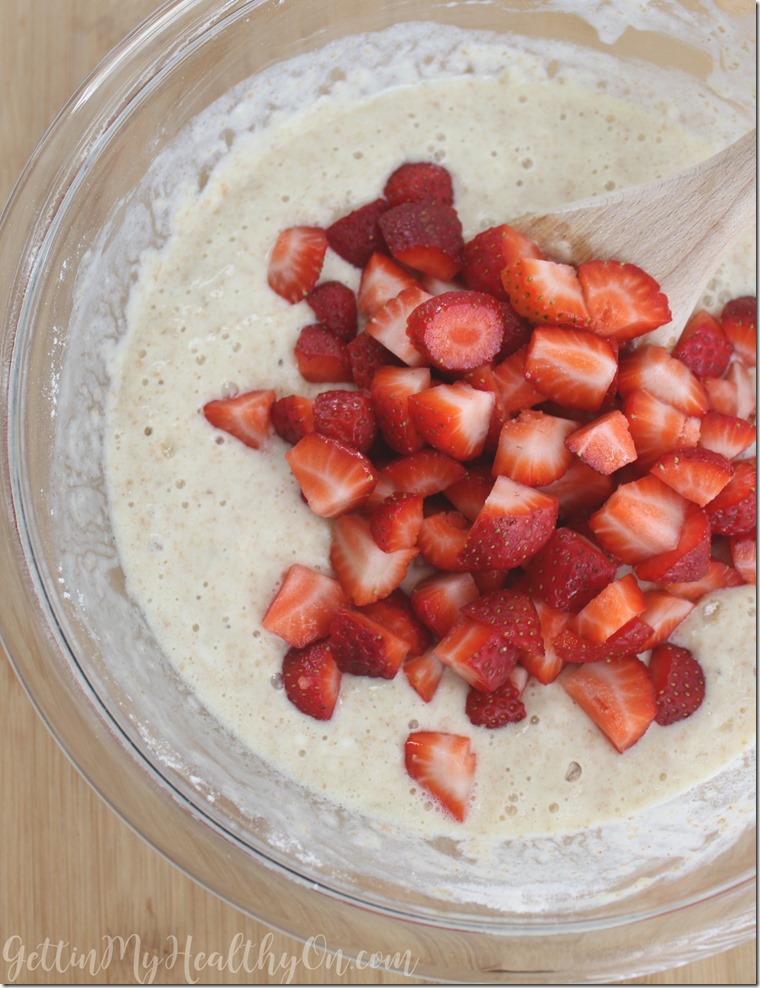 Also, I love love love almond extract. I don't know why I don't use it more often. (It's the main reason why my Almond Oatmeal Cookies can be so addicting!)
I thought the flavor pairing of almond and strawberries worked perfectly in this skillet pancake, which is why I'm finally posting about it. It's basically just one big pancake that you bake instead of cook on the stovetop. It's actually way easier, though it may seem like more work. All you have to do is make the batter, fold in some diced strawberries, pour it in the buttered skillet, and decorate the top with more strawberries (should you choose to).
Once it's baked to a beautiful, golden brown pancake, beautify the dish with the toasted almonds and a sprinkling of powdered sugar. I kept the sugar in the recipe at a minimum as to not over-sweeten it since maple syrup complements it really well.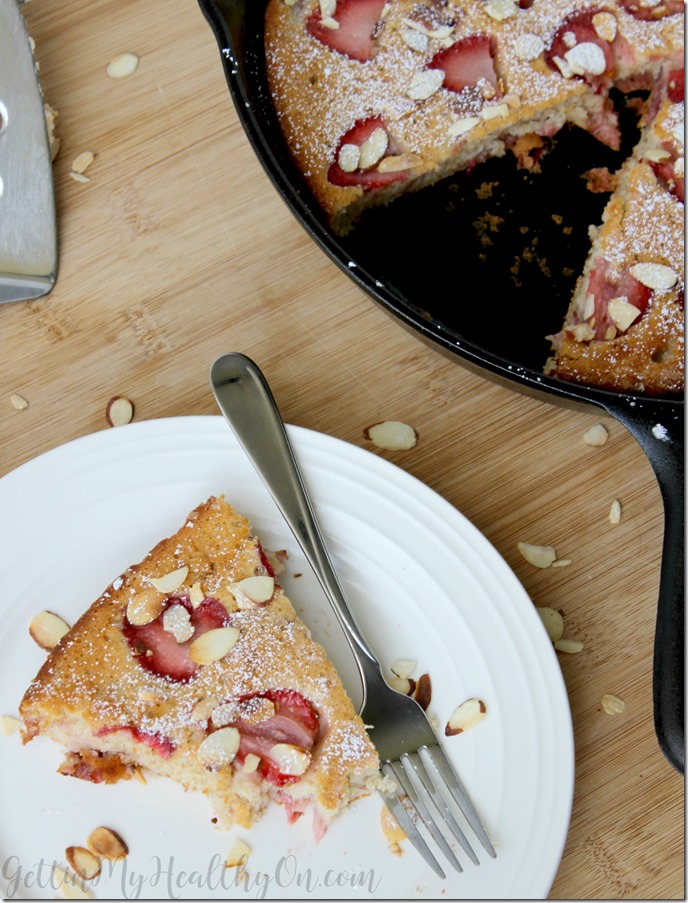 This is one of those recipes I wouldn't hesitate to make for a crowd. It's easy to put together and just pop in the oven for 45 minutes until people are ready for breakfast. Plus, it fills the house with the warming aroma of a sweet baked good, which is always a good time.
Strawberry Almond Skillet Pancake
Ingredients:
1 cup all-purpose flour
3/4 cup whole wheat flour
2 tsp baking powder
1/4 tsp salt
1/3 cup granulated sugar
2 large eggs
1 1/4 cups milk
1/4 cup plain Greek yogurt
1/4 cup canola oil
1 1/2 tsp almond extract
2 cups diced fresh strawberries, divided
2 Tbs salted butter
1/4 cup sliced almonds, toasted
Powdered sugar for dusting
Optional: maple syrup
Instructions:
Mix flours, sugar, baking powder, and salt in large bowl. Set aside.
In a medium-sized bowl, whisk together sugar, eggs, milk, yogurt, oil, and almond extract. Pour into bowl of dry ingredients and stir until just incorporated.
Fold in 1 cup strawberries. Set aside.
Melt butter in a 12-inch cast iron skillet, coating bottom and sides. Pour batter into the skillet, and layer the last 1 cup of strawberries on top.
Bake at 375 degrees for about 45 minutes, or until a knife inserted in the center comes out clean, and the edges begin to turn golden brown.
Top with with almonds and powdered sugar. Serve with maple syrup.
Recipe from GettinMyHealthyOn.com
You can definitely make this without a cast iron skillet, but I've only made it using mine, so depending on the baking dish you use, you may need to adjust the baking time. Some words of advice: if you don't use a 12-inch cast iron skillet (10-inch would also suffice), use a dish that allows the batter to grow because it will rise as it bakes.
Other than that, good luck, and I hope you enjoy it!