Yesterday was officially the end of my squat challenge, making it up to the big 2-5-0. Can I just say…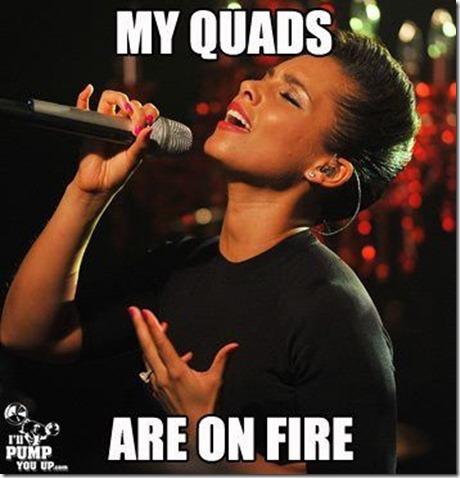 [Source]
Although that's how I felt for the last part of the 30-day challenge, never did I feel like the number was unattainable. My biggest problem was probably the time commitment. When you're doing 200+ squats, it takes a little while. I got up to almost 10 minutes by the end.
I usually did the day's squat number after whatever workout I had planned, as to not take away that intensity. I counted however many squats were done during a workout as part of the day's number.
Not going to lie, as much as I didn't feel like squatting for what felt like an hour, it was nice knowing I had to finish a certain number each day. It gradually felt routine, which turned into a sort of motivation.
Even though the challenge was just to complete each day's set of squats at some point throughout the day, whether spread out or at once, I ended up doing them in one session every time to get them over with.
Here's a little bit of what I learned throughout the past month:
Standing with my heels shoulder length apart and pointing my toes slightly outward really helped me balance and stand more upright (I tend to bend over like I'm doing a deadlift).
Doing a ridiculous number of squats took a toll on my hips—so sooooore
It's amazing how fast my heart rate gets from just doing squats. I usually associate cardio with a racing heart, but squats are no joke.
On days I spontaneously deemed "rest" days, I still did the squats, which made

being lazy

resting feel way more productive.
I definitely prefer doing a fewer number of squats using weights compared to doing a high number without any dumbbells. It's way more efficient and is way easier to challenge myself.
I am SO relieved the challenge is over now that I'm starting a month membership at a boxing gym. I've only gone one time so far, but doing 220 squats right when I got home after the intense 1-hour boxing session wasn't my favorite part of last week.
Overall, this was probably my favorite out of all workout challenges I've done. It was very doable and a great addition to my workouts. I hope anyone who participated or who will in the future feels the same!
Check out my other workout challenges: