For an Italian-inspired dinner, try this flavorful pasta dish that combines spinach, sun-dried tomatoes, and chicken. It's fairly quick to put together and tastes as good as it looks!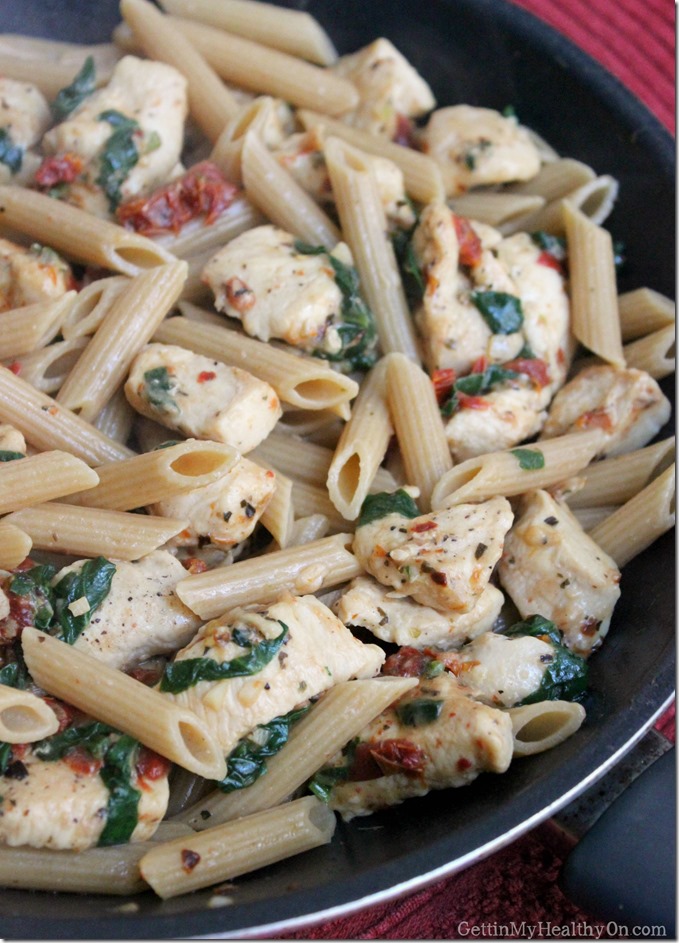 When I'm looking for dinner recipes to cook throughout the week, I look for three specific qualities: flavorful, quick, and healthy. Rarely do I find recipes that satisfy all of those because sometimes the flavorful part takes away from the healthy. Or a flavorful, healthy dish takes awhile to prepare. It's a balancing act that I'm gradually getting better at, which brings me to today's post.
I created this Spinach & Sun-Dried Tomato Chicken Pasta dish this past week, and I was pleasantly surprised at how fast it was to make. Considering how flavorful and healthy it was, I was pretty pleased with myself. I knew I wanted to make this on Wednesday but was missing an important ingredient: the penne pasta. So I decided to go to the store on my way to work to grab a box for that evening. So here I am going to the store at about 6 am right after they opened. I squeezed through the stock guys to grab the box, and they all stopped and looked at me like I was crazy. I'm thinking…what? Everyone doesn't get their pasta at 6 am in the morning?
Just one of the many problems I have as a procrastinating food blogger.
So when I got home from work, I whipped this together pretty quickly. I first got a pot of water boiling on the stove for the pasta and then started on the best part of the recipe.
In a skillet over medium heat, I heated 1 tablespoon olive oil and then added a chicken breast that was cut into about 1/2-inch cubes. Once this was mostly cooked, I added 2 cloves of minced garlic, about 6 sun-dried tomato halves that I chopped up (I used sun-dried tomatoes in oil), 1/4 teaspoon red pepper flakes, and 1/4 teaspoon dried basil. After cooking this for 2 more minutes, I mixed in 1/4 cup chicken broth, 1/4 cup grated Parmesan, and a handful of spinach that I cut into smaller pieces. I dare you not to stick your face in this combo's heavenly aroma.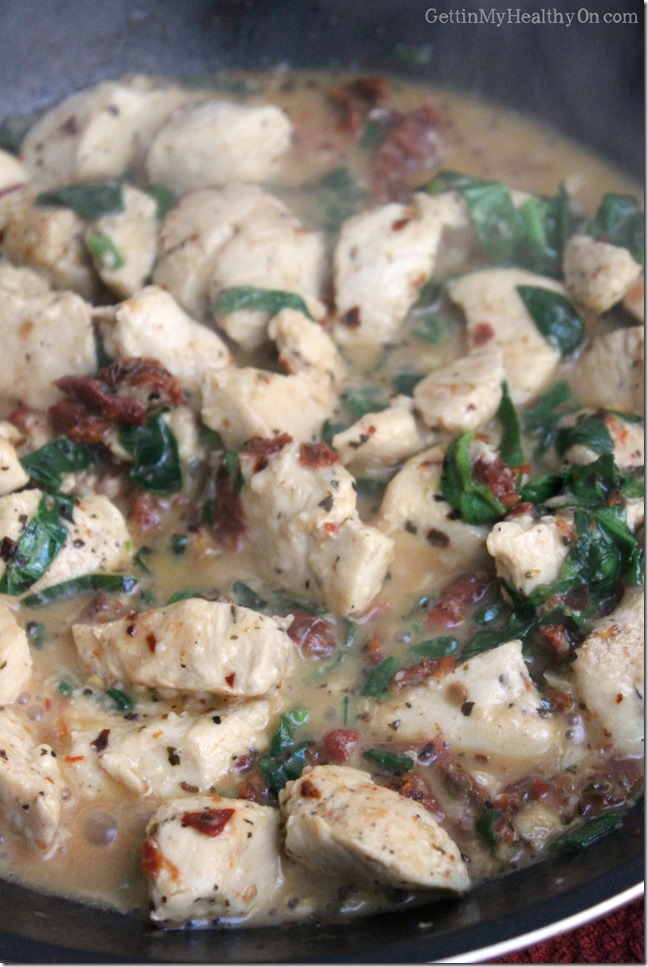 Once the spinach had sufficiently wilted, I poured this into the drained pot of al dente pasta and folded it all together. Then serve and garnish with more Parmesan!
This combination of colors is so gorgeous, and the flavors complement each other quite well.
Spinach & Sun-Dried Tomato Chicken Pasta
Ingredients:
6oz uncooked penne
1 chicken breast, cut into 1/2-inch cubes
1 Tbs olive oil
2 cloves garlic, minced
6 sun-dried tomato halves
1/4 tsp red pepper flakes
1/4 tsp dried basil
1 bunch fresh spinach
1/4 cup chicken broth
1/4 cup grated Parmesan
salt and pepper to taste
Instructions:
Cook pasta according to package directions until al dente.
Heat olive oil in a skillet over medium heat; add chicken and cook covered until no longer pink.
Add garlic, sun-dried tomatoes, red pepper flakes, and basil; cook for about 2 minutes.
Add the broth, Parmesan, and spinach, cooking until the spinach has wilted.
Fold in pasta, top with extra Parmesan, and serve!
Recipe from GettinMyHealthyOn.com
Just a heads up, this isn't a super creamy or cheesy dish, and I didn't mean for it to be. That's because I think the flavorful ingredients more than make up for the need for a thick sauce in this dish. The Parmesan keeps it fairly light while still giving it a little something extra.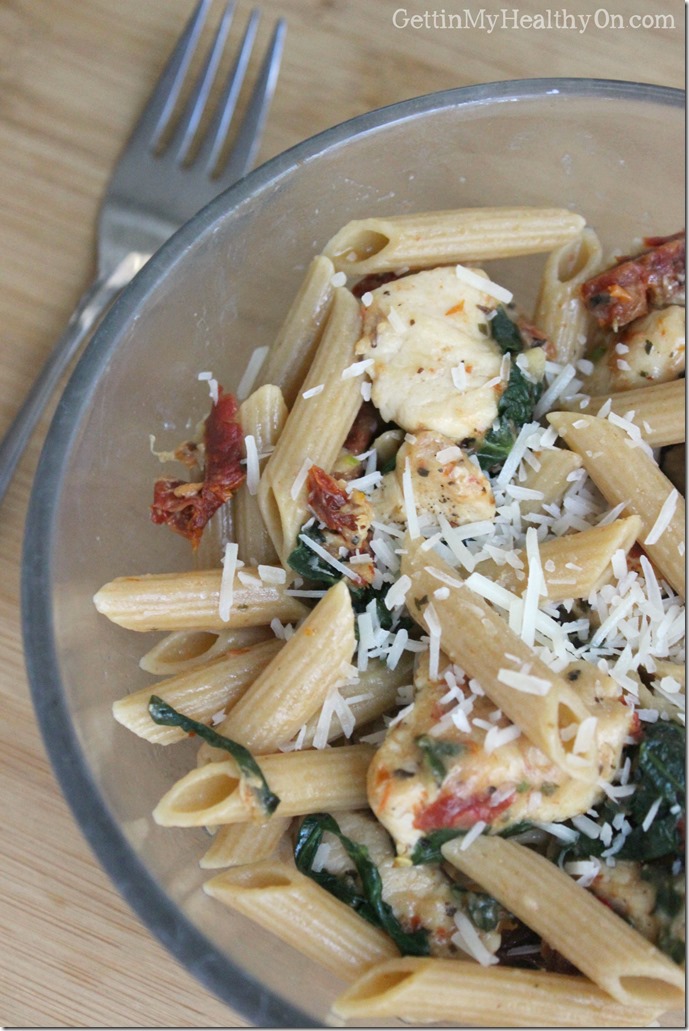 Hope you enjoy!!!