Organized meals are overrated.
Sandwiches are all fine and dandy, but I've come to appreciate the magic of a bunch of random snacks thrown together for one smorgasbord meal. Snack food is delicious anyways, so why not make an entire meal of it?
Everything has gotten a clean and healthy makeover for me with P90X, so the above is my lunch today. I'll have a few snacks in the time leading up to and following lunch, so it should hold me over, especially with all the extra water I'm drinking.
So far, eating super healthy hasn't been too difficult. I'm trying to make it realistic for us by not stressing about every single ingredient, but I am still making it as healthy as possible. This is basically always my mindset for cooking, except now we're not eating meals based around pasta, which is usually what I make when I don't know what else to do. So that part has been a bit challenging, but there's lots of good, healthy recipes swirling around the internet – just gotta keep looking.
Pinterest, you are my best friend.
Since it can be challenging to come up with healthy meals day after day, I figured I'd start sharing my meal plans after each week. While we are participating in P90X and its nutrition plan, I'm going for more of a…P90X-inspired meal plan. Since it's phase 1 right now, that means high protein, so our meals are guided by that.
Side note: I didn't think I could ever be one of those people who has protein shakes for breakfast, but I've come to really love them. It's fun messing with protein shake concoctions for a delicious, indulgent-tasting breakfast. Plus, they keep you full for hours. It's pretty wonderful on busy days. On that note, stay tuned for a special protein shake recipe I'll be posting tomorrow…oh, and a giveaway.

Keep reading to find our meals and snacks for the first week of P90X.
Phase 1: High Protein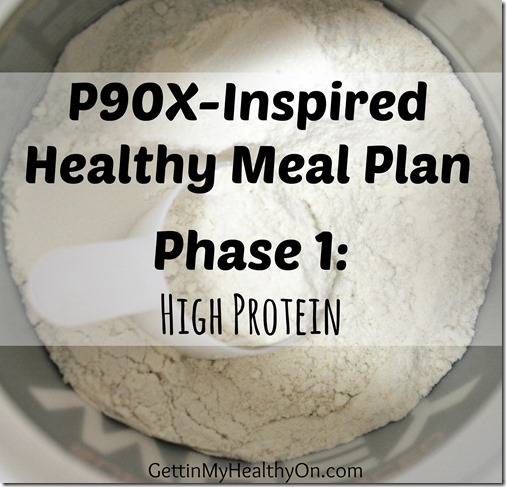 Breakfast
Protein shake: chocolate protein powder, banana, peanut butter, milk
Lunch
Southwest salad: spinach, iceberg, corn, beans, seasoned chicken, tomato, avocado, cheddar, homemade ranch
Lettuce wraps: chicken, cucumber, cheddar, homemade ranch in iceberg lettuce wraps
Salad, cottage cheese, and hard boiled egg
Randomness: cottage cheese, string cheese, hard boiled egg, roasted chickpeas
Salad: greens lettuce blend, chicken, goat cheese, tomato, cucumber
Smoothie
Snack
String cheese
Plain Greek yogurt with seed and nut mixture
Roasted chickpeas
Dinner
Kabobs & brown rice: sauce (garlic, soy sauce, honey), chicken, peppers, tomato
Tilapia (with lemon & dill), edamame, wild rice pilaf
Turkey burgers (pepper jack cheese, avocado, tomato, lettuce) & honeydew
Jerk shrimp over quinoa
Chicken tenders & salad
Pad Thai: rice noodles, peanuts, eggs, sauce (brown sugar, soy sauce, lime, cilantro)
Cheat meal: pizza