This weekend was a whirlwind of moving craziness. Most of the stuff in our apartment is gone, so it's all echo-y and weird. We're still here for the rest of this week, though, so we just need to make more trips to the new house and do some hardcore cleaning.
Since I was sick late last week (but NOT ANYMORE YAYAYAYAYAY), I couldn't do anything. I was sleeping all day and night because of what turned out to be some horrible stomach bug situation that lasted three days. (I even went to the hospital, but they couldn't find anything.) I was, however, able to make a trip with Matt to the house later in the week but had to just watch him load and unload the cars, which kind of really sucked. Even if you're ill, you still feel lazy watching people move your stuff (at least in my case).
BY THE GRACE OF GOD, I felt like myself again on Saturday morning but still wanted to take it a little slow, so I watched Matt and his friend transport all the big furniture to our new place, while I stayed at home and watched Beerfest and did some light packing of other stuff.
The piles of who-knows-what around our apartment are gradually depleting, which is WONDERFUL. (You don't realize just how much crap you have until you move…)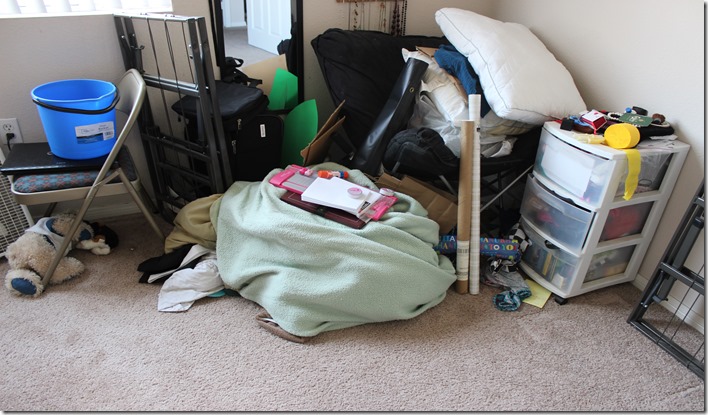 Buuuuut that just means there are piles of who-knows-what in our new house that we haven't had the time to organize yet…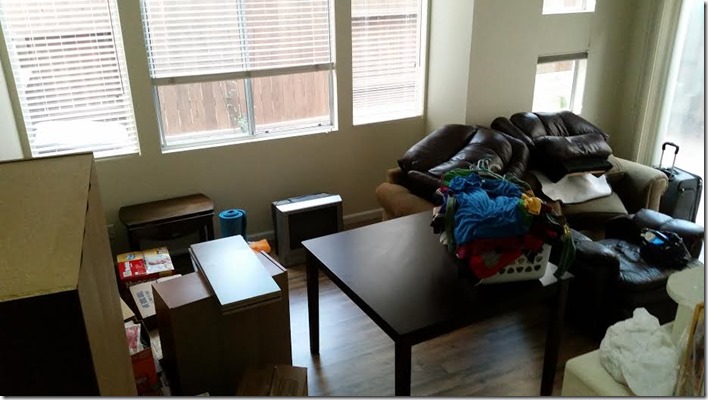 Both Saturday and Sunday were beautifully productive, so we're not too stressed for the rest of the week for after-work cleaning and packing. And before we do finalize the move, we're trying to enjoy a few food places that we love. See below for the baby-sized breakfast burrito that fueled all the transporting yesterday. Yummmm.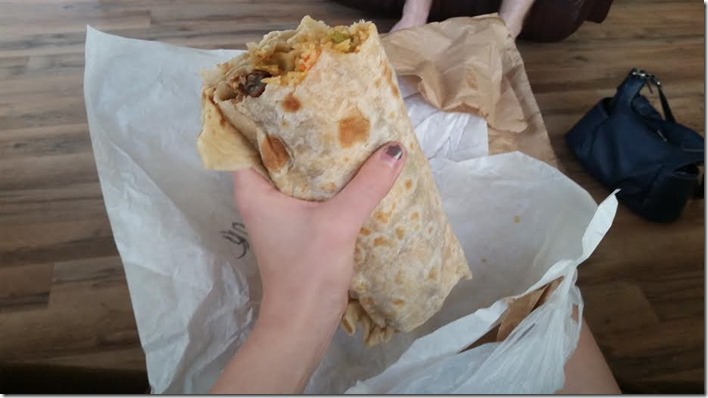 And now we're roughing it in our bare apartment on our makeshift couch while moving the last of our belongings to our new home!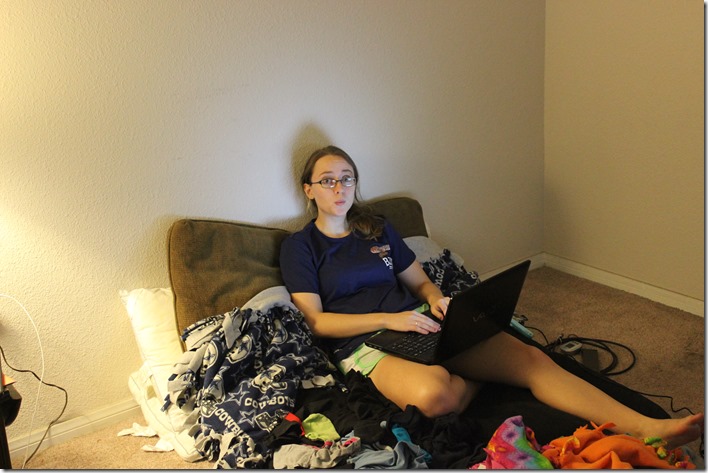 It's fun to move, but I'm over it. I'm ready to start organizing things in the new house and stop making so many trips to and from the new house. Can't say I'm looking forward to the workweek being smack-dab in the middle of our moving but such is life.
Have a great Monday!!