Make a to-die-for breakfast sandwich using savory French toast stuffed with Jennie-O turkey sausage patties, over-easy eggs, and cheddar.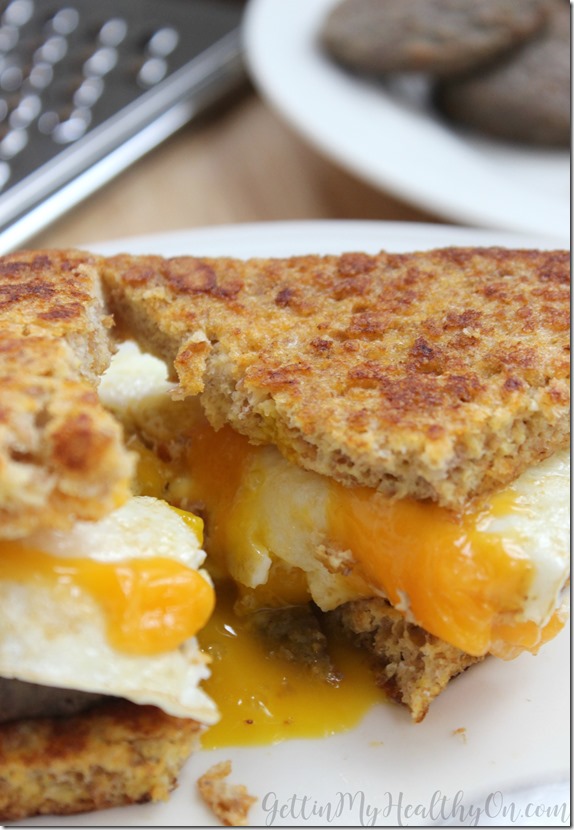 Once upon a time, I created a savory version of French toast—and there's been no looking back ever since. I discovered the idea while watching a cooking show recently, and after making a few different versions, I've found the perfect recipe for transforming your typical breakfast sandwich.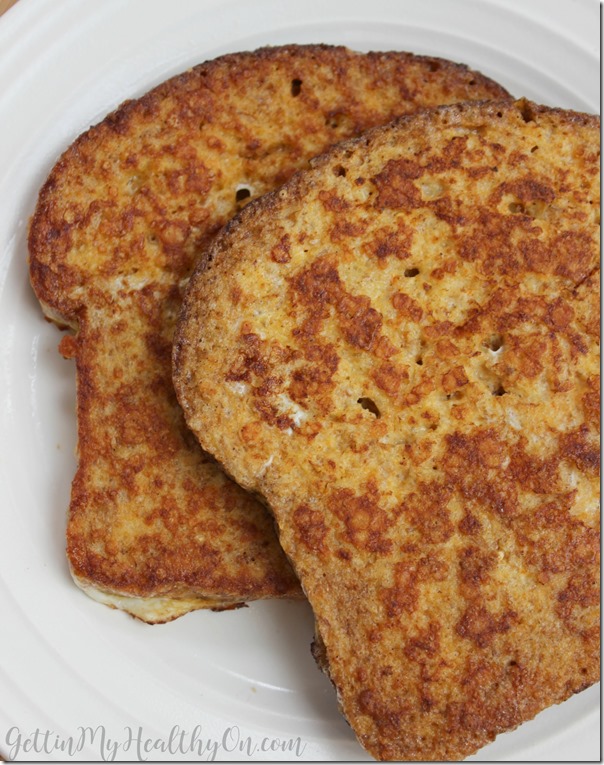 The first time I tried it, I used fresh French bread. This last time, I used Ezekiel bread because that's what I had on hand. Obviously, a fresh loaf of fancy white bread will be more satisfying if that's what you want to choose. But to start my day off on a healthier note, I was very happy with how the sprouted grain sandwich bread turned out.
To make the savory French toast, you'll use your typical egg and milk mixture, but you'll also be adding a bit of grated Parmesan and some hot sauce—because let's be real, everything is better with hot sauce. 😉 It's actually very subtle in this, though, so don't be alarmed if you're not into spicy foods. It adds a nice flavor to the mixture that you're dipping your bread slices in.
In addition to the savory French toast situation, I opted to use some Jennie-O lean turkey sausage for the meat of the sandwich. I'm not going to lie; when I first opened the turkey sausage to cook it, I didn't have high hopes. Turkey just doesn't appeal to me like your typical breakfast sausage. However, my eyes lit up when I took my first bite out of one of these patties. It's shockingly flavorful and does not disappoint! (I've also crumbled it up on pizza, and it works great in both breakfast and dinner spotlights.)
Then you've got your typical gooey, over-easy eggs to ooze out of the sandwich—though I ended up making scrambled for Matt because he finds runny yolks repulsive (which I think is pretty fair).  And of course you've got to have some cheddar action because…it's cheese. I don't need to sell this part to you.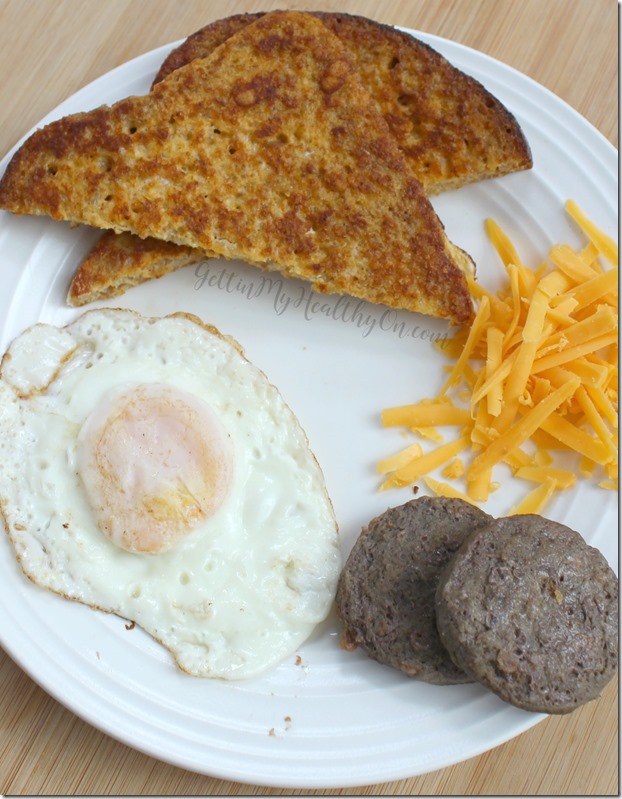 Once I had all the components cooked, I was ready to create my masterpiece breakfast sandwich. And oh my lawd, it was better than I ever thought it would be. You can have your normal breakfast sandwich. I'm going to stick with my savory French toast from now on. It's not that much more work, and it adds so much more to the sandwich. Just believe me on this one.
Savory French Toast Sandwich with Sausage and Egg
Ingredients:
Savory French Toast

2 eggs
3 Tbs grated Parmesan
2 Tbs milk
1 Tbs Franks hot sauce
Freshly ground black pepper to taste
1 Tbs butter
2 slices bread

French Toast Sandwich

2 slices Savory French Toast
4 small patties of Jennie-O Turkey Sausage
2 large eggs cooked to preference (e.g. over-easy, scrambled, etc.)
2 Tbs shredded cheddar
Instructions:
Savory French Toast

In a bowl, whisk together eggs, Parmesan, milk, hot sauce, and pepper.
Melt butter in large skillet over medium heat.
Coat both sides of bread slices in the mixture. Place in skillet, cooking for 2 to 3 minutes per side. Set aside

French Toast Sandwich

Cut Savory French Toast slices in half to make 2 sandwiches.
On the bottom half, place 2 sausage patties, egg, and cheese. Close with other half.
Repeat with assembling second sandwich. Enjoy!
Recipe from GettinMyHealthyOn.com